Leafs' newcomers thrive against Senators in debut
Newcomers Pierre-Alexandre Parenteau and Nick Spaling wasted no time making a strong first impression on new Toronto Maple Leafs coach Mike Babcock.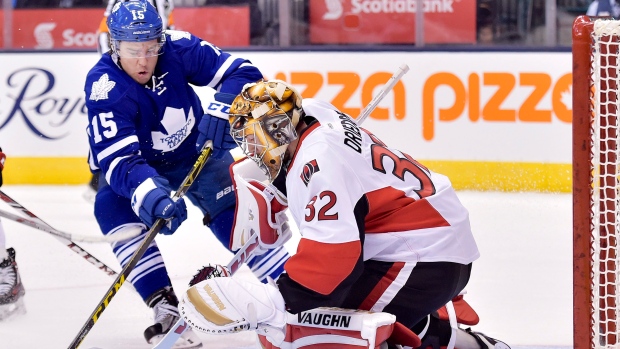 TORONTO - Newcomers Pierre-Alexandre Parenteau and Nick Spaling wasted no time making a strong first impression on new Toronto Maple Leafs coach Mike Babcock.
Parenteau scored twice and Spaling had a goal as the Leafs beat the Ottawa Senators 4-1 on Monday night at Air Canada Centre in the Toronto half of split-squad action to open the pre-season.
"The guys were excited to make the first good impression, and I think it showed," Parenteau said. "I think I felt pretty comfortable out there tonight. I think most of the team did."
Bought out by the Montreal Canadiens and signed to a US$1.5-million, one-year contract by the Leafs, Parenteau scored two power-play goals. Babcock said Parenteau "was hungry and had the puck lots."
Spaling, part of the trade that sent all-star Phil Kessel to the Pittsburgh Penguins, had a strong showing by scoring a goal in the first and drawing a penalty in the second.
Michael Grabner, the speedy winger the Leafs acquired last week in a five-for-one trade with the New York Islanders, assisted on Spaling's goal.
"(New players) definitely they made their presence felt," top-line winger James van Riemsdyk said.
Connor Brown, a former teammate of Connor McDavid's with the Ontario Hockey League's Erie Otters, played well in Kessel's old spot on the first line alongside van Riemsdyk and Tyler Bozak. Defenceman Stuart Percy also scored a late goal for the Leafs.
Babcock saw a lot of good things but criticized the Leafs for being "reckless" with the puck and trying to make too many cute plays when they're not there.
"We had lots and lots of things we've got to fix," he said.
Since every Leafs player is new to Babcock, even core players were under the microscope. Goaltender Jonathan Bernier stopped 28 of the 29 shots he faced in making a strong start to what Babcock characterized as an open competition with James Reimer.
"I felt pretty good," Bernier said. "I stood my ground and with the way we played with our backcheck ... I just have to focus on the shot."
Andrew "the Hamburglar" Hammond, who led the Senators' improbable run to the playoffs last season, stopped 16 of the 18 shots he faced before being replaced by Chris Driedger. Mike Hoffman scored for Ottawa.
"I'm supposed to be an offensive guy," Hoffman said. "Obviously your first, second, fifth year, you're always trying to make a good impression because at the end of the day they're your boss and they can determine your ice time and whatnot throughout the season."
Notes — Joffrey Lupul scored during three-on-three overtime to give the Leafs a 4-3 victory in the other split-squad game, played at Canadian Tire Centre in Ottawa. ... The Leafs and Canadiens will play three-on-three overtime Tuesday night at Bell Centre regardless of the score as one of 45 games the NHL has designated this pre-season to experiment with the new rule.
___
Follow @SWhyno on Twitter
Note to readers: This is a corrected story. A previous version stated Parenteau scored one power-play goal and one even strength goal. Both goals were on the power play.