Leafs prospect Liljegren may miss WJC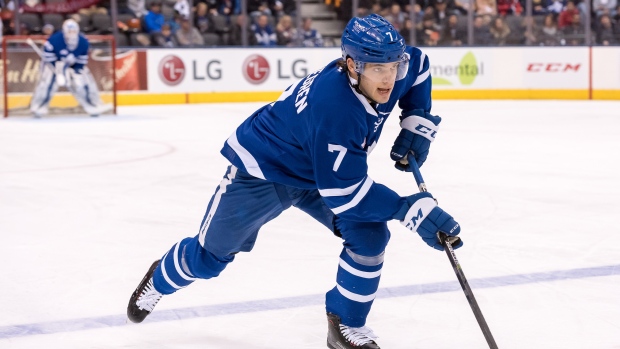 Toronto Marlies head coach Sheldon Keefe said Sunday it "could be a stretch" for defenceman Timothy Liljegren to play in the world junior hockey championship this month due to an ankle injury.
"He's week-to-week, he's got a high-ankle sprain and those are difficult to deal with," Keefe said after his team's 1-0 win on Sunday. "He's in great hands here with our training staff. He's working exteremly hard, I know the event is important to him and he's going to do all that he can to be ready."
Liljegren, who won a silver medal with Sweden at the world juniors last year, was injured on Dec. 1. The Toronto Maple Leafs announced earlier this month that both Liljegren and fellow defenceman Rasmus Sandin would be released to Sweden for the tournament.
Keefe said both the Marlies and Team Sweden are hopeful the 19-year-old is able to compete.
Liljegren has two goals and eight points in 19 games with the Marlies this season while posting a minus-4 rating.
"Timmy has taken big steps this year in terms of the responsibility that's been put upon him to lead the way on the power play, be killing penalties, and be playing in the top pair against other team's top players," Keefe said of Liljegren on Sunday. "It's a big jump for him and I think he's adapted well to that as it's a big challenge and probably a lot still for a 19-year-old guy. Obviously the injury has been a set back and disapointing, but we like some of the things we've seen from him and adapting to that."
The world juniors begin on Boxing Day, when Sweden will play Finland.