Leafs' Rielly falls short in all-star vote
Maple Leafs defenceman is having the best season of his career, but it wasn't enough to win the fan vote for a roster spot in San Jose, Kristen Shilton writes.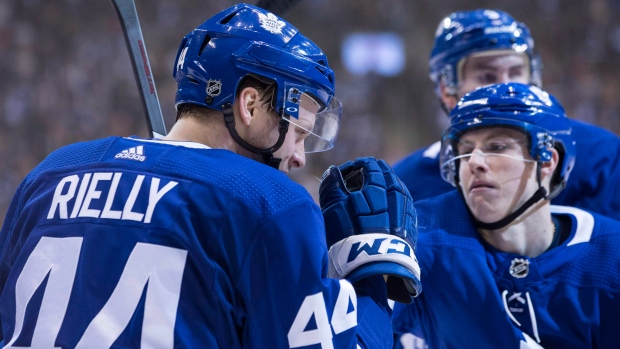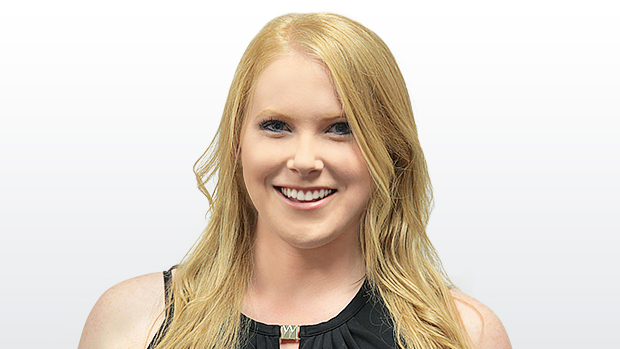 TORONTO – Morgan Rielly's teammates went all-out in campaigning for the Maple Leafs defenceman to earn a trip to this month's all-star game in San Jose via the 'Last Men In' fan vote, creating comical (and cringe-worthy) videos touting his accomplishments that went viral.
The best of the bunch, though, isn't fit to see the light of day.
"My favourite was never released. It was Ron Hainsey," Rielly said after the Leafs' Friday practice. "He purposely made it so we couldn't share it with the public. But I have it. I'll have it for a while."
The 24-year-old said he was unaware his compatriots were shooting their endorsements on Wednesday night in New Jersey, claiming he would have put a stop to things had he known.
Even though the canvasing for votes was ultimately in vain, with Rielly losing out on the Atlantic Division's final spot to Buffalo Sabres' winger Jeff Skinner, he was touched by the promotion.
"I think Jake [Gardiner] was the one behind it all," Rielly said. "I'm appreciative of the effort. I think the acting needs some work, but I love my teammates and I think they did a good job and I appreciate all the effort."
This has been the best season of Rielly's career, showcasing him as a defensive and offensive force who actually has three more points from Toronto's blueline than Skinner does up front for Buffalo (46 points compared to 43). League-wide, Rielly is considered a front-runner for the Norris Trophy, sitting first in goals by defencemen (13) and second in points.
Arguably, those numbers alone should have punched Rielly's ticket to the All-Star Game. As it stands, he's just happy the Leafs' crusade to send him to San Jose is over.
"[Now] we don't have to watch the videos anymore," Rielly joked. "I'm not worried about [losing]. There are lots of very good players who aren't going, Mitch [Marner] and Freddie [Andersen] just in this room. So it's not something I'm going to spend too much time thinking about."
Instead, Rielly's looking forward to possibly "seeing my dog" back in his hometown of Vancouver during the all-star break, which this season runs into the Leafs' designated bye week.
The opportunity to get refreshed for Toronto's playoff run isn't a bad silver lining.
"A guy like [Rielly], a guy like Marner, they've got so much energy all the time, it's unbelievable," said head coach Mike Babcock. "It's unfortunate for those guys. They're obviously elite players and all-stars and it's unfortunate they're not going, but it's better for us they get some rest."
When the postseason does eventually come around, it's more and more likely the Leafs will once again face the Boston Bruins. After enduring some injury troubles early, the Bruins have surged to third place in the Atlantic, four points back of the Leafs in second.
If the playoffs started today, Toronto would have home-ice advantage over Boston in a first-round series. Last spring, it was the Bruins who held that edge, using it to eventually eliminate the Leafs in seven games. Boston also had home ice against the Leafs in 2012-13, winning Game 7 of the first-round series after an epic third-period collapse by Toronto.
With the teams' fourth and final regular-season contest upcoming on Saturday, Rielly says what may happen in April as far as seeding or opponent isn't a focus.
"Right now it isn't a topic of conversation," he said. "Down the stretch I think it will be, when it gets closer and we'll be thinking about it a little more. We'd like to have [home ice] for sure."
"Winning tomorrow is on my mind," added Babcock. "And just staying in the process and getting the team better usually looks after those things."
Toronto is trailing the season-series against Boston two games to one ahead of Saturday's tilt, after losing last month's game in Boston, 6-3. That physical bout resulted in three separate fights, one two-game suspension to Zach Hyman for interference on Charlie McAvoy, and a controversial hit on Rielly from Chris Wagner that encouraged Hainsey to drop the gloves.
Five weeks after the fact, Rielly isn't concerned about bad blood spilling over into the series finale, or of the Leafs being haunted by any previous outings – regular season or playoff – against their rivals.
"That was a long time ago. It's really not anything we're going to think about," he said. "We're just going to go out and play our game. They're big points, so we're going to try and stay focused."
"I don't think you think about the past; we're a different team. This group has confidence right now playing against any team in the league, so we're looking forward to the challenge."