Leafs scrap Lamoriello's facial hair policy
Toronto Maple Leafs general manager Kyle Dubas announced Thursday the team will scrap Lou Lamoriello's facial hair policy starting this season. During his tenure as general manager of the Leafs, which came to an end earlier this summer, Lamoriello insisted all Maple Leafs players be clean shaven until the postseason.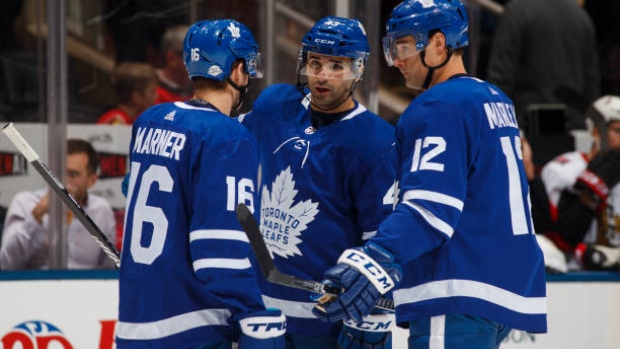 TORONTO — The Toronto Maple Leafs will be allowed to show up for work a little scruffier this season.
Just don't expect Mitch Marner to be among those taking advantage of the team's new facial hair policy.
General manager Kyle Dubas said Thursday that he's relaxing predecessor Lou Lamoriello's rule of not allowing players to sport beards and moustaches as the Leafs gathered for medicals and testing to open training camp.
"I want the players to be at their best, whatever their individual best may be," Dubas told reporters at his season-opening press conference. "Part of that is letting them really express themselves in a professional manner and to try and be themselves the best they can. It's something I've gone back and forth with over the summer, but ultimately what I've landed on is doing what I'd done before.
"I understand that some people may like that, some may hate it, but that's our decision and that's what we'll do."
Lamoriello's strict set of rules, which also included no high numbers or in-game promotions featuring players, went back to his days leading the New Jersey Devils to three Stanley Cups. He brought similar demands to Toronto when he was named GM in the summer of 2015.
But the 75-year-old was shuffled into an advisory role this spring with the Leafs before Dubas was promoted from assistant GM to the top job. Lamoriello left Toronto shortly thereafter to become president and GM of the New York Islanders.
"I realize the implications of it and I certainly respect those were Lou's rules in New Jersey and they'll be Lou's rules with the Islanders as well," said the 32-year-old Dubas, a full-time NHL GM for the first time. "I have a bit of a variation in my belief."
While some teammates will no doubt welcome the relaxed beard policy, Marner said it probably won't apply to him in 2018-19.
"I got kind of lazy over the summer, didn't really shave," the 21-year-old joked. "I had my whole family making fun of me for what I had on my face.
"I saw all the guys pretty much in the summertime, all of them had a beard going, and I decided to try and see if it would happen, and it's still not there yet. So I probably won't be expecting one for one or two more years."
Marner said centre Nazem Kadri and winger Patrick Marleau will likely be the biggest benefactors of Dubas loosening the rules.
"Last year, those guys were shaving every other day," Marner said. "I don't really care about the rule, I can't grow one anyways.
"But I'm sure those guys are going to be really appreciative."
Toronto defenceman Morgan Rielly, still sporting his summer beard, said that while the move might seem like a big shift in Dubas distancing himself from Lamoriello's policies, it's simply a minor tweak.
"It's just a change of rule," said the 24-year-old defenceman. "The culture hasn't changed, but we did talk about that. We did talk about the way it would be perceived.
"It really doesn't resemble any kind of change in culture or change in attitude or mentality. It's just a minor rule change or lack thereof."
---
Follow @JClipperton_CP on Twitter