Leafs sign Brown to 3-year extension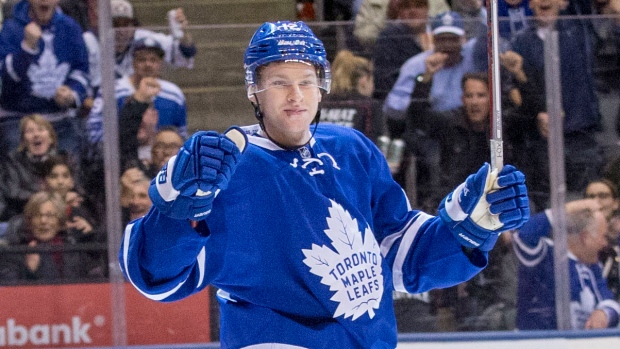 The Toronto Maple Leafs announced Saturday night that they've agreed to a contract extension with restricted free agent Connor Brown.
The winger has signed a three-year deal with an average annual value of $2.1 million per season.
Brown was one of four RFAs the Leafs tendered with qualifying offers in June and the last of the group to get a contract done.
While Brown didn't court the same spotlight as some of the Leafs' other first-year players last season, the 23-year-old is coming off an impressive rookie campaign in his own right. After getting a taste of the NHL in seven games late in the 2015-16 season, Brown tallied 36 points (20 goals, 16 assists) in 82 regular-season games and added one assist in six playoff games through his first full season.
His 20 goals ranked fifth among Leafs last season, and he finished eighth among skaters in scoring.
The Toronto native was also one of the Leafs most consistent penalty killers last season, averaging 1:59 per game shorthanded, while also seeing time on the power play. He split the season playing on the Leafs' top line with Auston Matthews and Zach Hyman and the third line with Nazem Kadri and Leo Komarov.
Considering the ease with which the Leafs were able to sign their other RFAs, the holdup with Brown ended up drawing plenty of attention. General manager Lou Lamoriello has reiterated throughout the summer that regardless of slow-moving negotiations, Brown would be with the team in the fall, and Brown told the media he was confident in that guarantee.
The two sides had appeared to be at a stalemate from early July, a position originally chalked up to Toronto not having enough cap space to sign another player. But the Leafs had quietly applied for off-season long-term injury relief and had the flexibility to sign Brown at any time; it was just the numbers that were holding them up.
Comparable contracts around the league suggested Brown could be in the market for a deal worth $3.5 million a season, but the Leafs have several big-money deals to close in the next couple of years for Matthews, William Nylander and Mitch Marner that they have to take into consideration.
With Brown back in the fold officially, the Leafs have an even larger abundance of wingers to sort through. With no major trades being executed to this point, Brown will be fighting for a spot under different circumstances than he was last year, when the roster was more wide open.
Head coach Mike Babcock said in April that Nylander will not move to centre this season, most likely placing him back on Matthews' wing for at least the start of the year. Josh Leivo, Hyman, Nikita Soshnikov and Kasperi Kapanen are all young wingers who will be pushing to make the team in camp, while established veterans James van Riemsdyk, Komarov, Matt Martin, Eric Fehr and new signee Patrick Marleau are in the picture as well.
The Leafs will report for training camp in mid-September, holding on-ice sessions at Gale Centre in Niagara Falls from Sept. 16-18.