Leafs sneak past Red Wings for 13th straight home win
The Maple Leafs have shown time and again that they can win pretty. On Saturday, Toronto proved it can win pretty ugly, too. In a sloppy, contentious meeting with the Detroit Red Wings, the Leafs overcame two deficits and their own turnover-filled play to top their division rivals 4-3 and extend their franchise-record home winning streak to 13 games.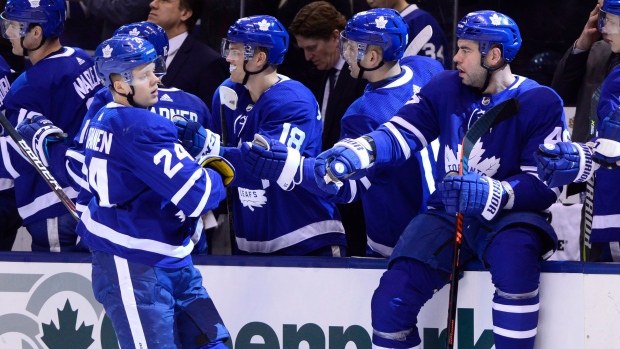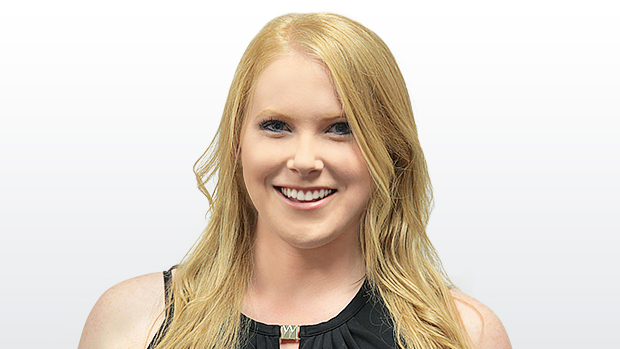 TORONTO – The Maple Leafs have shown time and again that they can win pretty. On Saturday, Toronto proved it can win pretty ugly, too.
In a sloppy, contentious meeting with the Detroit Red Wings, the Leafs overcame two deficits and their own turnover-filled play to top their division rivals 4-3 and extend their franchise-record home winning streak to 13 games. It was also the Leafs' 45th win of the season, tying the franchise record for single-season wins and home wins (26).
This came on the heels of the Leafs' playing the NHL's top two teams in Tampa and Nashville earlier this week on a road trip where they were the better team for five of six periods while garnering two of a possible four points. Turning the page to face a team eliminated from playoff contention in the Red Wings was a potential trap Mike Babcock warned his club about, but they had to see the push back from Detroit themselves to eventually respond in kind and secure a victory.
"I told our team before, they were going to make it hard on us, they were going to be above us, be good defensively. I don't know if anyone believed me, but probably during the game they did," said Babcock. "But we found a way to win. I think on nights when you don't have your best stuff and you find a way to win, it's a real good sign."
There's no question the Leafs played below their capabilities against Detroit, especially over the first 40 minutes. The opening period was a sloppy affair from both sides, marred by too many penalties (three by Detroit, two from Toronto) and the Leafs playing into the Red Wings' hand instead of grinding them down with the cycle. But a goal from Kasperi Kapanen late in the frame put the Leafs up 1-0 going into the second period, a frantic stretch during which Toronto lost its lead, fell into a deficit, and then used a Connor Brown marker to even the score at 2-2 before the third began.
Compared to the command Toronto had over Nashville in their 5-2 win on Thursday, the Leafs' were frequently flat-footed against Detroit, and let the Red Wings dictate the pace far more than usual. After two periods, the Leafs were being outshot 30-23 en route to making Frederik Andersen face 41 on the night. It was the third time in their last seven games that Toronto has ceded at least 40 shots on net.
"When you play the top two teams in the league back to back, their record gets you prepared, you don't have to prepare yourself," said Babcock. "But when it's the other way around, you have to get yourself prepared. Obviously tonight we weren't quite as good at that."
While the Leafs had too many passengers all around, Nazem Kadri's line with Patrick Marleau and Mitch Marner stood out for turning in one of their worst outings in weeks. They struggled just to get through the neutral zone against a bruising Detroit defence, turning pucks over and losing key battles. At a team-worst 23 per cent possession, the Kadri unit saw little offensive zone time – but when it mattered most, they found a way to make that time count.
After Detroit took back the lead early in the third period on a convoluted review and challenge of a Frans Nielsen goal (the score was initially called off upon referee-initiated review for goaltender interference, only to have that call overturned after a Detroit challenge), the Leafs found something resembling a second wind. The hunger they lacked for much of the previous 48 minutes came out in full force all at once, first with William Nylander tying the game again courtesy of a great set-up from Auston Matthews, and then Marleau teed up Kadri's game-winner with a highlight-reel worthy saucer pass off the rush that hit Kadri's tape in stride.
"I think all in all, these games can't be perfect, but resilient teams find a way and that's exactly what we did tonight," said Kadri. "It seemed like I was getting in the way in the first period. But good teams find a way to stick with it and you understand every game isn't going to be perfect…you just have to be ready to cash in on your opportunities, and that's what we did tonight."
"Knowing the skill level we have and the determination that's in here when we are down to come back and give a good push. We've done it before, and we have a confidence in that," said Marleau. "You have to be even a little bit more focused on making sure you're doing things the right way [against an ousted team like Detroit] and not let bad habits creep into the game."
In the end, the final score is the only measuring stick for the Leafs to take from Saturday, and they'll take their lumps and lessons along with a sixth victory in their last seven games. For Andersen, the win was his 35th of the season, tying his career-high for single-season victories. Like the team around him, Andersen's 38-save performance wasn't faultless, but when a victory was on the line, Toronto's most important players managed to be just that.
"We knew we had to turn things around right away," said Marleau of sensing the game was slipping away from Toronto. "It's one shift here, one shift there; you know you have to start building some momentum and everyone took a turn winning their shifts and we got it going the other way."
Takeaways
Slow your roll
No one has been hotter for Toronto lately than James van Riemsdyk. He entered Saturday's game with eight goals in his last five contests, and just one score shy of 200 in his career. But the Red Wings were ready to make van Riemsdyk's office location – right in front of the net – as un-cushy as possible. He was disrupted all night long by Detroit, rarely able to get his stick on the tips his teammates were trying to send his way. But even when van Riemsdyk isn't scoring goals himself, his recent hot streak has all the attention on him – thus opening up opportunities for others. That's what happened for Kapanen when, in the first period, van Riemsdyk had a pair of Red Wings all over him next to the net, leaving Kapanen open to take a great feed from Tyler Bozak and pocket his seventh goal of the season to give the Leafs a 1-0 lead (with an assist to van Riemsdyk as well). While van Riemsdyk has been in the spotlight on his line with Bozak and Brown, before Saturday's game, Brown had mentioned how positive the burgeoning chemistry among them was now that they're playing together consistently. Brown finally reaped the rewards of that on the scoresheet when he tied the game 2-2 in the second period with his first goal in 14 games. Overall though, their line didn't spend much time in the offensive zone, posting a lowly 28 per cent possession, second-worst among the Leafs' four lines, while combining for four shots on goal.
No 'Plek' luck at all
Tomas Plekanec has had no puck luck at all with the Leafs since he arrived with the team via trade from Montreal on Feb. 25. He has yet to tally a single point in blue and white, but it's not for lack of trying. On Saturday he created a breakaway chance for himself off a turnover in the neutral zone – only to have his stick break in his hands. Plekanec tried to keep the play alive with the puck in his skates but couldn't hold off the Red Wings' backcheckers. Then later in the second he took off on a two-on-one with Kasperi Kapanen, who fed Andreas Johnsson on what should have been a sure goal – and Plekanec's first assist – but Jimmy Howard made an unbelievable glove save to keep Johnsson off the board. Other than not busting out of his point drought, Plekanec had a strong game for the Leafs – he was 4-for-5 in the faceoff circle after 20 minutes and drew a penalty on Henrik Zetterberg in the second period. His line with Kapanen and Johnsson had the best possession numbers of the night for Toronto, sitting at 60 per cent, and they were the only unit Babcock singled out after the game as being especially effective. Babcock said afterwards he shut down that group after four shifts in the third period "for no reason, really," other than to keep Plekanec as fresh as possible for the impending postseason run, when Babcock wants his veteran to be important when the Leafs are ahead in games. Plekanec finished the game at 58 per cent in the faceoff circle.
Power outage
The Leafs' power play has been a staple of their recent success, going 11-for-20 with the extra man heading into Saturday's game. But those units had a rare off-night against the Red Wings' penalty kill (which was sitting at 78 per cent on the season going into the contest). Despite Detroit giving them a couple cracks with the extra man in the first - including a 5-on-3 power play for 36 seconds midway through – Toronto couldn't convert on any of their first period opportunities. And not only were the Leafs not capitalizing, but they didn't get a whole lot of great looks to speak of. Their single opportunity in the second period didn't go much better, looking more lethargic than lethal. The man advantage had one last chance to sign in the third period with the game knotted 3-3, and the power play was as anemic has it had been all game long. It was the first time since March 3 the Leafs hadn't scored at least one goal on the power play, a stretch of seven games.
Next game
The Leafs continue their homestand with yet another meeting this month with the Buffalo Sabres on Monday.