Leafs stars stymied by Sparks in epic post-practice game of Rebound
The Maple Leafs scored just once in a pair of losses to the Pittsburgh Penguins and St. Louis Blues this week, and Toronto's top scorers remained snakebitten even at Sunday's practice, Mark Masters writes.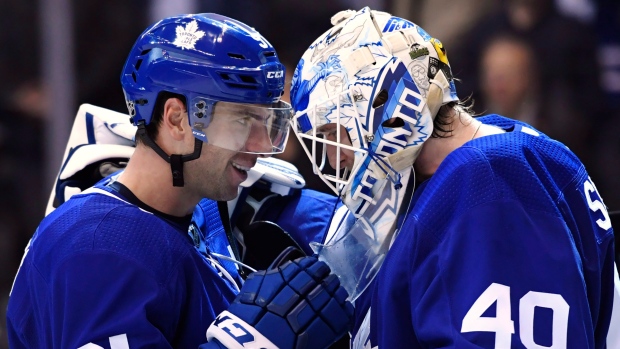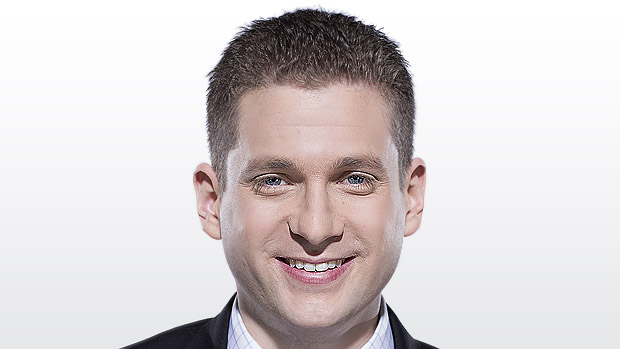 The Maple Leafs scored just once in a pair of losses to the Pittsburgh Penguins and St. Louis Blues this week as the team's previously explosive offence went cold. And Toronto's top scorers remained snakebitten even at Sunday's practice.
After the formal 30-minute workout wrapped up, a group of forwards – Auston Matthews, Mitch Marner, Patrick Marleau, Kasperi Kapanen and Connor Brown – remained on the ice to play a game of Rebound against Garret Sparks.
"It's one of the most dangerous Rebound lineups ever assembled, I'd have to think," Sparks said.
How does it work?
The players surround the net. One stands in the slot while the others line up on either side. If the initial shot doesn't go in then it's up to the other players to put the puck in with one pass or less. The players will then rotate through the positions. Usually the game is played up to 10 (saves or goals), but it was unclear what the scoring system was for the Leafs on Sunday.
"Guys like A-Mats and Marns, you give them that much time and space in tight, no D and no back pressure, it's pretty hard to hang with them," said Sparks.
A group of Leafs will often play Rebound after practices. It's a well-known game, one they've played throughout their hockey lives. But something different happened on Sunday. The back-up goalie stood on his head and kept stymying the Leafs stubborn stars. And so the game continued to the point where they had to switch ends, because the snow had built up so much. Teammate Morgan Rielly came out and knocked on the glass reminding Matthews about a pressing engagement.
But the game went on and on and on lasting 40 minutes, which was longer than the actual practice.
"We went on like an 0-for-8 streak against Sparksy," Marner said. "And then we finally won the last one. That's probably the longest (rebound game) I've ever done. We didn't want to go winless."
"I was slowing down a little bit towards the end," Sparks said. "I've never played eight games of Rebound in a row before."
The Zamboni driver was waiting to get on as the game wrapped up and actually drove on the ice as the players were still putting the pucks away.
"It's good," said Matthews deadpan. "I had nothing else to do today so Sparksy was a good sport about it. We kept losing so we kept playing and we played until we won."
Matthews, Marner, Kapanen and Marleau whooped it up after finally getting over the hump. But not Brown, who had been booted from the game about 10 minutes earlier.
"If you make a critical error that really sets your team back at certain points you can always get voted out," Sparks explained. "The guys just put one of their gloves on the end of their stick and it's like a tribal vote almost."
It was a fun game, but also a symbol of something more, at least for Sparks, who's soaking up every moment since cracking the NHL roster out of camp.
"It's just really cool when guys like that won't get off the ice until they win. We could've been here all day."
Matthews, Marner and the Leafs are similarly determined to snap a two-game skid before it snowballs into something more.
Early in the season, opposing coaches raved about Toronto's puck speed, especially in transition, but the last couple games that hasn't been evident. Sloppy breakouts have been an issue as the Penguins and Blues did their best to clog up the neutral zone.
"I didn't think our D had a chance to make many plays," said head coach Mike Babcock after a rare Sunday practice. "When you look at the whole game in overhead like I did this morning and you see how far our forwards were from our D, as a D-man she was a rough night so we have to do a better job of that."
The message has been received loud and clear.
"We've got to do a better job coming out of our own end," John Tavares agreed, "and being a little bit cleaner and allowing us to use our speed and get on the forecheck and be tenacious and hungry for pucks and put pressure on teams and not give them time and space."
"Just being available as a five-man unit," prescribed Matthews, "everyone getting into spots so the D or forward or whoever has the puck has options and not doing the same thing every time. It makes it a lot easier when we get back into spots and our D has a guy to pass it to."
But breakouts are only one reason why the Leafs seemingly unstoppable offence has gone quiet.
Of course, Babcock is right when he notes the "fantasy tour," which saw the Leafs score 33 times in the opening seven games, couldn't last forever. But potting just one goal in two home games against teams that have struggled early in the season was a bit unsettling.
"Obviously, when the puck's not going in, especially as a team, it gets frustrating with the talent and skill we have," admitted Matthews, who's now gone three games without lighting the lamp after torching the league with 10 goals in the opening six games.
"You get frustrated in sport usually when the other team's working harder than you," Babcock observed. "The last couple of nights, if you feel like you're not getting enough room to play maybe you're not winning enough battles and that's why you don't have enough room to play."
"Frustrate With Our Work Ethic," was one slogan posted on a screen in the Leafs room when the media entered after practice.
Toronto mustered a measly eight shots in the first 40 minutes against the Blues. Many of the chances were of the one-and-done variety.
"I just don't think we've been moving that much in the O zone," said Marner. "Those big D men can trap you pretty quickly if you're not moving so that's something we didn't do enough of and need to get back to."
The Marner line with Tavares and Zach Hyman was dominated territorially on Saturday with all three forwards below 40% CorsiFor against the Blues.
"We didn't generate a whole lot, starting with myself," Tavares stated glumly after the loss, "so I've got to do a lot better job when I'm out there."
A new Adidas advertisement behind one of the benches at the Leafs practice rink reads, "Creativity is the answer," and that could double as a rallying cry this week.
"It starts with not only working harder, but working smarter," Matthews said. "I think sometimes we're a little bit too predictable. You do the same thing over and over again (and) teams obviously watch video. I think mixing it up and changing it up off of face-offs, neutral zone and stuff like that (is important), you can't keep doing the same stuff over and over again."
Some down time will also help. Toronto played nine games in the first 18 days of the season, including a four-game road swing.
"Rest is going to be big for us," said Matthews. "We've played a lot of games in the last couple weeks."
The team will hold its Halloween party tonight before taking Monday off and practising here on Tuesday. The next game isn't until Wednesday in Winnipeg.
Travis Dermott was on the ice for three goals against on Saturday night and found himself skating with Justin Holl, a healthy scratch all season, at Sunday's practice.
"Personally, I was fighting the puck," said Dermott, who accidentally deflected in the first Blues goal of the night. "As a team, it looked like a couple times we were fighting the puck as well. (Sighs) Hockey happens that way sometimes whether it's the ice (being bad) or it's us being a little complacent. As a whole we just have to be better."
Babcock prodded the 21-year-old to not take anything for granted in training camp despite an impressive 37-game run in the NHL last season followed by a Calder Cup win with the Marlies.
"I feel like I've had some ups and downs," Dermott said in assessing his season to date. "I mean, we're only 10 games or whatever into the season so I'm still learning, still getting into mid-season form."
Babcock was noncommittal when asked if he's contemplating a change on defence for the showdown against the Jets on Wednesday.
"I don't know," he said. "I got lots of time to think about that."
Did Babcock see what Nashville Predators coach Peter Laviolette had to wear in his media session on Saturday night in Edmonton?
"No, what happened?" the Leafs coach asked reporters.
Laviolette told his players he'd wear a bull's mask during his post-game scrum if they swept an Alberta road trip, which they did.
"You'll do anything to win, won't you," Babcock said with a big smile. "Not bad. I've had bets with my team, lots of them, but none where I had to wear a bull's mask."
Lines at Sunday's practice:
Hyman-Tavares-Marner
Marleau-Matthews-Kapanen
Lindholm-Kadri-Brown
Johnsson/Ennis-Gauthier-Leivo
Rielly-Hainsey
Gardiner-Zaitsev
Marincin-Ozhiganov
Dermott-Holl
Andersen
Sparks