Leafs' slump continues with loss to Coyotes
There hasn't been much to be happy about this New Year for the Maple Leafs, and Sunday's 4-2 loss to the Arizona Coyotes only made things worse, Kristen Shilton writes.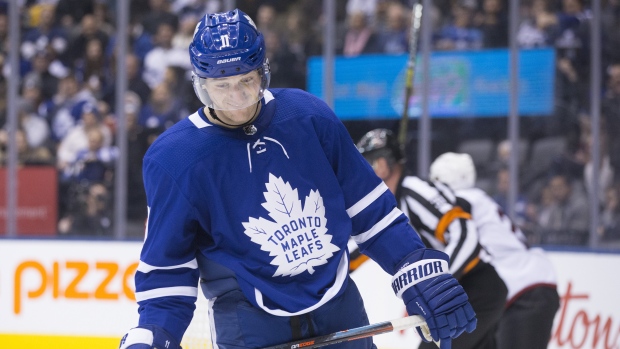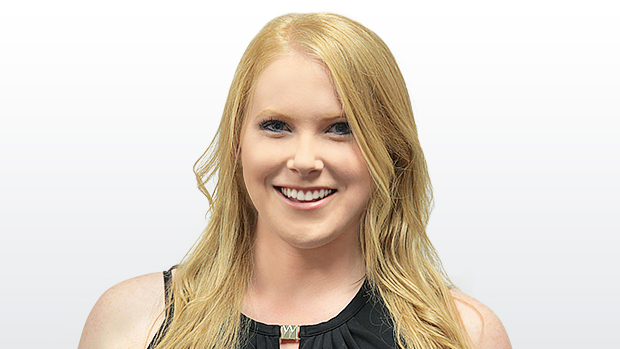 TORONTO – There hasn't been much to be happy about this New Year for the Maple Leafs, and Sunday's 4-2 loss to the Arizona Coyotes only made things worse.
This was Toronto's fourth defeat in their last five games, putting them at 3-6-0 since Jan. 1. But in the face of those struggles, the Leafs remain outwardly relaxed, eschewing panic in favour of positivity about what good this adversity can bring.
"We're right in these hockey games," insisted John Tavares, who scored one of Toronto's goals. "It's one shot here or there that can change the hockey game. So keep working through it. It's not easy at times, but this is a great challenge of character and a great opportunity to find a way to figure it out, and solve that puzzle of getting where we need to get to."
Now 48 games into their season, the Leafs remain well-positioned overall, sitting in seventh place with the fourth-most regulation/overtime wins in the NHL. Their success has just been more uneven lately - it was only three days ago Toronto topped the league-leading Tampa Bay Lightning, and then promptly lost to the 25th-place Florida Panthers, and now the 23rd-place Coyotes.
The problem has been with familiar, careless errors piling up, often feeding an opponent's transition and frequently ending up in the Leafs' net.
Another glaring issue of late has been a lack of overall goal production. In 11 games since returning from Christmas break, the Leafs offence has dried up considerably, to the point defenceman Igor Ozhiganov is tied with Andreas Johnsson as the team's third-leading scorers with two goals apiece in that stretch, while star forwards Auston Matthews and William Nylander have combined for two.
Toronto did manage the first goal against Arizona, off a seeing-eye shot from Travis Dermott that fooled Darcy Kuemper. While early this season they were unbeatable when scoring first, the Leafs have now dropped two games in a row where they've netted the opening goal.
"It seems like when stuff is going good, maybe we get a little too loose and then we make a mistake and they're heading down our way and putting the puck in our net," lamented Matthews. "We did a lot of good things tonight; there is no doubt about it. We have to definitely clean some things up and make sure we're playing a full 60 minutes."
When the Leafs have slipped up, it's been in glaring ways. Like on Mario Kempe's goal that tied the game 1-1 for Arizona in the second period, a breakaway chance he earned by going undetected behind Toronto's defence and beating Frederik Andersen one-on-one. Toronto did challenge the goal for being offside, but the call was upheld upon review.
Arizona then took the lead off a terrific shortside snipe by Clayton Keller on Andersen in the second, and forced Toronto to rally with a set-play off a face-off from Zach Hyman to Tavares, who buried his 30th of the season.
All the momentum had swung back in Toronto's favour with a 2-2 tie in the third, and then once again, they got careless in their own end, and Vinnie Hinostroza turned their giveaways into the game-winner. Lawson Crouse added the empty-net dagger.
As frustrating as it was to not be on the winning side, Tavares wasn't disappointed in how the Leafs kept responding, especially after Johnsson left the game with a concussion in the second period and Toronto was down to 11 forwards for the duration.
"I liked the approach of the team and the patience, the positive attitude on the bench," he said. "It was tight; we didn't get much room. We need the results, there's no question about that. We've done some better things, so if we can stay with it I think the way we're going. You have to embrace it. It's not what we want…but we have a quality team, we've proven that already a majority of the season."
Mike Babcock has repeatedly called for more urgency and work from his group in the last three weeks, and felt strongly both were present on Sunday. Toronto won the possession battle at 63 per cent, and had more high-quality scoring chances (12 vs. 10).
At least in this instance, it wasn't for lack of will to win that doomed the Leafs' chances of getting one. Although they do have to figure that part out, quickly.
"We had the puck a ton, the puck didn't go in for us," Babcock said. "We did a lot of good things. You can always want more, but I thought we stayed the course, I didn't think we gave up that much. Thought we did a pretty good job."
Takeaways
Gardiner out, Dermott up
Prior to puck drop of Sunday's contest, the Leafs announced Jake Gardiner was dealing with back spasms and wouldn't be available, opening the door for Martin Marincin to step back into the lineup. In doing so, Marincin took Dermott's spot on Toronto's third pairing, while Dermott moved onto the second pairing with Nikita Zaitsev.
It was a show of confidence in the 22-year-old blueliner, who's had an up and down season to date. Now in his second NHL season, Dermott is still learning to process the game at full speed and react accordingly in his own end, but in his last few games Dermott has shown good strides and earned the opportunity for more ice time in Gardiner's absence.
Not only did Dermott score his third goal of the year to get Toronto started offensively, but he took the promotion seriously in how aggressively and intelligently he played defensively. There was one standout play in particular where Dermott battled to hold the blue line to keep play alive on a great fourth line shift.
With Gardiner's status up in the air for Wednesday's game, and Babcock decently pleased with how Dermott performed, the uptick in responsibility could continue even longer. Dermott finished with 21:05 time on ice with one goal and two shots.
Average night for Andersen
At times this season, Andersen has been practically super human for the Leafs. He was solid again on Sunday overall, but tripped up by the quality one-on-one chances Arizona generated.
The game started out well enough, with Andersen making a flurry of sharp saves at the end of the first period to preserve Toronto's one-goal lead going into the second period.
In that frame, Kempe beat Andersen straight on off the breakaway, and then Keller picked his spot perfectly behind Andersen to put Arizona out front. The Coyotes nearly scored again in the period, but when Josh Archibald came charging in for a loose puck on Andersen's doorstep, the goalie inadvertently whipped the puck into Archibald's face and then had to make a dangerous save again as it fired back at him.
Andersen did give the Leafs good opportunity to hold onto a tie in the third period and get back the lead, making a series of stops before Hinostroza's go-ahead goal, but after Mitch Marner sent an errant pass up the slot right to the Coyotes, Andersen was out of luck. He finished with 27 saves and .900 save percentage.
Matthews (still) can't finish
When Matthews was on the ice, it was hard to argue any player wanted the puck more than him. Mired in a low-production stretch of one goal in 13 games, his worst scoring slump since going 13 games without a goal in his rookie campaign, Matthews was hounding for any scent of loose change, and pressing to put anything he could find on net.
That generated a few really solid scoring chances for him from in tight on Kuemper in the second period, but the goalie got just enough of both to keep Matthews off the board.
As has been the case for the last several games, Matthews' chances were abundant, but what is perhaps a sign of his growing frustration is how the centre is often ripping his shots high or wide of the net instead of on the goalie. He still finished with four shots, and 60 per cent possession, but was without a point in his third straight game.
Trusting the process
Babcock's stated goal in moving Nylander to the fourth line for Sunday's game was to try and relieve some of the pressure the winger's putting on himself to get out of a scoring slump that's produced one goal in 20 games. And from the outset against Arizona, Nylander took his new assignment seriously, skating hard chasing down pucks, and spying Dermott on the wing for the game's opening goal. That marked Nylander's first assist since Dec. 11, and just his third of the season.
It was a small step forward, but a step none the less, for Nylander's confidence, which has been significantly rattled by his struggles thus far. He found fine chemistry with linemates Frederik Gauthier and Par Lindholm, and had a real eagerness to his game.
The injury to Johnsson moved Nylander back into a top-nine role by the end of the second period, and that's when he immediately looked more jittery handling the puck, evidence that Babcock may have right to take some of the pressure off him with a demotion. But with Johnsson definitely missing Wednesday's game (and possibly more time after the All-Star Break), the Leafs may not have the luxury of giving Nylander that fourth line spot any longer. He finished the game with an assist and two shots in 12:05 time on ice.
Blue and White Trending
Tracking Leafs' trends all season long
After earning just one power play in Sunday's game, the Leafs have drawn the fewest penalties in the NHL this season, with just 141 in 48 games. That's nine less than the next closest team, the Detroit Red Wings (150).
Next up
Toronto welcomes in the defending Stanley Cup champion Washington Capitals on Wednesday.
Open Mike
"It appeared to me that we had the puck an absolute ton, and in the end, we didn't win the game. You're going to have some of those. I liked our energy here today. Just keep grinding, we'll work our way out."
- Mike Babcock reflecting on his team's struggles after losing for the fourth time in five games on Sunday.