Leafs use outdoor tourney as mental break
Team holds 3-on-3 tournament at outdoor rink in downtown St. Paul, Minn., to have a little fun in the midst of a gruelling schedule.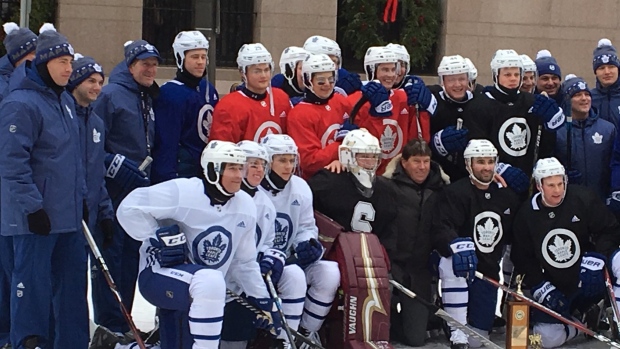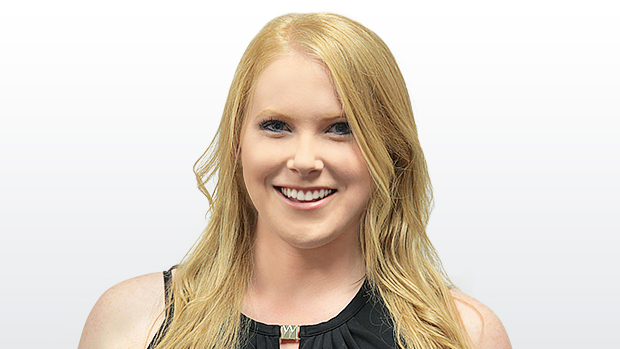 ST. PAUL, Minn. – It was just past lunchtime on Wednesday when employees in office buildings near downtown St. Paul heard the unmistakable sounds of a hockey game starting up.
Several of them filed into the downtown square to investigate the noise emanating from an outdoor rink known as Wells Fargo WinterSkate, only to discover it was coming from the Toronto Maple Leafs.
In town a day early before facing the Minnesota Wild on Thursday, the Leafs seized a chance to reset and have a little fun in the midst of a gruelling schedule.
"We looked at the schedule earlier and thought it would be a good opportunity for our guys," said head coach Mike Babcock. "The morale and the emotion of your team are so important, and enjoying one another, enjoying the opportunity is so important. [Hockey] is a game and you have to have fun doing it. I thought today was a good day."
Babcock wouldn't hear many arguments to the contrary from his players, or from the dozens of locals who crowded the tiny rink snapping pictures and marvelling that the likes of Mitch Marner and Patrick Marleau were mere inches away.
The Leafs were divided into four teams – black, blue, red and white – and played 3-on-3 until a tournament winner was decided. Rather than have netminders Frederik Andersen and Curtis McElhinney suit up, the Leafs invited two local goalie products – Henry Welsh, 17, and Luke Fry, 19 – to play instead.
While the idea to take the tune-up outside was Babcock's, Minnetonka, Minn., native Jake Gardiner played a key role in helping bring it to fruition. Or rather, his father John did. The elder Gardiner not only performed the ceremonial puck drop, he also brought along a crucial piece of hardware.
"Babs had talked to me about a week ago and asked, 'Do you have any outdoor rinks we can skate on?' Gardiner recalled. "Of course I texted my dad immediately. He had a few options that were too far away and we ended up settling on this [rink]. He brought a trophy down. I think it was one of my squirt trophies that we played for today. I think [my dad] was probably the most excited guy out there, but it seemed like everyone had a blast today."
It was a much-needed mental break for the Leafs, who are mired in a stretch of five games in seven nights. Twelve of Toronto's last 20 games have been on the road, and seven of their next eight through the end of December will also be away from home.
Coming off Tuesday's 4-2 road loss to the Philadelphia Flyers, where they were outshot by double-digits for the fourth straight game and generated next to nothing offensively, an afternoon of levity was a welcome reprieve.
"Sometimes off days on the road, they're just long," said Babcock. "Off days at home are great, but off days on the road are long, and having something to do and have it be a team-builder and still get some activity in [is good]. As you saw, starts off slow and then the boys get a little competitive. Everyone likes winning."
"It was like back in the day," said Nazem Kadri. "It was a lot of fun to just be out there and be relaxed and not have too much pressure and just forget about everything. Especially on the road, it brings our team closer together."
Babcock noted the team still met before their practice to prepare for the game against Minnesota, so the on-ice activities could safely steer clear of their routine drills.
It was Team Kadri that ultimately claimed the re-purposed squirt trophy over Team Marleau, much to Gardiner's chagrin ("I never like when Naz wins… [Morgan Rielly] too. That's a killer combination"). If Babcock has his way, Gardiner will have a few more chances to win the trophy back down the road.
"We're going to try and make it an annual thing," he said. "We call it 'The Six Cup' for Gardiner, we always call him six [because his sweater number 51 adds up to six], and his dad was here with his trophy and he presented it, and that was pretty cool. It set us up for good energy and set it up for tomorrow."
Matthews out again versus Wild
The Leafs have a chance to sweep the season series against Minnesota on Thursday, and if they do, Auston Matthews won't have been part of either game.
Matthews did not skate with the Leafs on Wednesday, marking the fourth straight day he's been absent from team activities since suffering an upper-body injury in Saturday's win over Pittsburgh. Babcock ruled him out for Thursday's game, the third consecutive contest he'll miss.
The 20-year-old centre remains with the team on the road trip and is still day-to-day according to Babcock. The coach just doesn't quite know yet what that means or when Matthews might be able to return.
"I used to ask players questions, but what is it is it's perceived as pressure from the coach, especially anything that lingers," Babcock said. "That's not my job to put pressure on them. When they're ready, they'll come. The other thing is it prevents the coach from getting in his own way, and when you're putting pressure on a guy and he comes back and he gets injured, you see it all the time, reoccurring injury, makes no sense."
Toronto had gone 5-0-0 without their top scorer in the lineup before Tuesday's loss to Philadelphia ended their perfect record.
Andreas Borgman was also absent from practice on Wednesday with what Babcock called "nothing," and he's expected to play Thursday.
Babcock also offered an update on Nikita Soshnikov, who was placed on injured reserve Tuesday after missing two practices with what TSN's Darren Dreger reports is a groin injury.
"They thought he was fine, but he's not fine," Babcock said. "We'll get another opinion; do whatever we have to do. Got to get it worked out. If a player doesn't feel right, he can't play."