Leafs winger Boyes the perfect rental option
A look at possession numbers and scoring rates shows Toronto Maple Leafs winger Brad Boyes should be an affordable and desirable trade target at the deadline, TSN's Travis Yost writes.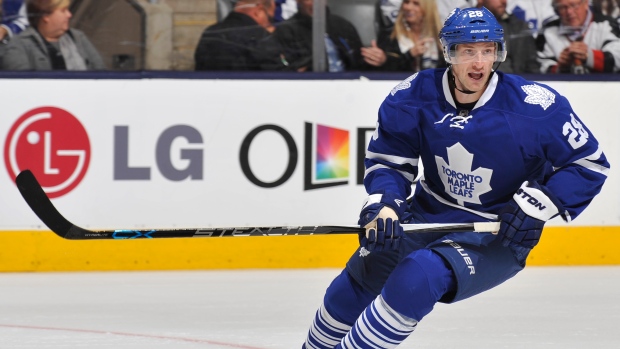 Last summer I wrote about then-UFA winger Brad Boyes, and why I thought he would be a steal for any team in the market for a depth veteran winger.
The justification then was pretty straightforward. I noted, among other things, how Boyes had a knack for elevating the play of his teammates. Essentially every forward he historically skated with saw a boost in his raw Scoring Chance% when playing with Boyes, then saw those numbers drop when said forward was moved to another line. Add that to his general versatility and cheap cost – he went to the Toronto Maple Leafs on a PTO before signing a one-year, $700K contract – and you have the perfect complementary piece for a team looking to improve its depth.
Which, I suspect, Toronto knew all along. Though I don't doubt the Leafs thought Boyes could improve their depth for the time being, their long-term plan for him was obvious from the jump: sign a productive player whose actual value far exceeds his perceived value, let him play well over a 40/50 game window, and flip him for futures that can accelerate the team's rebuilding plan.
I'd say this part of the plan has worked out well for the Leafs. In an entirely forgettable season, Boyes has performed admirably. He owns both the team's best possession numbers, and the team's best scoring rates – his 1.86 points/60 at 5-on-5 is a cut above all-star Leo Komarov (1.79) and James van Riemsdyk (1.71).
I think the scoring aspect of Boyes' game is really underrated, perhaps even more so than his ability to positively impact the shot rates of his teammates. I find this particularly amazing since Boyes has a 43-goal, 33-goal, and 21-goal season to his name since 2007-2008.
Those big goal-scoring seasons, I would argue, have had a detrimental effect on his perceived value as a player. In a league where essentially every contract for forwards is driven by point totals, you would think that a player with Boyes' track record wouldn't struggle to find work. And yet, here's a guy who needed a PTO to find a job this year. More than anything, I think it's the case of a player (a) setting an extremely lofty benchmark based on historical scoring rates; (b) failing to reach these historical scoring rates but still playing rather well; and (c) watching his reputation around the league suffer as a result.
That's a really important delineation. Boyes may not be the player he once was, but he's still extremely productive as a territory driver and scorer. The biggest change, really, has been the minutes he's been given.
Boyes is one of just 40 regular forwards who have managed to post a better-than-league-average scoring rate at 5-on-5 in the last four seasons. (If you want to go back a bit further, he's done it in eight of the last nine seasons.)
The list is an exclusive and expensive one, but don't take my word for it. I've identified every regular forward that would satisfy the above criteria – a minimum of 40 games played in every one of the last four seasons, and a point/60 average that's beaten the league average every year.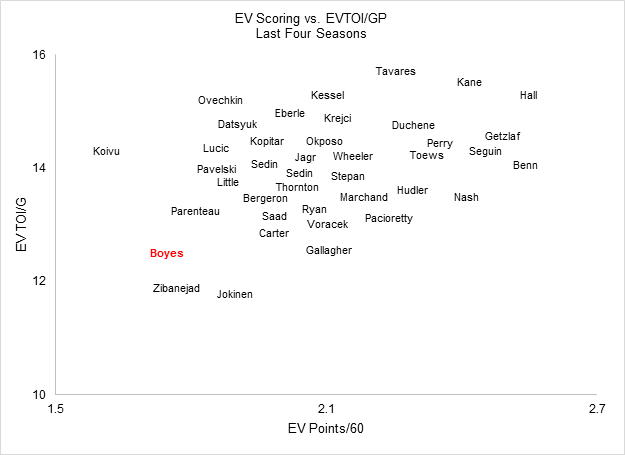 Boyes may not be the high-end scorer that some of these guys are, but again, remember the comparables here. The average salary in this group is somewhere around $5.5MM. Boyes is, again, making $700K on an expiring contract. For roughly 12.7 per cent of your average contract, Boyes provides marginally less scoring every 60 minutes.
I'd say that's a pretty reasonable trade off.
I included ice time for a very specific reason on this graph. As Leafs fans are aware, Boyes hasn't really played all that much this season – he's averaging roughly nine minutes a game at 5-on-5, about four minutes off of his career norm. There are myriad reasons for this, but I think it's worth pointing out the kind of misleading effect it's having on his counting numbers.
An interested trade suitor looking for some scoring depth might first pass over Boyes because of his average scoring numbers (17 points in 43 games), but that's in large part due to the fact that he's just not playing very many minutes. Reality: he's still very productive when you normalize that scoring on a per-60 minute basis, like we did above.
Let's look at that same group of forwards who have posted above-average scoring rates for the last four seasons, with just a focus on 2015-2016. Where does Boyes sit here?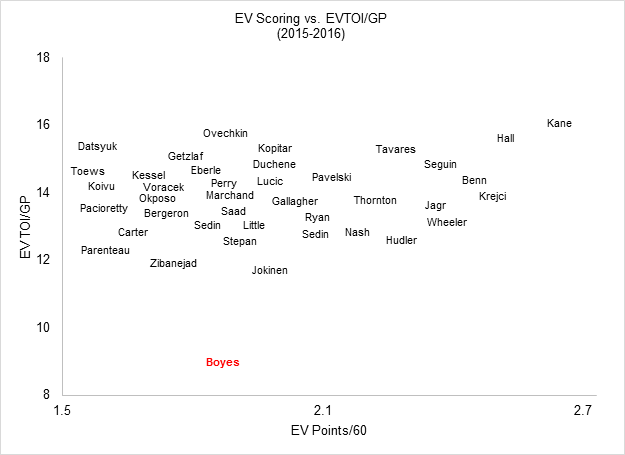 Funny little band that is, huh? Essentially every one of these highly-productive forwards gets between 12 and 16-minutes a night at 5-on-5. And then there's Boyes, scratching and clawing for every minute he's given this season, scoring at the same rates as guys like Jordan Eberle, Corey Perry, and Alexander Ovechkin.
The Takeaway
This one is obvious, right? Any buyer at the trade deadline looking to improve their depth forward group should put a call into the Toronto Maple Leafs. Brad Boyes is still a very productive winger in this league and sits on a ridiculously team friendly contract that expires at the end of the season. He's the perfect rental option for just about any team in need. Considering he'll likely be a very low-cost purchase, he strikes me as one of the most desirable trade targets this year's deadline has to offer.