LeBrun: Babcock, Quenneville a first-class combination
When it came time to solicit opinions of past Team Canada players about coaches for the World Cup, there were few better to ask than Jonathan Toews. Pierre LeBrun explains how the Babcock-Quenneville part of the bench came to be.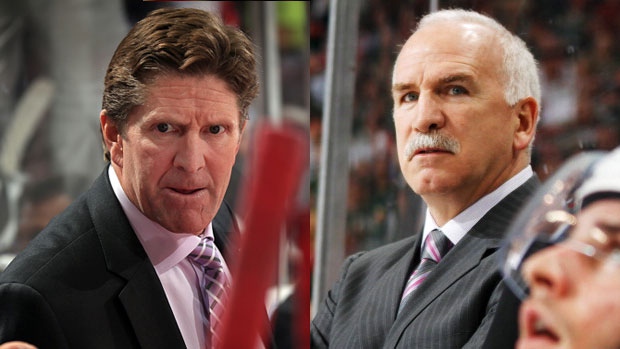 TORONTO - Doug Armstrong did a very smart thing in deciding what to do about his head coach for the World Cup of Hockey.
While giving the gig back to Mike Babcock certainly seemed like a no-brainer, the Team Canada general manager sought out feedback from a handful of players from the Sochi gold medal team, specifically wanting to hear how they felt Babcock got them prepared.
And while he downplayed his role, I'm here to tell you that when Jonathan Toews speaks, people listen.
"We did have a brief discussion, I don't know how much my opinion mattered," Toews said over the phone Thursday.
Right. Nobody is going to care about what a guy who has won three Stanley Cups and two Olympic gold medals has to say.
When Armstrong chatted with the decorated Chicago Blackhawks captain, he heard that Toews was impressed by Babcock from playing for him in two Olympics; but he also heard from Toews that adding Quenneville to the mix would be a grand idea.
"Absolutely," said Toews. "The feedback was, obviously there's the success we've had the last two Olympics and Mike brings that experience that I think is something that's needed for Team Canada if it wants to continue that success on that stage. But I don't see anything wrong with having a guy like Joel come in, too, and offer his expertise and bring what he knows about the game. I'd say in a situation like that, the more the merrier, I think it's going to be a great mix. I'm definitely happy to see Joel get that recognition and that opportunity."
So while much of the media opinion was divided between whether it should be Babcock or Quenneville as the head coach for Team Canada's World Cup team, Armstrong did one better in managing to include both guys.
Toews sounded genuinely excited that his Hawks coach finally got into the Team Canada mix.
"Pretty awesome," said Toews. "If there's someone that's deserving that hasn't had the opportunity it's probably Q with what he's done with our team the last number of years and the success we've had. He's established himself as one of the most successful coaches in the NHL and the history of the game. I think for a Canadian, whether you're a player or coach, that's the ultimate level is either to go to the Olympics or World Cup on that international stage. I'm super happy he's getting the chance to do that."
The key, of course, was to ensure that both Babcock and Quenneville were cool with the idea, the latter with taking a secondary role to what he's used to, and the former sharing his bench with the guy who's won three of the past six Stanley Cups.
Babcock's reaction when Armstrong approached him with the idea?
"I said, 'We want Q for sure,'" Babcock said Thursday after Hockey Canada held a news conference to announce the staff. "I don't make the decisions on who coaches the team, I just answer the question. To me, if they had asked Joel (to be head coach) and he would have said, 'Babs, you want to be on my staff?' I would have said sure. Real simple for me."
The feedback confirmed what Armstrong already knew, that it was right to hands the reigns back to Babcock.
"I talked to some of the players and they were very impressed with how he comes in prepared, they have a game plan and they're ready to execute it," said Armstrong. "I think his record obviously speaks for itself. I think the last two Olympics, especially in 2014, I thought the scores of the games were close, but I really felt that the control of the play wasn't as close as the scores indicated at the end. I think he's just a logical choice for this event."
Armstrong said Quenneville "got a ton of consideration to be the head coach."
"But we felt that it was a perfect scenario for Joel to come back into the fold, get his feet wet maybe as an assistant coach and looking forward," said Armstrong, hinting no doubt at future Olympics.
"Obviously Mike's the head coach and (Joel is) our assistant coach. When you're dealing in this quality of individuals and coaches, I think it's a collaboration of great minds getting together."
Claude Julien of the Boston Bruins, Barry Trotz of the Washington Capitals and Bill Peters of the Carolina Hurricanes complete the coaching staff, the respected Julien a holdover from the Sochi staff while Trotz and Peters are new additions -- mind you both have IIHF men's worlds experience, Trotz as an assistant coach in 2002, 2003, 2009 and 2013, and Peters as an assistant coach last spring on the team that won gold in Prague.
Like trying to fill out the roster with a who's who list of talent, Canada's deep list of coaching candidates fuels the same second-guessing.
Such as, why not Alain Vigneault? Or Michel Therrien? Or Paul Maurice?
"Darryl Sutter, the list goes on and on," Armstrong said continuing the thought. "Or Ken Hitchcock, Lindy Ruff that had been here before; I think Hockey Canada is very fortunate when we're going through trying to get 23 players and we're stuck at 31 or 32, we have to trim that roster and I think the same thing you could say when we were trying to pick out these coaches."
Peters is the name that sticks out because of his lesser experience but he comes in as the fifth guy on the staff, replacing Ralph Krueger from the Sochi staff in the role of advanced scouting on other teams, etc. He's also a guy that Babcock wanted on the staff given their past history in Detroit and in junior.
"And this is being real honest, it's good to have a guy who's been an assistant on your staff recently that's used to doing that and organize stuff," said Babcock. "The rest of us are head coaches who have done this forever. So Pete (Bill Peters) is a guy who I knew could get us up and running in a hurry and wouldn't mind being in that spot. Sometimes, some guys, you're an NHL head coach and you don't want to be in that spot. Pete is a really, really good coach, he's done a good job, he's smart and he's going to work."
So now what?
Armstrong's management group, which also consists of Ken Holland, Marc Bergevin, Bob Murray and Rob Blake, will meet Monday in Toronto on Hall of Fame induction day to revise their player lists.
They did so first last March and again in June, so this will be the third time they look at their player choices. The exercise is an interesting one, each manager submitting his own 23-man roster as he sees it, and then Hockey Canada compiling the results.
Armstrong said the group last time came up with about 40 names in total with all their overlap. Still, that's the trick, isn't it? Getting those 40 names down to 23.
The first roster deadline is March 1 when all World Cup teams must name its first 16 players. The tougher part, of course, is those final seven players by June 1 to complete the 23-man roster.
That's when you'll get your real controversy in this hockey-mad country.
On this day? Not so much. Getting Babcock and Quenneville to be part of the same staff was a stroke of genius.