Leonard eases nerves on Raptors media day
As off-season Raptors acquisition Kawhi Leonard finally faced the Toronto media on Monday, Raptors fans as well as the team let out a collective sigh of relief after the former Spur insisted he was pleased to be coming to a great organization and a city that's passionate about basketball, TSN Raptors Reporter Josh Lewenberg writes.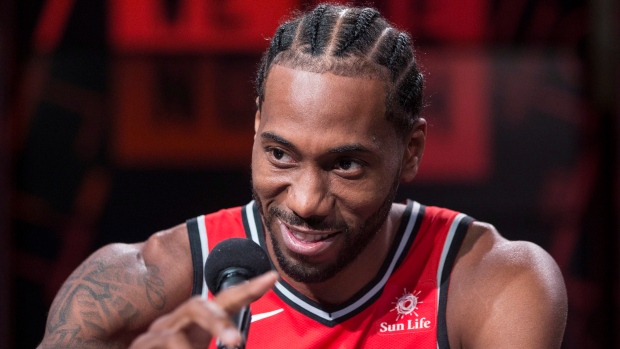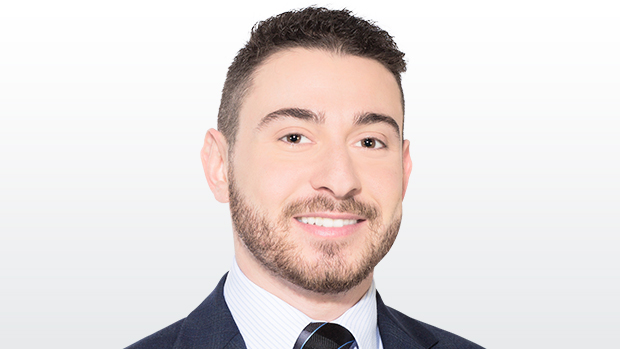 TORONTO – As Kawhi Leonard took to the podium on Monday morning, finally speaking publicly for the first time since he was acquired from San Antonio in mid-July, Raptors fans let out a collective sigh of relief.
Not long after, the team did the same.
Media day went just about as well as they could have expected, mostly because they didn't quite know what to expect.
It wasn't entirely clear what Leonard would say, how much he would say, or even when he would be ready to break his silence. According to multiple sources, Leonard's camp had rebuffed the Raptors' many attempts to formally introduce him to the media following the trade. For what it's worth, the team didn't see that as a reflection of his desire – or lack thereof – to be in Toronto, and neither should you. That's just Kawhi. Famously, he's a man of few words.
Kyle Lowry, the team's incumbent star, had declined to comment on the trade of his close friend and long-time teammate DeMar DeRozan at a USA Basketball minicamp in Las Vegas over the summer. That was overblown and not a direct concern to the team – as Lowry correctly pointed out on Monday, he's never made a habit of speaking to the media during the off-season.
Of greater concern, per league sources, Lowry had also been dodging calls and texts from team officials, including president Masai Ujiri and new head coach Nick Nurse, who Lowry said he only spoke with briefly right after Nurse was promoted in June.
Meanwhile, Lowry and Leonard didn't speak until Monday morning. But here they were – in the same building, seemingly on the same page, preaching the same things, and sharing the same level of excitement for this upcoming season.
They said the right things. Leonard insisted he was pleased to be coming to a great organization and a city that's passionate about basketball. Lowry said he's happy to be part of a team that has a real chance at doing something special. Leonard even broke a smile or two.
The most encouraging thing for the team and its fans was how sincere it all came off. That may have come as a relief but, for the Raptors, it wasn't exactly a surprise. Despite the chaotic summer and minimal off-season contact with their best players, they've maintained confidence that once they get back to work a common interest would bind them: their drive to win. For at least one day, that shared goal proved to be bigger than any of the uncertainty hanging over the franchise ahead of its most important campaign to date.
"I want to play here," Leonard said. "You know, as long as I have on a jersey I want to play basketball. I came here with an open mind. I want to do great things, so I'm going to make sure that I put [in] all my effort on the court, each and every night, and by winning games this is how you get star-calibre players to want to come here and play."
"I'm here to do my job," said Lowry. "One thing about me is I've always been prepared to come in and try to win a championship. I've always been given an opportunity to go out there and do me, and come back ready to go, in shape, ready to play. My mindset never changes: Come to work for the Toronto Raptors, try to win a gold ball. That's the same as it's been since my first year here. That's been my sentiment: Trying to win a gold ball here."
Provided everything breaks the right way, the Raptors have a real shot at making it out of the LeBron James-less Eastern Conference and competing for a championship – something that's not lost on either of the team's star players, or the supporting cast.
"You can talk this and that – we're a good team on paper, yeah, we have a really good team on paper," said Jonas Valanciunas, who is going into his seventh season with the Raptors, making him – along with Lowry – the team's longest-tenured player in the post-DeRozan era. "We have all positions, we have great shooters, we're not bad at the centre position (laughs), we can do big things but how are we going to prove that? How are we going to show it on the court, how are we going to do that? That's what matters."
If talent rules the day, they're going to be really good, with a chance at being great, and the tenuous foundation of their revamped roster is depending on it.
Winning solves a lot of problems, in most cases before they even become problems. Is Leonard destined to take off for Los Angeles next summer? That question will linger all season long, but he's obviously far more likely to stick around if he and the team enjoy a successful year together. Will Lowry continue to be a good soldier? Will some of their depth of talent off the bench buy into playing spot minutes for the good of the team? As long as things are going well, it's easy to see them coming together and, most importantly, staying together.
"I look at it as a day-to-day process," Leonard said. "My focus is on this year, this group that I have, and striving to get to a championship. We all want to win, and if you're looking in the future you're going to trip over the present. So what I'm focused on is this year, tomorrow, and just get going after that."
"If you're winning and you're complaining [then] that's a bad recipe," said Greg Monroe, the eight-year NBA veteran, who has started 415 career games and may find himself at the backend of a very deep rotation this season. "People tend to think that winning heals all."
However, what if they get off to a slow start, which is certainly possible given the newness of the roster and the experimental nature of their new head coach? What happens when adversity hits?
There's a wide range of possible outcomes for the 2018-19 Toronto Raptors. If they top out as a legitimate contender to win the East, what's their floor if things don't come together as they hope? That disparity is a function of the calculated risk they took in trading for Leonard – something of a wild card after missing all but nine games with a quad injury last season and then forcing his way out of San Antonio – and shaking up the chemistry in a tightly-knit locker room.
Leonard said he's healthy and itching to get back in the gym, which is a promising first step. On Tuesday he and Lowry will share the court for the first time as teammates, with the Raptors opening training camp in Vancouver. Even without an existing relationship to lean on, they're hoping it won't take long to learn from one another. They've got a common denominator with which to start.
"We'll have a full season, we have a full week of training camp to get to know each other," Lowry said. "He's my teammate now so I'm excited to play with him, and I always ride or die for my teammates. Go out there and play basketball, win as many games as possible, and at the end of the year hold up that trophy."