Leonard making Raptors must-see TV
The 5-0 Toronto Raptors have matched their best start in franchise history and Kawhi Leonard's gigantic fingerprints – from his ability to shoot, score and also demonstrate his subtle defensive prowess – are all over his team's early success, Josh Lewenberg writes.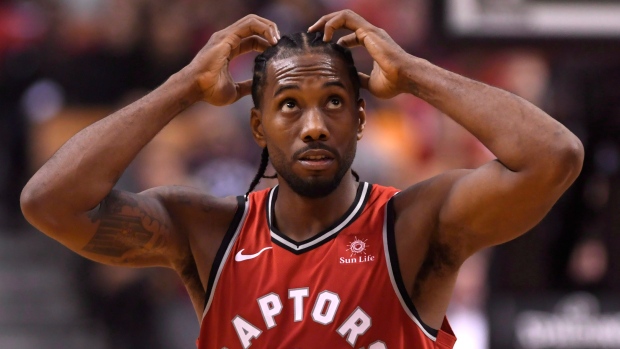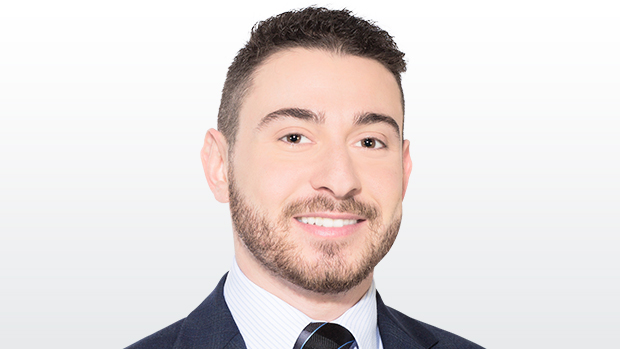 TORONTO – On a night in which Kawhi Leonard scored 35 points, easily his best performance of the young season to date, the play of the game came 73 feet away from the Raptors' hoop.
Early in the second quarter, with the Minnesota Timberwolves making a run and cutting Toronto's lead down to five, Gorgui Dieng tried to thread an ambitious bounce-pass to the cutting Jimmy Butler. Sniffing out the play, Leonard broke it up, diving into the lane with his back towards the passer and suffocating the ball with his chest.
It's not the type of play you generally see leading a highlight pack. It's not the type of play you generally see at all: a no-look, diving steal. It went viral fast.
Did he mean to do it? Maybe he got lucky, you know, right place at the right time? If you're familiar with Leonard and his body of work you know that luck had nothing to do with it, or anything the superstar forward does on the court.
"I've seen it before," said Danny Green, who spent seven seasons with Leonard in San Antonio. "I don't think half the time he steals the ball he sees it. I think his hand just gravitates towards the ball and he just palms it, just keeps going the other way."
"That's instinct," head coach Nick Nurse echoed. "Reacting quickly and knowing you can make plays with your length and things like that by staying with it and finishing plays."
"[It was] awesome. We've shown it at least twice to our team. I think we showed it at halftime last night and we showed it in our defensive edit today. The point is, if one of your best players is getting dirty and getting on the floor, then we all should be getting dirty and getting on the floor, making plays."
With Wednesday's win, 112-105 over Minnesota, the Raptors improved to 5-0 on the season, matching their best start in franchise history, and while there's a lot to get excited about – Kyle Lowry's torrid pace, Green's hot shooting, the consistent play of Serge Ibaka and Jonas Valanciunas – Leonard's gigantic fingerprints are all over his team's early success.
The start of the Kawhi era in Toronto looks like this: 112 points on 84 shots (51 per cent from the field, 47 per cent from three-point range) in 140 minutes over four games. Not bad for a guy that's still working his way back into game shape after missing most of last season with a quad injury.
Over years of hard work, Leonard has blossomed into a dominant offensive force. The ease with which he gets to the rim or creates separation on the perimeter is remarkable for a player without the blazing speed of a Russell Westbrook or the elite athleticism of a LeBron James. His game is predicated on power, patience and precision. Nothing is rushed, no movements wasted. He knows where he wants to go, and he gets there.
His improved ability to shoot and to score is what's made him a perennial MVP candidate, but his defensive prowess is still what makes him special to watch. A two-time Defensive Player of the Year winner, the things he does on that end are subtle. They're not as eye-catching as an ankle-breaking crossover or an open-court alley-oop, but they're every bit as impressive.
On Wednesday it was the no-look steal. A couple days earlier, in Monday's decisive win over Charlotte, he forced Cody Zeller into committing a three-second violation in the restricted area after the Hornets' seven-foot centre caught the ball directly under the rim.
"His defensive game is similar to his offensive game," Nurse said. "He can hurt you from the outside, he can hurt you from the inside, he can guard guys off the dribble, he can really play all facets at both ends. He's won the Defensive Player of the Year award (twice) before and we're seeing probably why a little bit, just flashes of it in some of these games."
In his early years with the Raptors, Vince Carter would famously make at least one 'I can't believe he just did that' play each night, usually a dunk. They were truly jaw dropping, get-you-out-of-your-seat type of plays, without the benefit of Twitter to relive them over and over again immediately after. And it wasn't just the team's fans that were watching. Carter and his star power captured the attention of basketball fans everywhere. For the first time ever, the Raptors were must-see TV.
They haven't had a player that could draw that kind of an audience since, until now. The Raptors will play 15 games on U.S. national television (ESPN and TNT) this season, the most they've been scheduled for since the Carter era (2001-02). To put that into perspective, they only made 20 appearances on U.S. national TV between 2004-05 – the year Carter was traded – and last season.
Here in Canada, viewership for the first three games aired on TSN this season is up 67 per cent over the first three games the station aired last year. Last Wednesday's season-opening win over Cleveland was the most-watched Raptors regular season game ever on TSN with 528,000 viewers.
Chris Bosh, DeMar DeRozan and Lowry are all great players and deserving all-stars that have each made their mark on the franchise, but in a superstar driven league, Leonard is in a class above.
Not unlike Carter, Leonard will do something incredible almost every night, only most of his 'I can't believe he just did that' moments come on the defensive end, where he's well on his way to establishing himself as an all-time great. Look away at your own peril. Whenever he's on the court there's a chance you might see something you've never seen before.
If you took those Carter years for granted, you're probably not alone. The Raptors were a young franchise at the time and Toronto was a city still relatively new to basketball. Carter took the league by storm, and he was doing it in a Raptors uniform. It was surreal, and it seemed like it would last forever, or at least much longer than it did. And then, just like that, Carter was gone and so were the fun and iconic basketball moments.
Now, almost a decade and a half later, the fan base knows the value of witnessing greatness – wherever, whenever and for however long it comes. They've loved and lost, they've experienced high highs and low lows, success and failure, hopefulness and heartbreak.
With the fickle nature of professional sports, and the circumstances that brought Leonard to Toronto in the first place, it's even more important to savour his tenure. Whether it lasts months or years, Raptors fans are seeing something that's worth appreciating.