Lightning F Brown respects anthem protests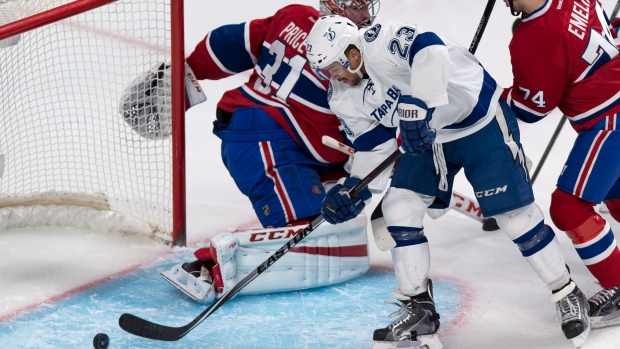 Tampa Bay Lightning forward J.T. Brown respects the national anthem protests taking place in the NFL and told the Tampa Bay Times on Sunday he's not ruling out taking part in the future.
"I think there are just a lot of people banding together, trying to show unity, trying to show solidarity over an issue that a lot of people feel is being taken lightly," Brown told the Times.
Brown said he has no current plans to become the first NHLer to protest, but remains open to the possibility.
"I won't say no," he said. "But right now, I'm focusing on our season."
Winnipeg Jets forward Blake Wheeler took to Twitter on Saturday to speak out against President Donald Trump's recent comments disparaging the protests. Brown, 27, said he also disagrees with Trump's statements and thinks Colin Kaepernick's initial message on police brutality remains an important issue in America.
"I don't agree with (the president's) comments," Brown said. "As with anything, some people will agree, some people won't. I respect all the players for what they're doing, coming together.
"You can't get mad for a peaceful protest. Or maybe you can. The protests aren't always peaceful. It can get violent. But even with peaceful protests, there is going to be negative backlash. There are going to be people on both sides of the argument, no matter what side you take, how peaceful you are."
The Times reports Brown donated $1,500 last month towards removing a confederate statue from Tampa Bay.
Brown spoke out last year when John Tortorella said he would bench any player on Team USA that sat during the anthem at the World Cup of Hockey.