Lightning not expecting Stamkos back for Game 7
Tampa Bay Lightning head coach Jon Cooper says nothing about captain Steven Stamkos' status has changed.
Frank Seravalli, Senior Hockey Reporter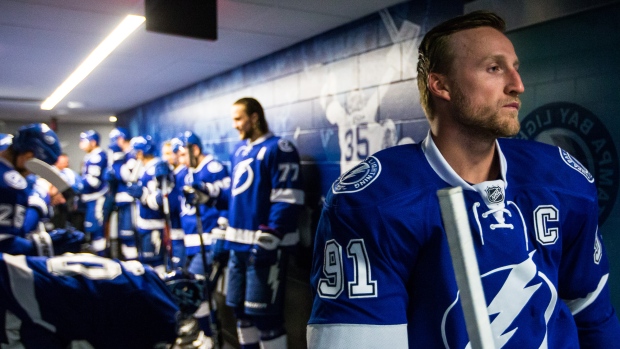 TAMPA, Fla. - The Tampa Bay Lightning are not expecting a miraculous recovery from captain Steven Stamkos in time to provide a jolt for Game 7 of the Eastern Conference final.
Lightning coach Jon Cooper said Wednesday that Stamkos' status has not changed. Tampa Bay's leading goal scorer in the regular season has not played since March 31, when doctors discovered a blood clot near his collarbone the following day.
"Nothing's changed as far as our end," Cooper said before his team flew to Pittsburgh. "So that's all I got for that."
The Lightning could become the first team in the last 20 years to win the Prince of Wales Trophy as Eastern Conference champions without their captain on the ice. (The New York Rangers won in 2014, but no player filled the role after Ryan Callahan was traded to the Lightning in February.)
Stamkos, 26, has remained on injectable blood thinning medication Lovenox since the surgery, which removed his top right rib to alleviate pressure on the vein where the clot was found.
The NHL does not permit players to participate in games while taking blood thinners. Stamkos said last week his team of doctors is trying to find a consensus on whether it is safe for him to return to action. They've examined the possibility of staggering his dosage so he wouldn't be on the medication for a short period of time during a game.
"There's still a real possibility that I may not play at all in the playoffs," Stamkos said last week. "It's tough when you have two different [ends] of the spectrum. It's either you're going to be able to play or it's just not safe to play."
Stamkos skated for approximately an hour ahead of Game 6 on Tuesday, doing wind sprints with Tampa Bay's healthy scratches and minor league call-ups.
In addition to his long-term health to consider, Stamkos heads the list of TSN's Top 30 Free Agents. He can become the youngest superstar in league history to hit the open market on July 1.
"I'm sure it would give them a boost, I mean, adding a player of his calibre," Pittsburgh captain Sidney Crosby said of a potential Stamkos return. "But I think regardless of what happens, I mean, it's really got to be about our game and what we need to do. But if he's in the lineup, it's something you have to be aware of 100 per cent. We'll see what happens."
Contact Frank Seravalli on Twitter: @frank_seravalli