Lightning reap rewards for signing Stralman
Travis Yost examines the New York Rangers' decision to invest in defencemen other than Anton Stralman, and how it's become a costly proposition to let a star blueliner go to Tampa Bay.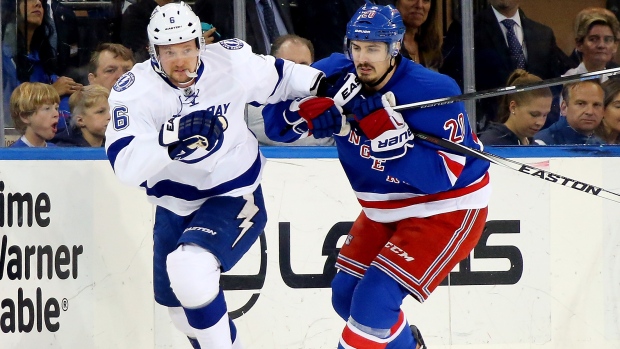 On February 28, 2014, the New York Rangers extended defenceman Dan Girardi to a six-year, $33-million dollar deal. It was a reasonably tough squeeze for a team that spends near the cap ceiling every single year, and would require a couple of creative calculations and adjustments to make every dollar work heading into 2015-2016.
One of those 'adjustments' was letting talented puck-mover Anton Stralman walk via free agency. Stralman, of course, was given a lowball offer by the Rangers front office, and negotiations never really picked up from there. The move was by design – the theory was that Anton Stralman could more or less be replaced through a cheaper option, all of this the result of prioritizing Girardi on the back-end.
It's hard to say the New York Rangers have been crippled by the decision. They are, once again, pushing towards another Stanley Cup berth. However, it's equally hard to posit that the Rangers made the right decision with Girardi/Stralman – the team's 5-on-5 performance has slipped from last year, a competitor (their Eastern Conference Final competitor, coincidentally enough) benefited as a result of the miscalculation, and the team's efforts to replace his puck-moving prowess through free agency and via trade have been more costly than anticipated. Perhaps most discouragingly, this very issue was foreseeable.
Let's look at Dan Girardi v. Anton Stralman from a couple of different perspectives. First, I want to look at how these players have performed relative to the rest of their teammates. Are the teams better with these players on the ice? Are the teams worse with these players on the ice? Does it change whether we look at relative scoring chances (horizontal axis), or relative possession via Corsi (vertical axis), or relative goals (size and color of bubble; big blue indicating positive, big white indicating negative)?
I've compiled eight names below for the sake of analysis, including Stralman and Girardi, of course, as well as the two pseudo-replacements for Stralman in Yandle and Boyle. In addition to those defencemen I've included four of the best defencemen in the game – Duncan Keith, Drew Doughty, and Erik Karlsson, P.K. Subban – for comparison purposes.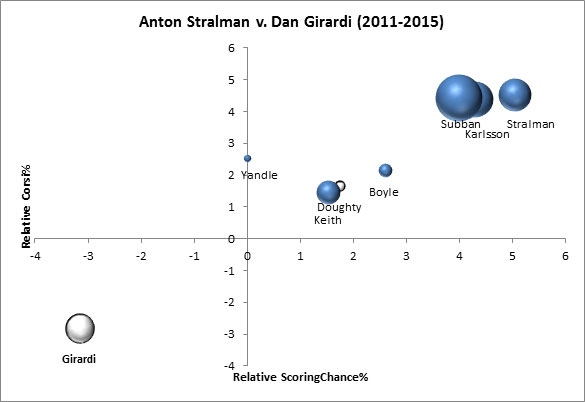 Look – no one's taking Anton Stralman over P.K. Subban or Erik Karlsson. But the mere fact that he's sitting in their little universe of elite performance over the past four years isn't nothing. Go ahead and pick through any defenceman you want, over any set of years, and see how few can get into that upper sphere. It's nearly impossible. You don't get there by being anything other than really, really dominant.
Then there are the 'Anton Stralman Replacements' in the form of Dan Boyle and Keith Yandle. Boyle was a good defenceman for years in San Jose, but it was impossible – both then and now – to ignore his age. Yandle has been a solid player for years in Phoenix, and he's played well in spurts for New York but, again, he's not Anton Stralman.
This gets into the 'compounding mistakes' problem that a lot of teams don't recognize at onset of the decision-making process. New York, for example, decided to go with the cheaper Dan Boyle due to cap restrictions. Boyle was OK ($4.5MM AAV for the next two years), but the team recognized they needed another puck-mover to take the team to the next level. So, they acquired Keith Yandle at the deadline. The cost of Yandle ($2.6MM AAV over the next two years) brings New York to … a lot of money spent on more defencemen.
The costs don't end there. To both acquire Yandle and incentivize Arizona into retaining half of his salary, the Rangers gave up premier prospect Anthony Duclair, a 1st-round pick, a 2nd-round pick, and John Moore. It adds up rather quickly.
Lastly, on Dan Girardi: I recognize his role is quite different from many defencemen in the league. Much of what he's paid for pertains to playing well in the defensive zone against tougher competition – suppressing shots, scoring chances, and goals, taking some of the prevention burden off of other Rangers skaters. But, you certainly have to wonder if New York's getting their money's worth here. Was the opportunity cost of preserving a player who has spent most of his career getting beaten up in tough minutes worth losing a really, really talented puck-mover?
The Rangers' loss has been Tampa Bay's gain, of course. Stralman joined the Lightning on a 5-year, $22.5MM deal, and he's been exceptional in his first year with the team. In fact, one could easily make the argument that without Stralman, Tampa Bay's not in the Eastern Conference Final. Look how dominant the Bolts have been with him on the ice – and look how mightily they've struggled with him off of the ice.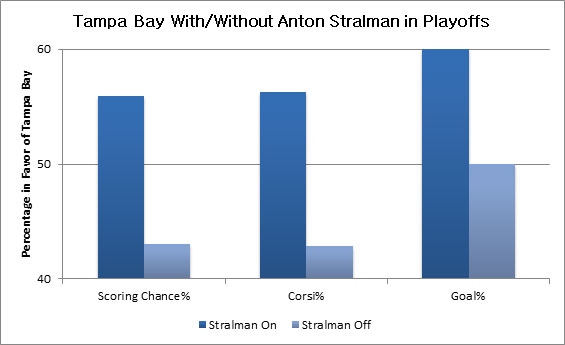 That's as compelling as any graph you'll see in the playoffs. For years, Anton Stralman's been a subtly dominant player, and this post-season's been something of a coming-out party. Part of that, unfortunately, is due to the fact that the Lightning have really struggled in spurts over the first two rounds and change. But part of that is because Stralman, whenever he's on the ice, turns the play north.
At least as it pertains to this Swedish defenceman, New York's loss was Tampa Bay's gain. And what a big gain it was.