Lin could have immediate impact in VanVleet's absence
Jeremy Lin is finalizing a contract buyout with the Atlanta Hawks and intends to sign with the Toronto Raptors later this week, ESPN's Adrian Wojnarowski reported Monday afternoon. As TSN's Josh Lewenberg writes, he should have a chance to make an impact right away.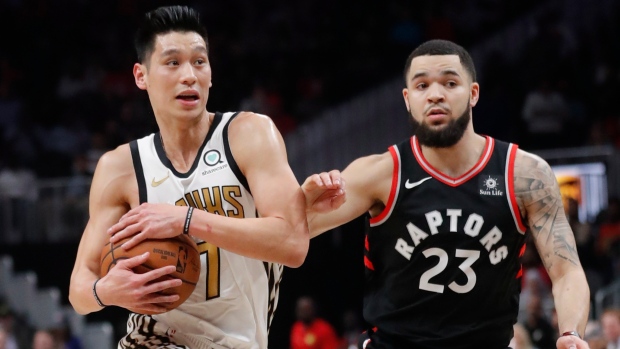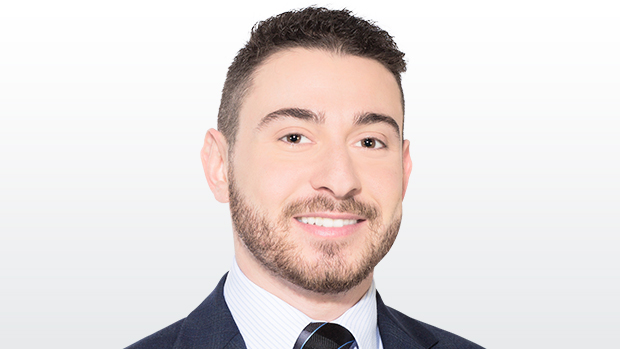 TORONTO – The buyout market can be a useful tool for playoff teams to add supplementary talent and fortify their rotations heading into the stretch run, but players fresh off the waiver wire rarely move the needle or cause a stir.
However, Jeremy Lin has always been a unique case.
The veteran point guard is finalizing a contract buyout with the Atlanta Hawks and intends to sign with the Toronto Raptors later this week, ESPN's Adrian Wojnarowski reported Monday afternoon.
For the Raptors, the timing couldn't be better. Hours later, the team announced that backup point guard Fred VanVleet would miss at least three weeks with a partial ligament injury to his left thumb. With third guard Delon Wright sent to Memphis in the trade that landed them Marc Gasol last week, Lin will play a crucial role in Toronto's rotation right out of the gate.
Minutes after Woj's report, Lin was the No. 1 trending topic in Canada, with 'Linsanity' just behind. For most sports fans, even many non-sports fans, those two still go hand-in-hand. After all, Linsanity, at its peak, was more than just a sports story. For a few months in 2012 – a strange but magical few months – the Taiwanese-American turned into a global phenomenon.
Lin was undrafted out of Harvard and was waived by two NBA teams before ending up in New York, where he was sleeping on his brother's couch before breaking into the Knicks rotation and becoming an overnight sensation.
The Knicks were depleted at the point guard position and, as a result and seemingly out of nowhere, Lin got his opportunity and made the most of it. He scored 20 or more points in his first six games playing big minutes. The sixth came in Toronto, where Linsanity reached a fever pitch.
It was Valentine's Day, seven years ago this coming Thursday. The arena formerly known as Air Canada Centre was full and the atmosphere electric. There were signs and chants. Lin was cheered every time he touched the ball. Few visiting players have ever gotten that kind of reception from the Toronto fans. Only Kobe Bryant and a bunch of former Raptors come to mind. This was special.
Lin scored 27 points that day and, of course, he hit the game-winning three-pointer with less than a second remaining. The crowd erupted.
Because of the overwhelming and almost unprecedented media demand after the game, the Raptors set up a podium specifically for Lin. Over the last eight years they've only done that three times during the regular season. Once for Chris Bosh when he made his first return with the Miami Heat's Big 3 in 2010, once for Bryant after his last game in Toronto in 2015, and then for Lin. (They're planning to do it for DeMar DeRozan's highly anticipated return later this month as well).
It wasn't just what he was doing, it was how he was doing it and where he was doing it. Lin, 23 at the time, was an electric player – aggressive and fearless. That he was playing in the mecca of basketball also didn't hurt. The Knicks were 8-15 pre-Linsanity that year, the lockout-shortened season, but went 28-15 the rest of the way, en route to their second of three straight playoff appearances. They haven't made the postseason since.
Linsanity, the movement, has faded over time. More than anybody else, Lin is probably thankful for that. He's looked far more comfortable just being Jeremy Lin, the player, who has turned himself into a really solid NBA pro.
Now 30, Lin has bounced around a bunch, playing for seven teams in nine NBA seasons. Injuries have also limited him to some degree. In two seasons with the Brooklyn Nets, he played 36 games, including just one last year after rupturing the patella tendon in his right knee in the opener.
Quietly, Lin has been one of the league's feel-good stories this season, bouncing back and looking healthy with the Hawks. Playing just under 20 minutes per game in 51 games with the rebuilding Hawks, Lin averaged 10.7 points and 3.5 assists – a hair lower than his career averages.
It wasn't clear if Lin would become available – there was speculation that the Hawks wanted to keep him around to help mentor their young players – but now that he has, he immediately becomes the top point guard on the buyout market, which is still materializing.
This is that time of year. Losing teams that were unable to trade some of their veteran role players at the deadline release said players, opening up playing time for their young guys while giving those vets a chance to sign with and contribute to a contender.
Historically, the Raptors haven't had much luck on the buyout market. A year ago they struck out on a couple targets – Marco Belinelli and Ersan Ilyasova, who both went to the 76ers.
Prior to Lin, the most notable name they were able to bring in at this time of year was long-time Sacramento Kings forward Jason Thompson in 2016. To put that into perspective, Thompson appeared in just 19 games for Toronto that season, averaging a modest 4.6 points and 4.2 rebounds. That's closer to the norm for buyout guys, to be fair. It's not like teams are letting all-stars go. The guys that are out there are generally out there for a reason and rarely make a substantial impact with their new team.
Lin could be the exception. There are plenty of variables that factor into a player's decision once they hit the buyout market. It's more than simply wanting to go to a winning situation. For many of them that still have good years ahead of them, they're looking to re-establish their value ahead of unrestricted free agency, and to do that they need to play.
This was the perfect storm for Lin and the Raptors. Not only will Lin return to the playoffs for the first time since 2016, where he'll have a chance to reach the Finals with Toronto, but he'll step right into the regular rotation.
He's also a great fit. While VanVleet is out, Lin is capable of running the offence with the second unit. He can also share the backcourt with Kyle Lowry, or with VanVleet once he returns, as Wright used to. He's very good in the pick and roll, which should help him develop quick chemistry with Gasol and Serge Ibaka. He's also a 35 per cent career three-point shooter.
An added benefit is they keep him away from their Eastern Conference rivals. A long-time Raptor killer, Lin is averaging 16.9 points against Toronto over his career – more than he's scored against any other team.
Linsanity may be in store for a bit of a reprise from a coverage standpoint, at least initially. The media attention Lin should get upon his arrival and even the reaction from the fans are uncommon for a mid-season free agent signing, but perhaps that's fitting, given Lin's remarkably unique career.