Lindros, Makarov, Vachon, Quinn going to Hall
The Big E will be a Hall of Famer. Eric Lindros, goaltender Rogie Vachon, Russian star Sergei Makarov and builder Pat Quinn were voted in Monday afternoon as the Hockey Hall of Fame's Class of 2016.
Frank Seravalli, TSN Senior Hockey Reporter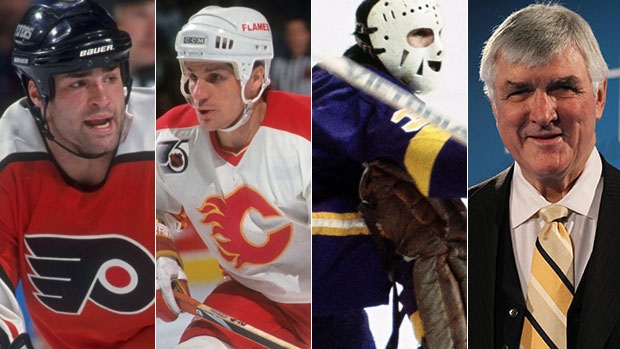 Eric Lindros waited seven summers for his call to the Hall, but even that pales in comparison to the eternity endured by his newest teammate.
Standout Canadiens and Kings goaltender Rogie Vachon retired in 1982 and has been passed over for hockey's most prestigious honour since first becoming eligible in 1985.
No more.
Lindros and Vachon, Russian star Sergei Makarov and builder Pat Quinn were voted in Monday afternoon as the Hockey Hall of Fame's Class of 2016. The newest members will be inducted in a Nov. 14 ceremony in downtown Toronto.
Some 34 years after his playing days, Vachon is believed to be among the longest to wait to be inducted into the Hall of Fame, tying Dick Duff, who was chosen in 1996 after retiring in 1972. Mark Recchi, Dave Andreychuk, Curtis Joseph, Alexander Mogilny, Paul Kariya and Jeremy Roenick were also eligible this year, but did not receive 14 of the 18 votes required for entry.
"It had been for so long," Vachon said. "After a while, you sort of don't wait anymore. I sort of resigned myself that I don't think it's going to happen after all of these years. All of a sudden, (the Hall of Fame) called this morning. It is an incredible surprise. I'm still shocked."
Vachon, now 70, stopped Gordie Howe on a breakaway on his first shot in the NHL in 1966, paving the way for a 16-year career that cemented him as one of the best one-on-one goaltenders in league annals. Vachon never allowed a penalty shot goal in his career.
When he retired in 1982, only four goaltenders had more wins than Vachon's 355: Glenn Hall (407), Tony Esposito (423), Jacques Plante (434) and Terry Sawchuk (447). All four are members of the Hockey Hall of Fame.
Even today, after being passed by the likes of Patrick Roy and Martin Brodeur and Marc-Andre Fleury, Vachon still ranks 18th in wins.
Before being traded to Los Angeles - where he became the first Kings player to have his No. 30 retired - Vachon won three Stanley Cups with the Montreal Canadiens from 1967 to 1971. He shared the 1968 Vezina Trophy with Gump Worsley and finished second to Philadelphia's Bernie Parent in 1975 despite leading the league in save percentage and goals against-average.
Vachon also twice finished in the top three in voting for the Hart Trophy as the league's most valuable player, but somehow drifted from view from the Hall of Fame's voting committee despite serving for an extended period of time as an executive in Los Angeles. He was the Kings' general manager from 1984 to 1992 and helped work through the trade that brought Wayne Gretzky to Hollywood in 1988.
Lindros, 43, had been eligible to join the Hockey Hall of Fame since 2010. He retired with the Dallas Stars in 2007 after his game-changing career was cut short due to concussions.
Despite the brevity of his career, Lindros remains one of the most productive players in league history. His 1.14 regular season points-per-game are 15th all-time among retired players and all 14 ahead of him have already been enshrined. Lindros was also the only eligible Hart Trophy winner between 1945 and 2001 not to be inducted.
His 865 points in 760 career games are better than both Peter Forsberg and Cam Neely, who are also honoured members of the Hall of Fame. Lindros was the ultimate power forward who dominated with a combination of speed and size never seen before.
"I haven't stopped smiling," Lindros said. "It was six years and it was a bit of time, but I guess you could turn around and say I'm in the Hall forever going forward."
Lindros was likely kept out of the Hall this long not because of longevity, but because he rubbed the hockey establishment the wrong way from the moment he burst onto the scene. He told the Quebec Nordiques he would not report there after they selected him No. 1 overall in 1991 as the game's first burgeoning generational talent to follow Mario Lemieux.
Lindros forced his way to Philadelphia in the largest trade in league history for one player, then his parents, Bonnie and Carl, who also served as his manager and agent, were involved in a series of off-ice feuds with Flyers management and GM Bob Clarke.
This time, Clarke was on the 18-member voting committee and previously advocated for Lindros' inclusion.
"I think there's sometimes you get thinking back and wondering, 'What if?'" Lindros said. "I think when it's all said and done, it's an honor. It feels full circle."
Others have been advocating for Makarov for longer, arguing he is one of the greatest international players the game has ever seen. The Hockey Hall of Fame is supposed to be all-inclusive, not solely for accolades attributed to play in the NHL.
An 11-time Russian league champion, Makarov arrived in the NHL at the age of 31 in 1989 and scored 86 points as a rookie with the Calgary Flames to win the Calder Trophy. He was so good that the NHL instituted the "Makarov Rule" so that there is now a maximum age (27) at which a player can still be considered a rookie for the award. He finished his NHL career with 384 points in 424 games with the Flames, Sharks and Stars.
Makarov, now 58, also won two Olympic gold medals for the Soviet Union, where he played on the feared "KLM Line" with Igor Larionov and Vladimir Krutov. He was inducted into the IIHF Hall of Fame in 2001.
"Oh my gosh, the wait is over!" Makarov said. "For everyone who plays the game, this is the top place. It will be so nice to join all of those great players."
Quinn, known as the "Big Irishman," will be inducted posthumously in November. He passed away on Nov. 23, 2014 at the age of 71 after a four-decade-long career in the NHL. Quinn began his career as an assistant with the Philadelphia Flyers in 1977 under Fred Shero and went on to coach the Flyers, Kings, Canucks, Maple Leafs and Oilers. He won the Jack Adams Awards twice as coach of the year in 1980 and 1992 and led Team Canada to its first Olympic gold medal in 50 years at the 2002 Winter Olympics in Salt Lake City.
Quinn's widow, Sandra, answered the call from Hockey Hall of Fame chairman Lanny McDonald on Monday in tears.
"You don't have to say a thing," McDonald responded. "I know those are tears of joy. Pat meant so much not only to all of the players that he coached, the players that he was a manager for, the championships he was responsible for helping win. He was a tremendous leader as both a player and mentor to all of these players young and old. It is so deserving."
Contact Frank Seravalli on Twitter: @frank_seravalli