Longtime Senators captain Alfredsson skates in pregame ceremony
Daniel Alfredsson laced up his skates at his old stall in the Senators' locker-room and put on the No. 11 jersey with the "C" on the chest just like old times. Except this was anything like old times.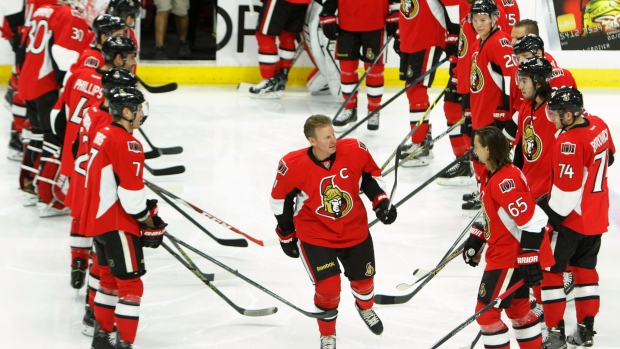 OTTAWA - On the ice in a Senators jersey one final time, Daniel Alfredsson couldn't help but wonder. Back problems forced him to retire, but with the No. 11 on his back, the "C" on his chest and fans cheering as he skated in pre-game warm-ups, anything seemed possible.
"Oh my God, that could've been one of my best skates ever," Alfredsson said. "I couldn't have played, I'm not in good enough shape. But I skated a couple laps and you feel like, 'Maybe a few shifts.'"
Alfredsson got in a few laps around the ice, including one final spin in the spotlight as "Alfie" chants rained down from the adoring crowd on what became "Alfie Day" in the nation's capital. With Alfredsson emerging from his old locker stall and wearing red and black, everything was like old times, except it was anything but.
This was a one-of-a-kind tribute for a one-of-a-kind player and the face of the Senators' franchise.
Players stepped onto the ice for warm-ups and made a receiving line for the man who called it a career earlier in the day. They tapped their sticks and Alfredsson saluted the crowd for the first of many "Alfie" chants.
A remix of Alfredsson's theme song, U2's "Beautiful Day" played. The traditional countdown to 11 minutes on the clock happened even before the game against the New York Islanders.
Alfredsson met with team leaders Erik Karlsson, Chris Phillips and Chris Neil as he always used to, took a few line rushes and got to take part in his favourite post-practice game of keep-away. Karlsson, the ninth captain in Senators history and Alfredsson's best friend on the team, even took the "C" off his jersey for warm-ups.
While the Islanders went about their business, no Ottawa player left the ice until Alfredsson took one last lap with his stick raised to the fans. The 41-year-old, who signed a ceremonial one-day contract in order to retire with the Senators, left the ice to the sounds of Green Day singing "I hope you had the time of your life."
A video montage set to more U2 led in the rest of the pre-game ceremony. In addition to listing Alfredsson's accomplishments, the final message read: "The Greatest Ottawa Senator of All-Time."
Alfredsson took one more lap, with the spotlight on him, and stood at centre ice waiting for wife Bibbi and sons Hugo, Loui, Fenix and William Erik to join him. With the boys wearing Karlsson jerseys, they took their place on the red carpet like Ottawa royalty, and Alfredsson addressed the fans who have embraced him for much of the past two decades.
"It's great to be back in Ottawa," Alfredsson said. "Thank you for all the great times and all the beautiful memories. They will connect us with all of you forever. ... Let's not say goodbye."
It was tougher than Alfredsson expected to go through with the pre-game ceremony.
"It's so overwhelming that it's hard to comprehend almost," he said. "It gives you goose bumps and it makes me extremely nervous."
The Alfredsson family sang along to "O Canada," and then the former captain and the current captain had a ceremonial faceoff with the puck dropped by the kids.
Alfredsson, who promised this year would be for his family, skated off alongside his wife as he left the ice at Canadian Tire Centre for the final time. U2's "Beautiful Day" played once more.
"It's as good an ending as anyone can hope for," he said. "The way I've been welcomed back has been almost surreal. I don't know how to thank everybody more than saying thank you. It means a lot to me and to my family, obviously, and to my kids as well. I'll be forever grateful."
On Thursday morning, Alfredsson reflected on the time of his life spent with the Senators as he called it a career. With family, friends and former teammates watching, the longtime captain read the speech he rehearsed 10 or 15 times and teared up reading to a friend over the phone.
Alfredsson announced his retirement in his "adopted hometown," the place he played 17 of his 18 NHL seasons. The captain from 1999 through 2013 who left 17 months ago to sign with the Detroit Red Wings got to put on his old sweater for one more day.
The Senators pulled out all the stops to honour Alfredsson With his wife and sons in the front row and former teammates like Karlsson and Wade Redden looking on, the face of the franchise bid adieu, a decision prompted by lingering back problems.
Alfredsson, who had 444 goals and 713 assists in 1,246 NHL games, tried to rehab the injury. If he played one more season, it would have been for the Red Wings.
Remembered fondly for the goal he scored against the Buffalo Sabres to send the Senators to the Stanley Cup final in 2007, for the love fest at the 2012 all-star game and for winning a gold medal with Sweden at the 2006 Olympics, Alfredsson also knows his career was marked with phone calls and major decisions.
It began with the decision to leave Goteborg, Sweden at 22 to play for the Senators, who drafted him in the sixth round in 1994. Alfredsson was glad he and Bibbi, his girlfriend at the time, "made the leap."
"One evening nearly 20 years ago a young man in a small town in Sweden got a phone call that would change his life," Alfredsson said. "We began an incredible new chapter of our lives in your town starting in August 1995. Our marvellous boys were born here, and we grew from youngsters into aging parents. You made your town our town."
Ottawa was Alfredsson's town in his Calder Trophy season in 1995-96 and through 15 playoff appearances. One of his favourite memories was seeing thousands of people lined up along the street to celebrate the trip to the Cup final.
Back problems flared up in 2011, what Alfredsson called "signals that all these years of hockey had a cost."
"In the back of my mind, I still knew that the clock is ticking," he said.
With the clock ticking on his career, Alfredsson got to a crossroads in the summer of 2013, after he decided to continue playing but did not have a contract to return to the Senators. On the morning of June 29, he said he got a call from "an old Swedish pal."
"This call started a process that would launch the next chapter in our lives," Alfredsson said of signing with Detroit. "It was a very, very hard decision to make: changing teams, uproot my family, start over again in a new place. But change helps you grow."
No doubt the relationship between Alfredsson and the Senators organization was strained by his departure. But during and after an off-and-on injury season with the Red Wings that still included him tying for the team lead in scoring, Alfredsson stayed in touch with general manager Bryan Murray.
"I have great respect for Daniel and I know he has great respect for the Senators for what happened here," said Murray, who coached Alfredsson for two seasons, including 2006-07. "It wasn't very hard for us to get together and talk. He took me for a drive in his new car. He drove me out to my old house in Birmingham (Michigan). He showed me where he lived. We had I think mutual respect for each other all along."
Setbacks in Alfredsson's rehab kept him from playing and forced him to make one final decision.
"It finally came to the point: Could I play a little bit? Maybe," Alfredsson said. "I don't know what price I would have had to pay down the road. I felt it was no fun just being on the edge or on the cliff of maybe or maybe not playing. It just felt right."
It wouldn't have felt right to the Senators if Alfredsson had said his goodbye to the NHL in Detroit. Again, the phone rang.
"Bryan said he and Mr. Melnyk had spoken and had an idea that I should not end my career in Detroit but with a proper retirement here in our adopted hometown," Alfredsson recalled. "I spoke with (Red Wings GM) Ken Holland about my retirement and that Bryan and Mr. Melnyk wanted me to retire as an Ottawa Senator, and Ken encouraged me to retire here. He said it's the right thing to do."
Alfredsson, lauded not just for his Hall of Fame hockey career but his charitable contributions in Ottawa, is about as normal a person as a superstar athlete can be. To him, this felt like too much.
"I never believed that my career entitled me to any special treatment," Alfredsson said. "However, Bibbi and I both agreed this was the right thing to do and it would give us a chance to say thank you to the people and the fans of Ottawa."
Alfredsson received a lengthy standing ovation after his speech of 749 words, including four in French for the bilingual market he represented: "Merci et a bientot." He doesn't know how soon he might get back into hockey but is reserving this year for his family and for himself to reflect on his career.
"I'm just very grateful for this opportunity to say thank you and goodbye," Alfredsson said. "And please no more phone calls for a while."
---
Follow @SWhyno on Twitter