Lowry among leading NBA All-Star reserve candidates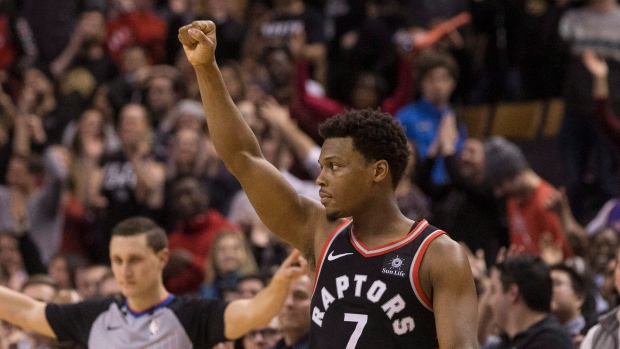 DeMar DeRozan is already an All-Star and Kyle Lowry will find out Tuesday evening if he'll be joining his teammate in Los Angeles.
Despite his offensive numbers taking a dip this season, Lowry is in the mix for his fourth straight All-Star appearance because of improved all-around play. His rebounding numbers have surged from last season's total of 4.8 a game to a career-high 6.0 and his defensive rating – an estimate of points allowed per 100 possessions – has gone from 109 to 106.
Lowry's playing time has dropped from 37.4 minutes to 33.0 this season, which could explain some of the drop-off in scoring.
Raptors head coach Dwane Casey said last week that he has been campaigning to send Lowry to Los Angeles by texting other coaches, but he should be there regardless.
"He should be in on his own merits. I shouldn't have to do that because he is an All-Star. If you find five other guards in this league and in our conference better than Kyle, I want to see them," Casey said.
"I think the basketball gods will do the right thing and get him in."
PTS: 17.0/AST: 6.7/REB: 6.0/ FG%: 42.5
Here is a look at some of the other top candidates to head to LA for each conference:
Eastern Conference
Victor Oladipo – Indiana Pacers: Oladipo's points per game average dropped for the second consecutive year last season, raising questions about whether he would live up to his status as the No. 2 overall pick in 2013. But things have changed. After arriving in Indiana in a trade with the Oklahoma City Thunder, he's enjoying a breakout season, bringing his scoring average all the way up to 24.2 from 15.9 a season ago.
PTS: 24.2/AST: 3.9/REB: 5.2/FG%: 48.4
Kristaps Porzingis – New York Knicks: With the departure of Carmelo Anthony in the summer, the keys to the franchise were handed to Porzingis. After a hot start to the season, he's cooled off a bit for a Knicks team that has done the very same, losing seven of their last 10. Still, an improvement of more than five points per game while leading the NBA in blocked shots is going to be tough to ignore as the 22-year-old looks for his first All-Star nod.
PTS: 23.3/AST: 1.2/REB: 6.7/FG%: 43.6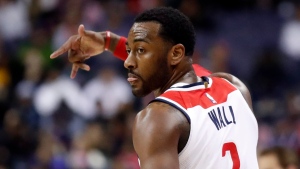 John Wall – Washington Wizards: Wall got off to a slow start this season and at times hasn't looked like himself. His scoring average is down almost four points and his field goal percentage has dipped from 45.1 to 41.7, but he's still one of the best playmakers in the NBA, leading the East in assists at 9.2. The 27-year-old is looking for his fifth straight All-Star selection.
PTS: 19.3/AST: 9.2/REB: 3.6/FG%: 41.7
Bradley Beal – Washington Wizards: It's been a year to remember so far for Beal. He's averaging a career-high 23.6 points per game to go along with personal bests in rebounds and assists.
"I think John is the best point guard in the East. I think Brad is having an All-Star year. They are definitely in my mind two of the best guards in the East," Wizards head coach Scott Brooks said.
PTS: 23.6/AST: 3.7/REB: 4.3/ FG%: 45.9
Al Horford – Boston Celtics: Horford's scoring average of 13.3 doesn't scream 'All-Star,' but his impact comes on the defensive end. His defensive rating of 101 sits tied for first on a Boston Celtics team first in the East at 34-13. He's also shooting a career-best 43 per cent from three.
PTS: 13.3/AST: 5.3/REB: 7.7/FG%: 51.4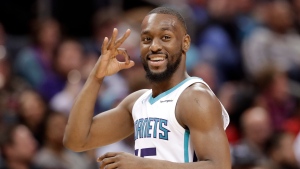 Kemba Walker – Charlotte Hornets: While his future as a Hornet may be in question, Walker has been one of the most consistent scorers in the NBA over the past few seasons. The UConn product has also upped his assist total in each of the past three seasons. Despite his success, the Hornets' disappointing 19-26 record may work against him.
PTS: 21.8/AST: 5.9/REB: 3.4/FG%: 42.0
Ben Simmons – Philadelphia 76ers: After missing all of last season because of a foot injury, Simmons has lived up to the hype he had coming out of LSU as the No. 1 pick. He sits first in assists and rebounds among rookies and third in scoring behind Kyle Kuzma and Donovan Mitchell while shooting over 50 per cent from the field, making him the front-runner for Rookie of the Year honours.
PTS: 16.3/AST: 7.2/REB: 7.9/FG%: 51.2
Andre Drummond – Detroit Pistons: Drummond has made improvements to his game across the board. His scoring average, rebounds, blocks, assists, field goal percentage and free throw percentage are all up from a season ago. His biggest improvement has been at the line, taking his percentage of 38.6 to a respectable 62.9.
PTS: 14.3/AST: 3.9/REB: 15.0/FG%: 54.3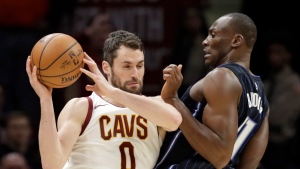 Kevin Love – Cleveland Cavaliers: It's been another good season on the offensive end for Love, but his problem – along with the rest of the Cavaliers – lies on the defensive end. Love's defensive rating of 109 is the worst it's been since 2010 and his rebounding has dropped from 11.1 to 9.4. Given the Cavs' disappointing record of 27-18, Love's offensive numbers may not be enough.
PTS: 18.6/AST: 1.7/REB: 9.4/ FG%: 45.9
Western Conference
Russell Westbrook – Oklahoma City Thunder: No, he's not averaging a triple-double so far this season, but he's pretty close. With the addition of Carmelo Anthony and Paul George, it's understandable his scoring average is down almost seven points. He has also upped his field goal percentage from 42.5 to 43.8 this season, boding well for a seventh All-Star selection.
PTS: 24.8/AST: 10.1/REB: 9.7FG%: 43.8
Jimmy Butler – Minnesota Timberwolves: It looks like Butler gave the third-place Timberwolves exactly what they needed. After winning 31 games last season, they're on pace for 51 wins in a tough Western Conference. Since coming over from the Chicago Bulls in a summer trade, Butler leads the T-Wolves in scoring and steals.
PTS: 21.7/AST: 2.0/REB: 5.4/FG%: 47.6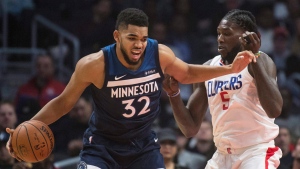 Karl-Anthony Towns – Minnesota Timberwolves: Towns has taken another step forward in year three: His scoring is down but he's taking more than four fewer shots per game to coincide with the arrival of Butler. He has focused on improving his range along with the rest of the NBA, shooting 41.2 per cent from deep.
PTS: 20.0/AST: 2.3/REB: 9.3/FG% 53.7
LaMarcus Aldridge – San Antonio Spurs: After two years in a Spurs uniform, reports surfaced during the summer that Aldridge wanted out. Just before the start of the regular season, Aldridge surprised many by signing a multi-year extension and is having his best season in years. With no Kawhi Leonard for much of the season, Aldridge's 22.3 points per game have led the Spurs to their usual spot near the top of the Western Conference.
PTS: 22.3: AST: 1.9/REB: 8.7/FG%: 48.7
Paul George – Oklahoma City Thunder: It was a rocky start to the season for the Thunder, immediately bringing up rumours of a potential departure for George in the off-season. But they're found their groove and Oklahoma City is surging. So is George. January has been his best month, averaging 21.4 points per game while shooting 49.3 per cent from the field as the Thunder continue to climb the Western Conference standings.
PTS: 20.8/AST: 3.0/REB: 5.5/ FG%: 43.6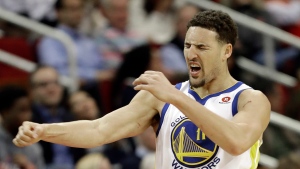 Klay Thompson – Golden State Warriors: Just like the rest of the Warriors, Thompson hasn't missed a beat in 2017-18. He is averaging over 20 points a night for the fourth straight season and leads the NBA in three-point percentage at 45.3.
PTS: 20.6/AST: 2.5/REB: 4.0/FG%: 48.6
Draymond Green – Golden State Warriors: After a rough season shooting the ball last season, Green has upped his field goal percentage almost five points to 46.3. Last season's defensive player of the year leads the Warriors in rebounds and assists while continuing to anchor a Warriors defence that ranks fifth in the NBA in rating.
PTS: 11.3/AST: 7.6/REB: 7.9/ FG%: 46.3
Damian Lillard – Portland Trail Blazers: Despite averaging career-highs in points each of the last two seasons, Lillard was not named to the All-Star team.
"I've gotten frustrated just for the fact that it feels like I always got to be the fall guy and every other guy has been deserving," Lillard told ESPN.
Once again, his numbers are hard to ignore.
PTS: 25.2/AST: 6.6/ REB: 4.8/FG%: 43.6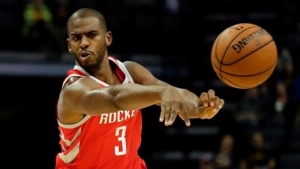 Chris Paul – Houston Rockets: Paul hasn't missed a beat since joining the Rockets and has managed to mesh with James Harden in the backcourt. While his numbers are there, he missed about a month with a knee issue early in the season that may ultimately hold him back. If Paul does get named, he will join LeBron James, Carmelo Anthony, Dwyane Wade and Dirk Nowitzki as the only active players with 10 or more All-Star Game appearances.
PTS: 19.1/AST: 8.9/REB: 5.9/FG%: 46.0
Lou Williams – Los Angeles Clippers: On his fifth team in five years at the age of 31, Williams is having a career-year for the Clippers. His 23.3 points per game is by far his highest of his career and he owns one of the league's seven 50-point performances from 2017-18. The Clippers are on track to miss the playoffs for the first time in six seasons which ultimately could hold him back, but Williams has put himself on the radar for his first All-Star nod.
PTS: 23.2/AST: 5.1/REB: 2.6/FG%; 45.1