Lundqvist stands tall as Sweden blanks Finland
Henrik Lundqvist made 36 saves and Anton Stralman scored his first goal of the tournament as Sweden blanked Finland 2-0 in World Cup of Hockey action on Tuesday.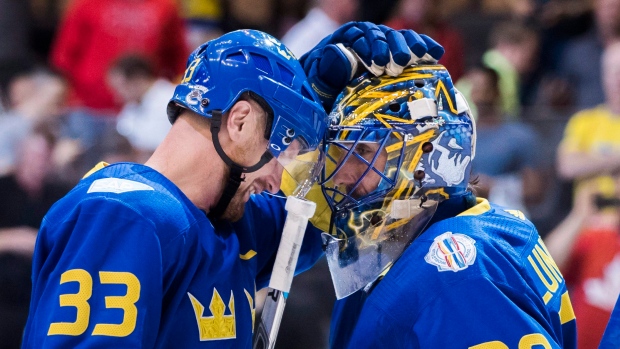 TORONTO — The old Henrik Lundqvist was back in net for Sweden.
The 34-year-old goaltender sprinkled in some highlight-reel saves while stopping 36 Finnish shots in Sweden's 2-0 win at the World Cup of Hockey.
"We were confident with him coming in today, even after Jacob (Markstrom) played such a good game like he did (on Sunday)," said Swedish captain Henrik Sedin. "Being around Henrik for a few weeks now, we knew he was going to come in and have a great game."
Anton Stralman and Loui Eriksson provided the offence for the Swedes (2-0-0), who now have a firm grip on the top spot in Group B. Finland, who dropped to 0-2-0 with the loss, is in tough to advance to the semifinals.
Lundqvist, who missed Sweden's first game of the tournament on Sunday due to an illness, struggled in pre-tournament competition posting a 4.49 goals-against average and a .778 save percentage in two appearances. The Rangers goaltender was pulled from last Wednesday's game against Team Europe after allowing five goals on 22 shots in a 6-2 loss.
"I felt pretty rusty out there the first period, not as aware as I wanted to be, but I got some really good help with some lose pucks and stuff like that," Lundqvist said. "Second and third, I felt more comfortable, but it was fun. I really enjoyed being out there playing. Big game, important game, not being able to play the first, you never know where it's going when you're not healthy."
Tuukka Rask, starting in the Finnish goal over Pekka Rinne, stopped 27 shots in the loss.
"We played such a great game, started off well, created so many good scoring chances, but we didn't score," said Finnish coach Lauri Marjamaki. "Of course the goalie Lundqvist was impressive. But so proud of my players and our team effort. It was great today. But it is not enough."
Finland's Mikael Granlund had two excellent chances to tie the game just past the midway mark of the third, but Lundqvist got his right pad on the first shot and Granlund put his rebound off the post.
Things got physical in the third as Finland's Sami Lepisto caught Sweden's Mikael Backlund with a questionable, high hit just inside Sweden's blue line with a little over nine minutes to play. Lepisto was assessed a minor penalty for roughing, while Backlund received treatment on the Swedish bench but stayed in the game.
"It was a shoulder hit to the head, or towards the nose," said Swedish coach Rikard Gronborg. "I know he was bleeding a little bit (from) his nose."
Sweden led 1-0 after two periods on Stralman's goal. The Tampa Bay Lightning defenceman put a backhand feed from Henirk Sedin past Rask at 9:57 of the middle period.
Finland's Patrik Laine had an excellent chance to tie the game 1-1 in the final minute of the second, but Lundqvist was able to get his glove on Laine's one-timer with 40 seconds remaining in the frame.
Every single Finnish player had a shot on goal. Laine, the Winnipeg Jets first-round pick, led the way with five.
"We had many good scoring chances, but he was playing awesome in the net so we couldn't score and when you don't score any goals, it's hard to win a game," Laine said. "We were playing pretty well, I think, but I think the right team win."
Sweden concludes the preliminary round on Wednesday against Team North America while Finland meets Russia on Thursday.