Maile's walk-off walk leads Jays past O's in 10
Justin Smoak scored on Luke Maile's bases-loaded walk in the 10th inning as the Blue Jays beat the Baltimore Orioles 4-3 on Saturday, giving Toronto three straight wins for the first time in nearly six weeks.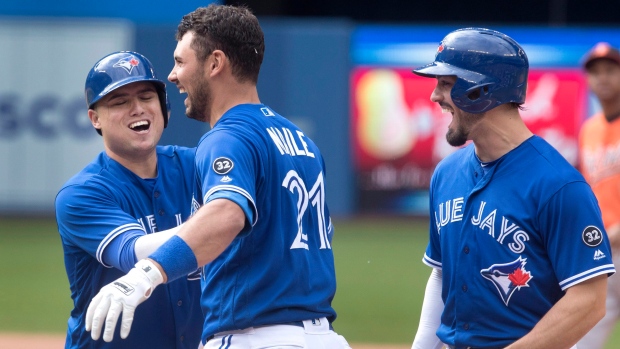 TORONTO — Luke Maile was prepared to deliver a walk-off hit when he stepped into the batter's box with two out and the bases loaded in the 10th inning.
Turns out he didn't have to.
The back-up catcher drew a four-pitch walk from Orioles reliever Mychal Givens, plating Justin Smoak from third base and giving Toronto a 4-3 victory over Baltimore on Saturday afternoon.
"I definitely wanted to stay aggressive, but obviously when (the count) got to 3-0 it's a different story," Maile said. "I wanted to swing, it just worked out the other way."
Givens (0-2) walked Smoak with one out, gave up a single to Kendrys Morales and hit Randal Grichuk with a pitch after a fly out from Kevin Pillar to set the table for Maile, whose walk extended Toronto's win streak to three straight for the first time in nearly six weeks.
It was Maile's third career walk-off — all this season. He also had a 10th-inning single against Kansas City on April 17 and a 12th-inning home run against Boston on May 11.
He'd never done it with a walk before, though.
"They're all happening at once, so anything I've walked off you guys have seen," Maile said, drawing laughter from reporters.
Grichuk hit a solo homer for Toronto (29-35) and Yangervis Solarte drove in a run and scored on a Teoscar Hernandez double.
The Blue Jays had leads of 2-0 and 3-2 but Baltimore kept storming back.
Jonathan Schoop scored on a bases-loaded wild pitch to tie the game in the eighth, while Adam Jones and Chance Sisco had seventh-inning RBIs for the Orioles (19-44).
"Wild game, crazy game today," Toronto manager John Gibbons said. "Luke and Smoaky, they did something big there at the end."
John Axford (1-0) pitched the ninth and 10th innings for the Blue Jays, which had last won three consecutive games April 29-May 1 against Texas and Minnesota.
Aaron Sanchez allowed two runs and six hits over 6 1/3 solid innings, extending the Blue Jays rotation's streak to six straight quality starts. The right-hander also struck out five and walked four in the 101-pitch no-decision.
"We've been talking the last couple days how good the rotation has been and it continued today," Gibbons said.
Orioles starter Kevin Gausman pitched 6 2/3 innings, giving up three runs and nine hits while striking out six.
Solarte drove in the game's first run, plating Aledmys Diaz from second on a single in the third inning for his team-leading 37th RBI of the season.
Toronto added to the lead in the sixth with back-to-back doubles from Solarte and Hernandez to make it 2-0.
Pillar made a stunning, diving catch in centre for the first out of the seventh inning, prompting an ovation from the crowd of 34,643 — and from Sanchez on the mound.
But Baltimore followed with a single from Trey Mancini and double from Sisco to cut the Jays' lead. The Orioles tacked on another run when Jones singled off reliever Danny Barnes to drive in Sisco.
Sanchez said he was pleased with his outing, but wished he hadn't allowed Baltimore back into the game.
"It was tough for me, only because you work so hard to keep them off the board," Sanchez said. "Other than that it was a good start. I felt like the fastball was good, changeup was really good, I threw some curveballs in when I needed to."
Grichuk led off the seventh inning with a solo shot to centre to give Toronto a 3-2 lead. But Baltimore tied it again when Schoop scored on a wild pitch from reliever Tyler Clippard in the eighth. The run was charged to Joe Biagini, who hit Schoop with a pitch to put him on base.
"Those emotional kind of wins, especially ones where it feels like you have it and you kinda get kicked around for a second and you find a way to (win), those mean a lot for sure," Maile said.
"But good teams find a way to win and it doesn't really matter what inning it happens."
NOTES: The Blue Jays are 5-1 against Baltimore this season. ... Toronto second baseman Devon Travis was given the day off with a sore knee. He collided with centre-fielder Kevin Pillar while both were trying to make a catch during Friday's game. ... The Blue Jays claimed right-handed Preston Guilmet off waivers from St. Louis and designated Deck McGuire for assignment.