Malkin avoids suspension for Oshie hit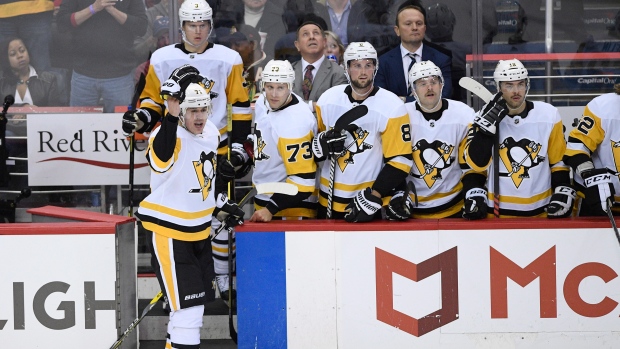 Pittsburgh Penguins forward Evgeni Malkin will not receive any further discipline for his illegal check to the head of Capitals forward T.J. Oshie on Wednesday night, according to multiple reports.
Malkin received a five-minute major penalty and a match penalty for his hit on Oshie in the third period of the Penguins' 2-1 loss. Oshie left the game following the hit, but returned later in the period to score the game-winning goal.
Penguins head coach Mike Sullivan said after the game he wasn't expecting Malkin to face a suspension for the hit.
The incident occurred less than four minutes into the period when Malkin carried to the puck into the Capitals zone, dropped it to his left and raised his right shoulder into Oshie, who was pursuing the puck carrier.
Oshie said he understood what Malkin may have been trying to accomplish, but was caught off-guard given the situation.
"He maybe thought I was coming to hit him and so he threw the reverse shoulder out there, which I try to do that all the time," Oshie said. "I just wasn't expecting it being on the PK."
Oshie was forced to leave the game for a second time following the Malkin hit. He exited in the first period after taking a high-stick near his left eye which required two stitches.
"My face is a little messed up, but I'm feeling pretty good now," Oshie said. "He caught me there, and it is what it is. I passed my concussion test, went out and won the game."
For his part, Oshie said it would not matter to him whether or not Malkin received a suspension for the hit.
"Not my concern anymore. We got the W," Oshie said. "I don't care what happens to him."
Rule 21.1 of the NHL rulebook states "A match penalty shall be imposed on any player who deliberately attempts to injure or who deliberately injures an opponent in any manner."
Malkin has never been suspended in his 13-year NHL career.