Manitoba's Jones stays unbeaten at Scotties
Manitoba's Jennifer Jones remained undefeated at the Scotties Tournament of Hearts with a 7-4 victory over New Brunswick on Tuesday. Jones, a five-time champion at the national women's curling championship, scored deuces in the second, fourth and sixth ends to defeat Sylvie S. Robichaud.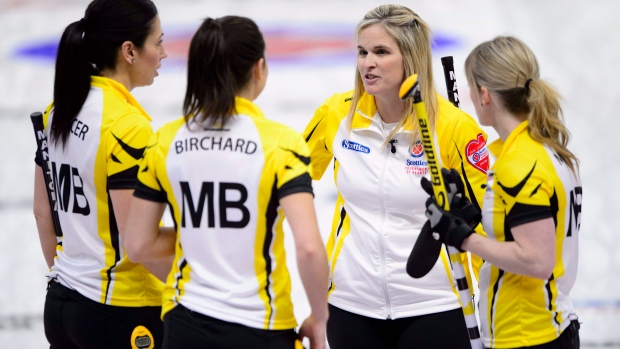 PENTICTON, B.C. — Wild-card entry Kerri Einarson is exactly where she hoped to be after the penultimate day of round robin action at the Scotties Tournament of Hearts.
A 10-3 win over Yukon's Chelsea Duncan has Einarson's team in second place in Pool A with a 4-1 record following Tuesday afternoon action at the South Okanagan Events Centre. Manitoba's Jennifer Jones remains in first at 5-0.
The wild-card team took a commanding 5-0 lead after two ends.
"We played really well," said Einarson, who finished fourth in the 2016 Scotties. "We put some pressure on the other team which was good. We made some key shots when we needed them."
Einarson of Selkirk, Man., earned the big lead from a steal of two points when Duncan made a mistake with her final rock. Einarson stole another point in the fifth end to make it 8-1.
After building a large lead, Einarson said they tweaked their strategy to secure the win by keeping fewer rocks in play, but also maintaining pressure.
"I definitely don't want to start peeling and everything and then losing that feel for draw weight just in case you need it," she added.
For the first time, Manitoba played a full game and didn't hit double digits defeating Sylvie S. Robichaud (2-3) of New Brunswick 7-4.
"It was a good game. We had a couple of mistakes early," said Jones, a five-time Scotties champ. "We had control coming home, three up is a pretty comfortable position to be in."
In other afternoon action, Nova Scotia's Mary-Anne Arsenault (3-2) scored a deuce in the 10th to edge Kerry Galusha (1-4) of the Northwest Territories 9-8, while Northern Ontario's Tracy Fleury (3-2) toppled Sherry Anderson (2-3) of Saskatchewan 7-4. Nova Scotia is third in Pool A while Northern Ontario is fourth.
Team Canada and Alberta are atop the Pool B standings with 5-1 records after a pair of wins on Tuesday.
Team Canada's Michelle Englot earned a 7-5 win in nine ends over Prince Edward Island's Robyn MacPhee (1-4) in the evening draw while Alberta's Casey Scheidegger (5-1) crushed B.C.'s Kesa Van Osch (3-3) 11-1 in eight ends.
Newfoundland and Labrador's Stacie Curtis (4-2) had been keeping pace, but lost twice on Tuesday, including a 9-7 defeat against Quebec's Emilia Gagne (3-3) in the evening. In other Pool B evening action, Ontario's Hollie Duncan (3-3) routed Amie Shackleton (0-6) from Nunavut 12-2 in eight ends.
Englot registered deuces in each of the first two ends in the morning draw en route to an 8-5 victory over Curtis, who came into the match having won four straight. Alberta also won, defeating Nunavut 11-4.
"We're getting more and more comfortable with the ice every game," said Englot. "We need to just keep building momentum."
Englot said getting off to a quick start was key for her team. And Team Canada went ahead 4-0 with a steal of two in the second end when Curtis's rock slid into the 12-foot ring.
"That kind of put us behind the eight-ball a little bit," said Curtis. "That kind of really just set the tone for the rest of the game."
In other action, B.C scored three in the 10th end for a 6-5 win over Ontario while Quebec scored twice in the 10th for an 8-6 victory over P.E.I.
"We played a good game," said Quebec's Marie-Pier Harvey through a translator. "We made great shots.
"The other team too. The skip MacPhee made some terrific shots. Forced us to make good shots."
The top four teams from each pool advance to the championship round.