Maple Leafs fire up scoring machine to down Sabres
The Toronto Maple Leafs score three goals in just over two minutes to rally from a 1-0 first-period deficit and hold off the Buffalo Sabres for their second straight win, Kristen Shilton writes.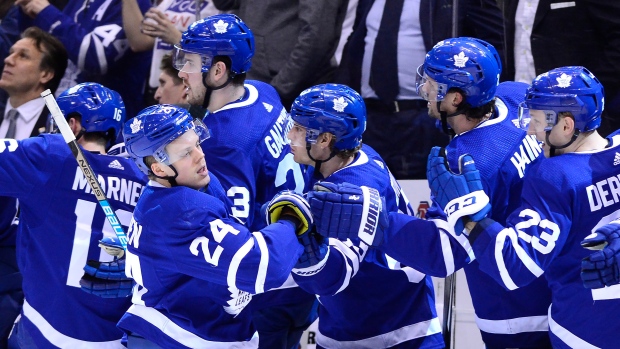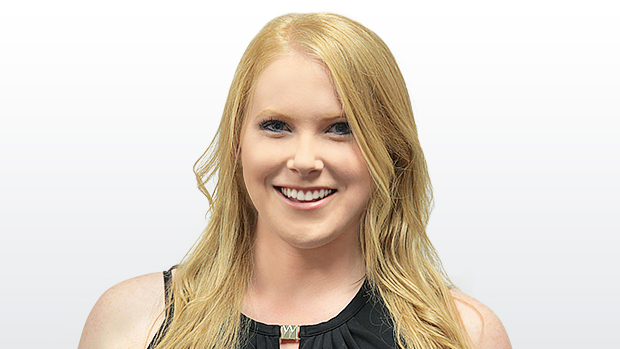 TORONTO – When it came down to it, the Maple Leafs were pleased enough already with their current roster to not make any drastic changes to it before Monday's trade deadline passed. Other than swapping Par Lindholm for Winnipeg's Nic Petan, all has been quiet on the Leafs' front since they traded for Jake Muzzin in late January.
That contentment is necessarily reflective of complacency, though, and the Leafs fully acknowledge they have yet to hit their ceiling as a team.
Case in point: Monday's 5-3 win over Buffalo. Toronto rallied back from a terrible first period and early 1-0 deficit to score three goals in two minutes and four seconds in the second period, and then let the Sabres claw back to within one before finally shutting the door on their second straight victory.
"We think there's still a ton of growth from within, we think we can play a lot better, and we look forward to that," said head coach Mike Babcock. "We really feel we can play a lot better and look forward to the opportunity to show that. You do everything you can to help your team…and you always have to weigh the cost. We're ecstatic to have the opportunity we have; we like our team."
Babcock appreciates his group a lot more when it doesn't have lapses like in Monday's opening frame, getting run over by the Sabres in their own end and struggling to hold onto pucks. Toronto was outshot 16-6 in the period with 32 per cent possession but trailed only by Jack Eichel's power play strike thanks to great goaltending from Frederik Andersen, in what would turn out to be his 100th win as a Leaf.
Even with Andersen's help, Toronto was behind the eight ball yet again, ceding the first goal for a fifth straight game. The Leafs have been outscored in the opening period of that span 7-0, but for all the confidence Leafs' management has in their dressing room so, too, do the players have that in each other.
"We were a little flat there in the first. I'm not really sure why, but just came out flat and they were working harder than us," said Auston Matthews. "We came in [here], and everybody holds each other accountable. We knew we had another level to get to in that next period and we came out strong. I thought momentum-wise that second was one of our best periods."
John Tavares got the Leafs' scoring started early in the middle period with a tip off Muzzin's point blast, right after the Leafs' only power play ended.
Then Matthews picked up a misplayed puck beside Sabres goalie Carter Hutton and wristed home his 30th of the season to put Toronto up 2-1. Frederik Gauthier followed that up with Toronto's third goal in just over two minutes to chase Hutton in favour of Linus Ullmark.
Tyler Ennis made good on his breakaway chance later in the second, extending Toronto's lead to 4-1, and giving the Leafs' newly re-formed line of Gauthier, Ennis and Trevor Moore two goals on the night. Moore had only been recalled that afternoon, filling in for Lindholm after the trade.
"They were huge for us tonight," Matthews said of the Gauthier unit. "Probably our best line."
Toronto's good habits wouldn't last, and the team gave up another power play goal to Sam Reinhart before the end of the second, leading to Eichel scoring again just nine seconds into the third and cutting Buffalo's deficit down to 4-3. That's where the clubs would remain until late in regulation, when Kasperi Kapanen's shorthanded breakaway restored the Leafs' two-goal advantage.
Matthews joked that "thank god" Kapanen had finally tallied his 19th of the season, claiming his linemate had been in a "bad mood" lately as missed opportunities piled up. But putting pucks in the net isn't all Babcock wants from his young players. With no new additions coming aboard, any much-needed physical presence the Leafs establish has to come from within.
"Zach Hyman, we'd like to have one [of him on] each line, but they just don't make 'em like that," Babcock said of Toronto's best forechecker. "[Andreas] Johnsson has come a long way in that area, I think [Kapanen] can be more of that, Willy [Nylander] can really cycle the puck when he commits to it, Matthews is way more physical on offence than he used to be and that's important. We need to continue to grow that throughout the group."
For better or worse, the players on the team's roster now, barring injury, are who's there for the rest of the season and the playoffs. The team will go as far as it can, as is. And if Toronto intends to move out of third place in the Atlantic Division and catch Boston for the second seed come spring, beating teams not in a playoff position (like Buffalo) is critical.
That's not always as simple as it sounds for the Leafs – they've lost five games to non-playoff teams in the last five weeks – but even while sorting out the issues already present, Toronto still sees the untapped potential of what that elusive "next level" will look like.
"We have a lot of faith in each other in this locker room," Matthews said. "Looking around, we have a lot of depth, have a lot of belief in one another. We're hitting that point in the year when we need to take another step and really dial it in, so I think tonight was a good game for us, we turned it around."
TAKEAWAYS
Matthews re-writes (team) history
Over the course of two and a half seasons, Matthews has tied or broken a number of Leafs' franchise records, a haul that now includes being the first player in history to score at least 30 goals in each of his first three seasons.
Matthews hit the milestone in the second period of Monday's game when he tallied Toronto's second goal, his sixth score in seven games.
"It's pretty humbling," Matthews said of the feat. "Luckily, my first years [here], I've played with great players on any given night, guys who can move the puck and I can just do what I do. Kind of a shoot-first guy, try to score, that's kind of how I've always been and I'm fortunate to score at this level. So it's very humbling to be in that category."
Matthews finished Monday's game plus-1 in 18:07 of ice time.
One cool customer
At this point, Andersen may well be used to how the Leafs underperform early in games, giving him time to mentally prepare for a forthcoming onslaught. He weathered that storm admirably, and made a sensational game-saving stop late in the third, to bookend his 100th win as a Leaf.
Andersen stood on his head with good positioning in the first period to hold Toronto afloat while being outshot 16-6. Only Eichel's shot that weaved under Andersen's outstretched arm, beat the goalie, and he carried that solid showing into the second, with a great early toe-save to hold the game tied, 1-1.
Reinhart and Eichel again had good looks on Andersen in the second and third respectively, and Eichel's second goal was the same type of one-on-one play that has foiled Andersen frequently in recent games.
The quick goal wasn't the demise of Andersen, who saved a couple of his best stops for the third. The first was a sprawling four-alarm save on Jason Pominville with the Leafs clinging precariously to that one-goal lead. Then it was Andersen's finest stop of the game, a post-to-post play against Rasmus Dahlin's try on the power play, right before Kapanen scored shorthanded.
Monday marked Andersen's seventh straight start for Toronto, and he seems to be managing the workload just fine. He finished with 31 saves and .912 save percentage.
You've got a friend in Moore
When the Leafs acquired Petan for Lindholm, part of the reason was to make room for Moore to step back into the lineup. And inserting him onto the fourth line with Gauthier and Ennis had an immediate impact, especially on Gauthier.
The centre has scored only three goals this season, including one on Monday, and despite Moore having only played in eight games with him this season, the winger has assisted on each goal.
In adding an assist on Ennis' goal, Gauthier also recorded his first multi-point game of the season, another sign of how having another speedy, skilled player like Moore on his flank can help open up more space for Gauthier.
"He's a different kind of player," Gauthier said of Moore. "He's smart, he's got some skills and smart with the puck. He makes some plays and it's been going well every time he's here."
Gauthier had a chance to finish the night with a Gordie Howe hat trick after Zach Bogosian offered to drop the gloves following his goal, but the mild-mannered Gauthier said he didn't even think about accepting his invite. He ended up with just the two points, sitting plus-2 with a team-high 67 per cent possession.
Blue and White Trending
Tracking Leafs' trends all season long
Monday was just the fourth time all season the Leafs have given up multiple power play goals in a game, and the first time since Dec. 15 (30-game stretch)
Next up
Toronto faces the Edmonton Oilers at home on Wednesday.
Last Word
"Lindy was a great guy, too. You're around the game long enough, trades happen all the time. It's tough to see teammates go every time. But he's going to have a great opportunity and we wish him well."
– Tyler Ennis, on the trade of his linemate Par Lindholm to the Winnipeg Jets on Monday