Leafs lock up Kadri, Rielly to six-year deals
The Toronto Maple Leafs inked forward Nazem Kadri and defenceman Morgan Rielly to six-year deals. Kadri's deal totals US$27 million over six years, while Rielly's pact is worth $30 million for an annual cap hit of $5 million.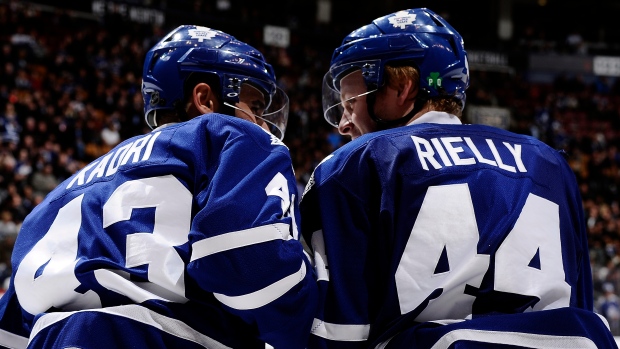 The Maple Leafs showed their faith in two key young players Wednesday, inking forward Nazem Kadri and defenceman Morgan Rielly to six-year deals.
Kadri's deal totals US$27 million over six years for an average annual value of $4.5 million, while Rielly's pact is worth $30 million for an annual cap hit of $5 million.
The pair were due to become restricted free agents on July 1.
Fresh off his first season in Toronto, Leafs general manager Lou Lamoriello said he was impressed by what he saw from the 25-year-old Kadri and 22-year-old Rielly.
Kadri finished as the Leafs' leading scorer, while Rielly set career-bests with nine goals, 27 assists, 36 points and an average of 23-plus minutes per night.
He believed both were capable of climbing even higher in the coming years, faith made by evident by long-term deals that lock the pair in until the summer of 2022.
"There's no question they have a level that they haven't reached yet," Lamoriello said on a conference call. "It's going to be up to them to commit to that and do the things that are necessary to get there. And it's up to us to help them do that."
Last summer, following a turbulent season which included a team-imposed suspension, Kadri was signed to a one-year contract, the intent of which was to determine whether he should be part of the team's future.
Kadri answered those questions with a resurgent all-around season, one that saw him grow into a top centre who head coach Mike Babcock matched up against the opposition's first lines.
Babcock quickly became a fan of Kadri's tenacious play and improvement. Team president Brendan Shanahan said last week that it was important to the club that Kadri demonstrate he could play effectively for the team's coach.
"I think we've seen a lot of growth from him, and some real strides," Shanahan said on locker cleanout day.
In March 2015 a frustrated Shanahan publicly announced a team-imposed suspension for Kadri due to unsatisfactory, unspecified off-ice behaviour. He said Kadri needed to grow up, a turnaround that evidently occurred this season and was punctuated with the announcement of Wednesday's long-term deal.
"He knows now the respect that the organization has for him," Lamoriello said.
A first round pick of Toronto in 2009, Kadri led the Leafs with 45 points, boasted quality puck possession numbers and set a career-high with a 49 per cent success mark in the faceoff circle. He says he made strides in his professionalism, giving up an opportunity to pursue unrestricted free agency down the road in signing for six years with the Leafs.
"Toronto's been home for, Toronto's where my heart is," said Kadri, a native of nearby London, Ont. "The Maple Leaf logo is all I've ever known and it's all I've ever wanted to play for. For them to show this kind of commitment towards me meant a lot."
Rielly quickly became one of Babcock's leaders on defence in only his third NHL season. He led the Leafs in minutes, playing in every situation for Babcock.
Lamoriello says the organization believes Rielly has all-star potential, having already established himself capable of playing big minutes on a top pair. The fifth-overall pick in 2012, Rielly will represent Canada at the upcoming world championships in Russia and was among the first group named for North America's bid at the 2016 World Cup.
"He certainly is the key to our defence," Lamoriello said. "He's our leader there."
The Leafs challenged Rielly with greater responsibilities this season, lining him up against top lines, mostly alongside veteran defenceman Matt Hunwick. The club also added penalty killing duties to his portfolio and eventually had him anchor power-plays.
He produced 27 even-strength points, a mark equal to Montreal's P.K. Subban and Florida's Aaron Ekblad, and behind only 14 NHL defenders.
Rielly said last fall that his goal was to eventually become one of the league's top defenceman.
"I certainly want to be a player in this league that his team can be proud of," he said Wednesday. "This year I took some steps, but I realize I have a long way to go, a long way to improve and for me, I'm just looking forward to the challenge. I want to get better and move forward with this team."