Maple Leafs ready for life without Matthews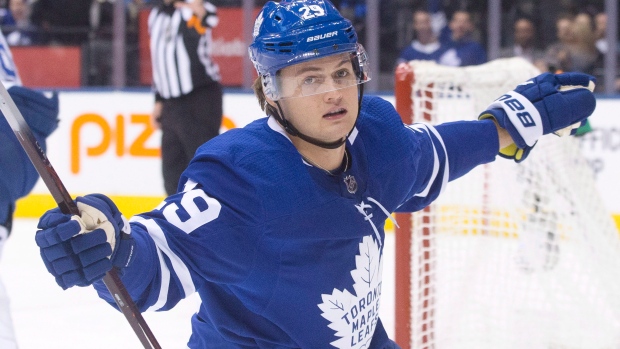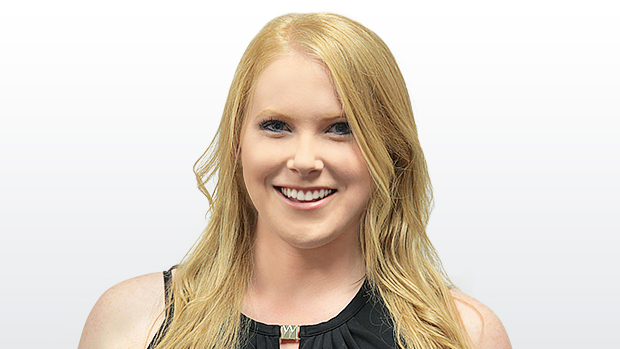 The Toronto Maple Leafs have gone without Auston Matthews in the lineup for two extended periods already this season. Like it or not, they're about to do it again.
Matthews left Thursday's game against the New York Islanders late in the third period with a shoulder injury after he got sandwiched between Adam Pelech and Cal Clutterbuck. On Friday, Mike Babcock said the sophomore will be out "for a bit" and is officially day-to-day, with more tests to be done.
With the 20-year-old having already missed 10 games this season with a back issue and then a concussion, Babcock is doing what he to keep his star centreman from becoming frustrated.
"'Put a smile on your face. You get healthier quicker when you're smiling,'" said Babcock of his message to Matthews. "It's sport; get to work, get back as fast as you can. Teammates would like to have him play. He's a passionate guy, he wants to play. I'm not very concerned about him, he's fine. We were joking around in there a minute ago. He'll be ready to go."
In the meantime, the Leafs will soldier on without panicking about the void that Matthews leaves in the lineup. Just as he did during those first two absences, Matthews currently leads the Leafs in points (50) and goals (28) while pacing all forwards in ice time (18:18 per game).
Toronto has managed a 6-4 record this season without Matthews on the ice (4-0 during the first injury, 2-4 over the second), so confidence remains high that they can survive another stretch without faltering. Additionally, Babcock said the injury won't alter Toronto's plans ahead of Monday's trade deadline, even if bolstering centre depth has become a more immediate priority.
"It's called a trade. It's not like Christmas where someone drops off a gift," said Babcock. "You have to give something to get something. If we can make a deal that's going to help our team, we're going to make that deal. That could be short-term and long-term. We're not going to do anything foolish, I know that for sure."
The Leafs may decide to put Matthews on injured reserve ahead of Saturday's game against the Boston Bruins and recall a forward from the American Hockey League as insurance, although they didn't opt to put him on IR before.
Focused on who he has to work with now, Babcock unveiled some key lineup changes in Friday's practice. He shifted William Nylander from the wing to centre on Toronto's top line between Zach Hyman and Connor Brown, while Kasperi Kapanen moved up to the third line with James van Riemsdyk and Tyler Bozak.
Josh Leivo was taking the first-team reps on the fourth line, suggesting he will get back in for the first time since Dec. 31, but Babcock didn't commit to either him or Matt Martin slotting in on Saturday.
"We'll look at that today and decide based on the pre-scout of Boston and we'll see what can help us the best," said Babcock. "Whoever gets in, you just have to grab it and you play real well so you get to stay in, that's the way it is. I don't know what I'm going to do [with a potential centre rotation]. I'm going to start with Willy there and if things go good, Willy is going to stay there."
Nylander played primarily at centre when Matthews was out before, with each game something of an audition to see whether he has a future down the middle as an NHLer. It's been a gradual process for Nylander, starting with him splitting draws with Matthews on their line all year long. He's sitting at 50.6 per cent in the dot thus far.
Nylander last had an opportunity at centre way back on Dec. 20 against Columbus, but the sophomore isn't too worried about the adjustment of coming off the wall. He's more concerned about keeping the Leafs' momentum alive without Matthews – Toronto has won 12 of 14 games going into Saturday's contest, on top of their current eight-game home winning streak.
"I think we just have to stick to the way we've been playing," said Nylander. "Obviously you lose a big player so everyone else has to step up. But we want to keep playing the way we've been playing lately. It's a little different position, but mentally you try and play the same way. Not much changes in the game."
"[He's got to] play well without the puck, stop on defence, compete hard on the faceoff circle; you have to do all those things right," added Babcock. "With wingers, there's a prime example of scoring chances that we chart all the time – you can be average and still be fine. Centres have to be good every night. They have to play 200 feet and they have to compete."
While there's never a good time to lose a player of Matthews' calibre, the Leafs are far enough ahead in the playoff race that even an injury-induced lull shouldn't be too detrimental to their standing.
Toronto has a 21-point lead on the Florida Panthers for third place in the Atlantic Division, and sit third in the Eastern Conference behind the Tampa Bay Lightning and Bruins. Those also happen to be the next two teams the Leafs will play, now without their most highly skilled forward.
If Toronto really wants to know how deep its club is, there couldn't be a better challenge awaiting them.
"I think we're in a good spot," said Babcock. "[Matthews] is hurt, and that gives him a chance to get freshened up. Other guys get a chance to play. We're playing two really good teams that are going to test us; it's going to be fun. You want to be playing the best. You want to be one of the best and you want to play the best and you want to find out if you're any good."