Maple Leafs tie record for fewest shots allowed in rout of Sabres
The Toronto Maple Leafs tied a franchise record for the fewest shots allowed in a game, and their offence eventually came to life in a 4-0 rout of the Buffalo Sabres on Tuesday night at Air Canada Centre. The Sabres finished with just 10 shots, and Jonathan Bernier stopped all of them for his eighth career NHL shutout. Asked if that was his easiest shutout, Bernier said, "Probably, yeah."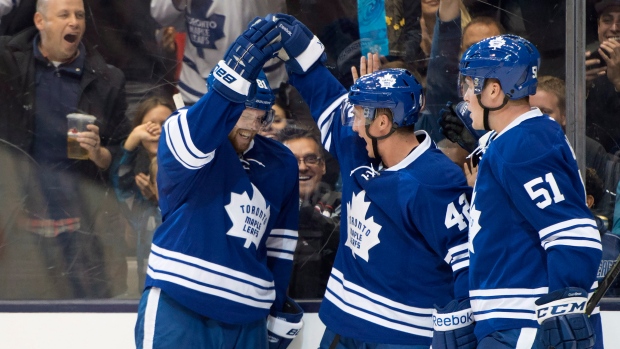 TORONTO - Jonathan Bernier stretched and skated around in circles in his crease that was barely scuffed up. The Toronto Maple Leafs' goaltender did everything he could to stay warm.
The result was the easiest shutout in Bernier's career as the Leafs tied a franchise record in allowing just 10 shots in a 4-0 rout of the lowly Buffalo Sabres on Tuesday night at Air Canada Centre.
"You're just trying to stay focused and make the save that you should make," Bernier said. "I thought we played very solid. We kept everything to the outside. Probably the best game since I've been here."
The Leafs previously allowed 10 shots against Jan. 5, 2002 in a 3-1 victory over the Ottawa Senators.
On Tuesday night, Toronto (4-4-1) put up 37 shots and broke the game open on goals by Tyler Bozak, Phil Kessel, James van Riemsdyk and Jake Gardiner. Before that, Buffalo goaltender Michal Neuvirth stopped the first 27 that came his way.
As Bernier stood at the other end and waited through 39-plus minutes of a scoreless game, coach Randy Carlyle watched and hoped that one bad bounce wouldn't cost his team.
"Those are nervous times because you know that sometimes fate in sports comes and bites you the wrong way," Carlyle said after the Leafs' second victory in six home games this season. "That was what we were worried about. You'll question that all the time."
Neuvirth was giving the Leafs plenty of reasons to question themselves. He stoned Nazem Kadri from in tight a couple of times just three days after beating the Sharks in San Jose. Neuvirth finished with 33 saves.
"Our goalie was outstanding for us, gave us a chance," Sabres alternate captain Josh Gorges said. "We didn't respond. That's by far not good enough."
The dam burst late in the second period after the fifth penalty of the game on the Sabres (2-8). Kessel sprung Bozak for a breakaway goal with 49.6 seconds left that snapped the Leafs' power-play skid at 0-for-28.
"I was going minute-by-minute, doing my best like every time I play," Neuvirth said. "I think it was a big goal for them. ... I think if we could go into the locker-room tied 0-0, it would be a different story in the third."
It wasn't. Kessel scored on a bank shot from below the goal-line, van Riemsdyk on a cross-ice pass from Morgan Rielly and Gardiner on a wrap-around.
The rout was on, even if it didn't feel like it until the Leafs poured on the goals.
"You just got to stick with it," Kessel said. "I thought we stuck with it, and then eventually it breaks and we were able to get a couple goals after that."
This was a response game for the Leafs after getting throttled by the Boston Bruins at home on Saturday night. Even if it was against a Buffalo team that could be one of the worst in the expansion era of the NHL, Carlyle won't discard these two points.
"Tonight everything fell our way, and we'll take it because we were in drastic need of a performance at home," Carlyle said. "Because we were able to do it one night, it doesn't mean the next night's going to be easy. We know that we're going to have to play, as we go forward, to a higher level than we did tonight."
Defenceman Stephane Robidas said that if he and his teammates play as they did Tuesday night, "I'll bet we'll win a lot more games than we're going to lose." Unfortunately for the Leafs only three of their remaining 73 games come against the Sabres, who have just 10 goals in their first 10 games.
This loss seemed all too normal for Buffalo, which sits in 29th in the NHL and could have worse days ahead.
"We had nothing," Sabres coach Ted Nolan said. "Toronto had everything going, they were skating well. They deserved everything that they got, and we deserved what we got."
Ten shots on goals was a new franchise low for the Sabres.
Gorges, who refused to waive his no-trade clause to go to the Leafs and instead was sent from the Montreal Canadiens to the Sabres, said every veteran on the team must take responsibility for being better.
"I don't know who we think we are or what kind of team we think we are or what we've accomplished to be playing like that," Gorges said. "We haven't done nothing to be playing a cute game. We don't deserve to play a cute game and until we figure out that we have to work and scratch and claw and grind and dig in order to give ourselves a chance every night to win, then we're going to have nights like this."
Notes — Leafs captain Dion Phaneuf left the game late in the second period with what Carlyle said was a hip injury. Phaneuf returned at the start of the third period. ... Leafs forward Carter Ashton was a healthy scratch for the ninth straight game to start the season. Ashton would have had to pass through waivers if the team wanted to send him to the minors and is considered likely to get claimed. Carlyle referred to the 23-year-old as a "good soldier" earlier Tuesday for practising and not getting into a game so far. ... Sabres rookie Sam Reinhart, the second overall pick in June's draft, played in his eighth NHL game. He can play one more before the first year of his contract counts with the 10th, or Buffalo can send him back to Kootenay of the Western Hockey League.
___
Follow @SWhyno on Twitter