Leafs ship Kessel to Penguins
Presented by:

The Toronto Maple Leafs completed a blockbuster trade to send star winger Phil Kessel to the Pittsburgh Penguins. Toronto gets winger Nick Spaling, prospects Kasperi Kapanen and Scott Harrington, a third-round pick and a conditional first in the move.The Leafs also sent forward Tyler Biggs and defenceman Tim Erixon to Pittsburgh along with a conditional pick.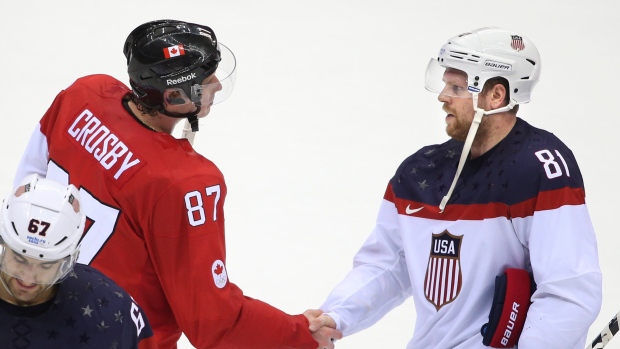 TORONTO - Phil Kessel is joining Sidney Crosby and Evgeni Malkin with the Pittsburgh Penguins as the Toronto Maple Leafs begin the process of dismantling an ineffective core that made just one playoff appearance.
Management took the first wrecking ball swing to this Leafs roster Wednesday, sending Kessel to the Penguins in a blockbuster trade that netted prospects Kasperi Kapanen and Scott Harrington, winger Nick Spaling and two draft picks.
"Phil is certainly a very talented player, but we know that changes had to come," Leafs president Brendan Shanahan said. "What we were doing here as a group wasn't working, and we were setting a bit of new direction for our club and building it differently."
The rebuilding starts now, absent Kessel, his almost automatic 30 goals a season and his US$8 million cap hit. The Leafs retain 15 per cent of that salary (US$1.2 million) for the next seven years but cleared much-needed space to begin constructing what Shanahan hopes is a Stanley Cup contender.
Shanahan and the management team made up chiefly of Mark Hunter, Kyle Dubas and Brandon Pridham, didn't see this core led by Kessel, defenceman Dion Phaneuf, centre Tyler Bozak and winger Joffrey Lupul as one that could bring the Cup back to Toronto for the first time since 1967.
Saying there are no shortcuts to doing ending the Cup drought, Shanahan hired coach Mike Babcock for a long-term plan and began tearing things down.
"When you recognize that a group is maybe not going to get to the ultimate place that maybe you want to it to be, you put out the message to the rest of the world at the end of the season that you're willing to make changes," Shanahan said. "The way that our team was assembled and going forward it wasn't going to get much better."
The Penguins get better with Kessel with either Crosby or Malkin. General manager Jim Rutherford told reporters in Pittsburgh that a fresh start will benefit the 27-year-old right-winger.
"He went there under the microscope from Day One, he was always the guy," Rutherford said. "He was the guy that was blamed when things weren't going swell. And he doesn't have to be the guy here. we've got a bunch of them."
This past season was Kessel's first full one without 30 goals, but his 247 goals and 273 points in 668 games made him an attractive trade candidate.
"We gave up a heck of a player, a very, very productive player," Shanahan said. "I think it's a good fit for Phil."
The Leafs hope Kapanen, Harrington and Spaling are good fits for their future. They also got a first-round pick conditional on the Penguins making the playoffs and a third-rounder no matter what, while sending two contracts back in the form of Tyler Biggs and Tim Erixon.
Pittsburgh will trade its first-rounder in 2016 to Toronto if it makes the playoffs and get its second-rounder back from the February deal for Daniel Winnik. If the Penguins miss, the swap will happen in 2017, and if they fail to qualify for the post-season each of the next two years it's a 2018 second-rounder going to the Leafs and nothing more in return.
Assistant general manager Dubas likes stockpiling picks but said that Kapanen, a smooth-skating 18-year-old winger who was a 2014 first-rounder, was the key.
"If Kapanen wasn't in the deal, I don't think we'd be standing here," Dubas said "He's a highly-skilled guy with excellent feet. ... He's a player with a lot of potential."
Kapanen and Harrington, a defenceman who Hunter was familiar with from his time running the London Knights, join a stable of prospects that includes forwards William Nylander, Connor Brown and 2015 No. 4 overall pick Mitch Marner.
Kessel is in his scoring prime and will help the Penguins now. Those players are part of the Leafs' future.
"We like some of the players that we acquired," Shanahan said. "We don't expect any of them to go out and produce right now as Phil currently does."
Minus Kessel, the question remains which other core players the Leafs will trade before opening training camp in October. Bozak and Lupul seem like the most legitimate options for more off-season change.
Later the first day of free agency, Toronto re-acquired Winnik by signing him to a two-year deal.
Earlier, Toronto signed forwards P.A. Parenteau and Mark Arcobello to one-year deals and defenceman Matt Hunwick to a two-year deal. Those are small potatoes compared to trading Kessel and other potential moves that could be coming in the remaking of the Leafs.
"Phil was a big part of that dressing-room. It's a big change," Shanahan said. "Where we need to be we're still a long ways from being there. We still have a lot of work to do."