Maple Leafs spread out the scoring in rout of Devils
Six different Maple Leafs players scored, all four lines contributed at least one even-strength goal and Patrick Marleau registered his 600th career assist in a 6-1 thrashing of the New Jersey Devils Friday night for Toronto's third straight victory, Kristen Shilton writes.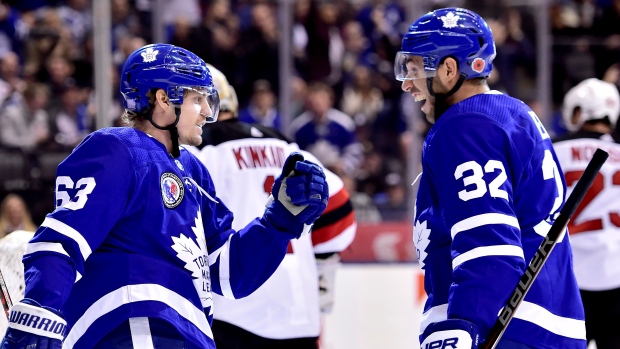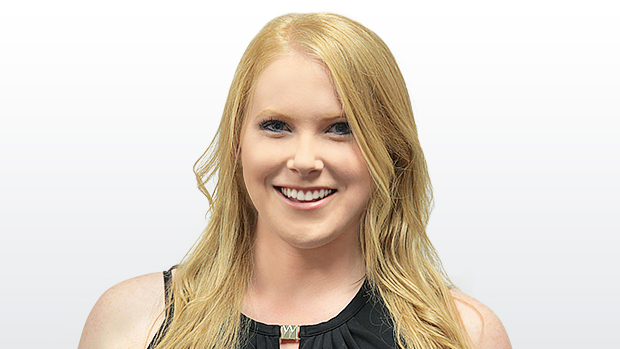 TORONTO – The Maple Leafs' offence has worked all season to produce the kind of balanced attack they put on display Friday, where all four of Toronto's lines contributed at least one even-strength goal in a 6-1 victory over the New Jersey Devils.
Toronto has tread dangerously before this season when relying too heavily on its stars' output, but lately they've strived to move towards more well-rounded execution. And it's working. While Mitch Marner was held off the scoresheet in Friday's win for the second time in four games (and passed for the Leafs' lead in scoring by Morgan Rielly on his two-point night), six different scorers came through with a goal, and 10 players tallied at least a point.
"It was great, the more spread out the scoring, the better," said Patrick Marleau, who notched the 600th assist of his career on Friday. "And I think guys are starting to feel better about themselves, and we're scoring the right way, by playing the systems, so we just want to build on that."
For the second consecutive game, Toronto (11-5-0) was on the board first when John Tavares finished off a superb tic-tac-toe play from Rielly and Ron Hainsey with a tap-in goal behind Keith Kinkaid. Tavares has points in four consecutive games now (two goals, three assists), amounting to his longest point streak of the season, and Toronto was ahead 1-0 after 20 minutes while outshooting New Jersey 15-7.
"The first period was unbelievable," said Frederik Andersen after a 38-save performance in net for Toronto. "I thought we limited their chances to barely any, actually. And obviously they came out a little harder in the second and third chasing the game, but I thought we did a good job."
With the Leafs' first line going, Nazem Kadri got the second unit firing with a soft goal sent from the right circle high-glove past Kinkaid early in the second period for his fifth score of the season. Then it was Connor Brown adding his second goal in as many games from the Leafs' third line, knocking in a pass from behind the net from linemate Par Lindholm. With two assists in the game, Lindholm tallied the first multi-point outing of his NHL career.
Next up was Brown's other linemate Andreas Johnsson driving hard to the net to pot the rebound off Jake Gardiner's initial shot to finally shove the monkey off his back with his first goal of the season.
"It was probably the most chances I had in a game, so it was nice to get it," Johnsson said. "I feel like the hardest part here is you have to be good every day, or else you're getting run over. [Our line has been] feeling good together these last couple of games, so it was nice to score more."
Rounding out the offensive performance for Toronto were goals from Rielly (an easy wrister from the blueline that snaked past Kinkaid) and fourth-line winger Tyler Ennis (a slick shortside strike).
"If players work real hard, and do things together, we have a chance to have a lot of success," assessed coach Mike Babcock. "So that's what we're trying to do each and every day. Some days it goes good. There were a lot of those seeing-eye pucks tonight going through crowds, and you know it's never fun being on the wrong end of those; it's more fun being on the right end."
The Leafs had bemoaned earlier in the week how those bounces weren't going their way. But over this current three-game win streak, Toronto has seen its luck start to change as all skaters are becoming more regularly involved, and maximizing the team's greatest strengths.
"We're such a fast group through the neutral zone, we just try to wear teams down with our speed and I think it showed tonight," said Ennis. "I think everyone was on the same page and we were just trying to play fast."
"Everyone got to play, everyone got some puck touches so in the end you leave feeling good," added Babcock. "And we didn't put too much duress on our team playing back-to-back [on Saturday in Boston], so that gives us a better opportunity."
TAKEAWAYS
Andersen in the zone
It was late in the third period against New Jersey, with the Leafs' safely ahead 6-1, that Andersen made an outstanding, sprawled-out save as if Toronto's two points depended on it. But that's the type of zone Andersen is in now, where he's stringing together one outstanding performance after another.
Making his ninth consecutive start for the Leafs, Andersen once again allowed two or fewer goals-against to the Devils, which he's done now in seven straight games and nine times in his last 10 starts. There's a looseness emerging to Andersen's game that's led to the kind of start to this season he worked all off-season to create. Including his .974 save percentage on Friday, Andersen has tallied a save percentage above .900 in eight of his last 10 starts, and he remains tied for the NHL lead in wins with nine.
And while the Leafs have aimed to keep shots on Andersen down, the netminder has seen 30 or more in five of his last seven starts, all the while posting similarly impressive results each night. He's projected to get Saturday night off when Garret Sparks takes over the crease in Boston, marking the first time Andersen hasn't played since Oct. 14.
Finding their form at home
Home ice wasn't kind to the Leafs when the season began, when they posted a 3-5-0 record through the first eight games. But Toronto got to work reversing that losing trend with a win Tuesday over the Vegas Golden Knights and won consecutive home games for the first time all season with their most dominating performance of the year at Scotiabank Arena in the Hall of Fame game. Through two periods alone, the Leafs scored as many goals (5) against New Jersey as they had in all three of their prior home games combined, and worked their way back to .500 at home with a 5-5-0 record as they head out on another long road trip.
Helping hand from Hainsey
Paired with the more offensively inclined Rielly, Hainsey isn't often as involved in what the Leafs do up front. But on Friday he made an exception, jumping into the fray to generate terrific assists on each of the Leafs' first two goals.
Hainsey planted himself as the middle man on Tavares' score, tipping a quick pass from Rielly directly onto Tavares stick for him to tap into Kinkaid's gaping net. The 37-year-old veteran made an even better play for the second assist on Brown's goal, completing an incredible cross-ice play to Lindholm behind the net that he fed to Brown.
Those contributions marked the first two-assist night for Hainsey since Nov. 1, 2017 vs. Anaheim, and the 20th multi-assist game of Hainsey's career.
The one blemish on an otherwise superb night for Hainsey: When he and Kadri got tied up down low in in the second period, allowing Travis Zajac to break through with the Devils' first goal. Hainsey finished the game plus-2 in 17:52 of ice time.
Blue and White Trending
Tracking Leafs' trends all season long
The Leafs were outshot for the eighth time in 16 games this season on Friday, but that's actually not all bad – Toronto is now 6-2-0 on the year when being outshot.
Next up
Toronto heads out on a four-game road trip, starting Saturday in Boston.
Last word
"It means that you're on a good team, means you're helping the team out getting a win every night, and the guys are helping you out. For goalies it's fun, but it reflects on how you're playing as a team."
– Frederik Andersen, on being tied with Tampa Bay's Andrei Vasilevskiy for the NHL lead in wins (9) so far this season.