Maple Leafs take playoff chase on the road
Toronto needs Auston Matthews' line to shake mini-scoring slump on southern swing to Carolina and Florida.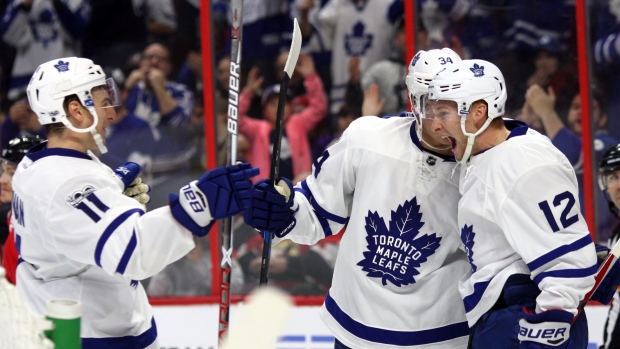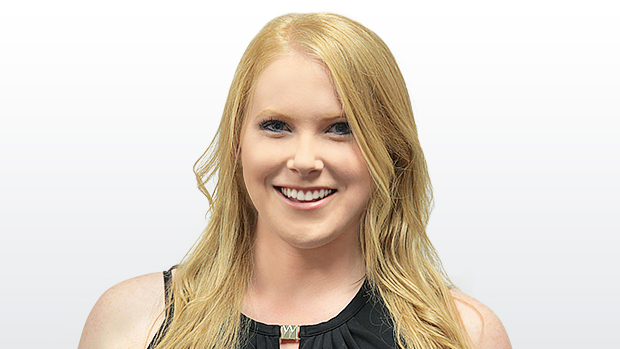 The Toronto Maple Leafs got back in the win column this week with a pair of victories over Eastern Conference foes, but those contests were just the beginning of what will be a demanding final three weeks of March.
Toronto has 10 games in the next 21 days, starting with the Carolina Hurricanes on Saturday. The three-game southern swing that starts in Raleigh will include stops against the Florida Panthers and Tampa Bay Lightning, divisional rivals every bit as hungry for points as the Maple Leafs and directly behind them in the standings.
The physical challenge of playing tight-checking, high-tempo games this time of year has taken its toll – Tyler Bozak missed practice Friday with a mystery ailment but is expected to travel – but it's not the only hardship a postseason push presents for the young group.
"The mental grind is there for everyone," said Zach Hyman. "…Being a little older [at 24] I think helps because I've been through those grinds before, whether in college or the Marlies, and you learn to just stick with it and let your teammates and your family help."
While the Maple Leafs are coming off two solid games offensively, Hyman's line has been a beat behind. Centre Auston Matthews hasn't registered a point in four games, his longest drought since Oct. 27 to Nov. 3, when he went five games without one. Coach Mike Babcock has had Connor Brown and William Nylander rotating on his right wing while Hyman remains on his left, searching for the best combination.
"We're just not creating enough offence as a line," Matthews said. "Things are a little tighter now and those little 10-foot plays, we're not making them. We want to get back to what we were doing before."
Hyman's goal in Anaheim last week is the only even-strength marker among the four rookies in the last four games. His status as Matthews' only consistent linemate all season has repeatedly come under scrutiny - Hyman has six even-strength goals and 16 assists in 66 games playing every shift of 5-on-5 with Matthews except those directly after a penalty kill. While Matthews leads the league in even-strength goals (26), Hyman has assisted on only two of his last eight.
Insisting he doesn't think much about where or with whom he's slotted in the lineup, Hyman also said he doesn't pay attention to the court of public opinion.
"I focus on the team and what goes on in here and stay away from the noise, because that's when you can start to overthink everything," he said. "At every level for me, once I settle in things get a little bit easier. The more you play and generate offence, the more [the game] comes naturally to you anyway."
Hyman and Brown fly more under the radar with their contributions than most of Toronto's rookies, but you can count the coach among those who admire their effort.
"Their leadership, whether they want to believe it or not, is really important, because it's contagious," Babcock said of the pair. "People who work that hard make the people around them better; it's just the way it is. When you put in an honest effort, you have some success, so those guys have become real important drivers for us on and off the ice."
--
Blueline shakeup
Alexey Marchenko was a non-factor in the third period of Thursday's game, playing just two shifts – none in the final 15 minutes.
Babcock has been trying to find the right mix on the blueline all season, shuffling Martin Marincin and Connor Carrick in and out of the lineup beside Jake Gardiner and recently moving Nikita Zaitsev down from the top pairing to skate with him.
Marchenko has been solid with Gardiner in the seven games since Carrick went down with an injury Feb. 21 – he's an even plus-minus with one goal and 14 blocked shots. But Marchenko has seen his ice time dwindling over the last three games, down to just 11:19 on Thursday, and now Marincin will step in on his off-side to play with Gardiner going forward.
"We think Marchy's done a real good job, but we've been thinking we should get Marty in for a while," said Babcock. "We were going to make the change, probably would have made it before the Detroit game [on Tuesday] but he came from Detroit so we didn't want to do that. We're just going to make the change and see where it goes."
Marincin hasn't played in over a month. His last action was Feb. 4 against Boston, when he took three penalties and was unable to execute one of his most important duties to the team as a penalty killer. He's been a healthy scratch ever since.
Marincin and Gardiner have seen limited time together this season back in December, posting 64 per cent possession numbers when they were on the ice. Marincin's struggles throughout the season have been rooted in poor judgment with the puck, especially in the defensive zone.
As for Carrick, he's been skating regularly on his own, but there's no timetable for when he'll be able to rejoin the Maple Leafs.
"He skated again today and he was in there shooting. I just talked to the strength people and they said he's getting way better," Babcock said. "He's an important part of our team, but we've been through this before. I don't get much of a say in these things."