Maple Leafs use balanced scoring to dump Devils in HOF Game
Six different Maple Leafs scored and Patrick Marleau notched career assist No. 600 to help Toronto defeat the New Jersey Devils 6-1 on Friday night. Toronto (11-5-0) has won three in a row and five of its last seven.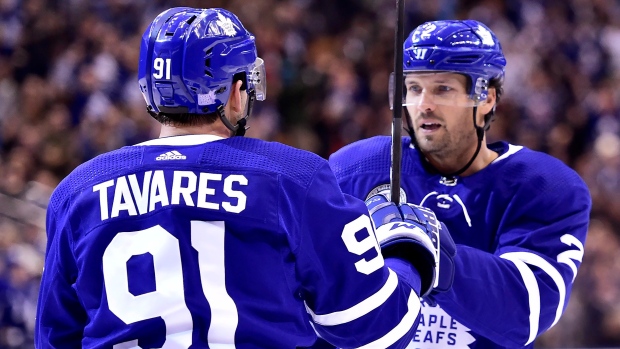 TORONTO — On a night brimming with stars, the Maple Leafs' supporting cast came up big.
Six different Leafs scored — including three from the bottom two lines — and Patrick Marleau notched career assist No. 600 to help Toronto defeat the New Jersey Devils 6-1 in the Hall of Fame game Friday.
Hockey Hall of Fame glitterati like Bryan Trottier, Grant Fuhr, Lanny McDonald and Darryl Sittler were honoured prior to the game, as well as the 2018 induction class.
"It's definitely cool," said Toronto goaltender Frederik Andersen. "It's one of the great things about playing in the hockey capital of the world probably, you get to see these things. You get a lot of legends of the game through these doors here. That's extra special."
Entering the Hall on Monday are former New Jersey goaltender Martin Brodeur, Martin St. Louis, Alexander Yakushev and Jayna Hefford in the players' category, and NHL commissioner Gary Bettman and Willie O'Ree, the first black player in the NHL, in the builders category.
The six inductees were honoured prior to the game as the Leafs and Devils starters watched from chairs on the ice. Bettman, as he normally does, drew boos but took them in stride, flashing a smile as he cupped his ear.
"It's a club like no other," Toronto coach Mike Babcock said of the Hall of Fame.
The fast-paced ceremonies, which included a Remembrance Day tribute to veterans, took a crisp 15 minutes including two anthems.
John Tavares, Nazem Kadri, Connor Brown, Andreas Johnsson, Morgan Rielly and Tyler Ennis scored for Toronto before 19,211 at Scotiabank Arena. With star centre Auston Matthews still nursing a shoulder injury, the balanced scoring is welcome.
The Leafs dominated from the get-go but broke the game open in the second period, outscoring the Devils 4-1.
Marleau was involved in Kadri's goal, becoming the 88th NHLer to reach the 600 assist milestone. The only other active player with 600 assists is San Jose's Joe Thornton (1,032).
"It's always nice when a milestone like that comes with a win," said Marleau. "The guys played great tonight so it was fun."
Asked if he remembered assist No. 1 of his career Marleau smiled and said: "Kind of."
"I think (Andrei) Nazarov scored it ," he added, referencing the 1997-98 season.
Today Nazarov is head coach of HC Neftekhimik Nizhnekamsk of the Kontinental Hockey League.
The 39-year-old Marleau, playing in his 1,591st regular-season game, also has 538 goals.
Toronto (11-5-0) has won three in a row and five of its last seven.
The Toronto stop was the sixth of a season-long seven-game road trip for New Jersey (6-7-1) that wraps up Sunday in Winnipeg. The Devils, 1-5-0 while outscored 29-15 on the trip, have won just two of their last 10 games (2-7-1) after opening the season with four straight home victories.
Toronto, which is 6-0-0 away from home, plays at Boston on Saturday — the start of a four-game road trip that takes it to Los Angeles, San Jose and Anaheim. The Leafs are 5-5-0 at Scotiabank Arena.
Marleau scored in the third period on a tip but the goal was waved off upon review due to a high stick. Veteran defenceman Ron Hainsey was involved in two of the goals with deft passes.
Travis Zajac scored for New Jersey, which despite the lopsided score got a decent game from goalie Keith Kinkaid. The Devils outshot Toronto 39-32.
"There was a lot of those seeing-eye pucks tonight that went through crowds," said Babcock. "It's never fun being at the wrong end of those, (it's) more fun being on the right end."
Andersen started his ninth straight game and produced another rock-solid performance that included a fine third-period stop on Devils star Taylor Hall. In his last three games, he has stopped 107 of 109 shots.
Kinkaid, who replaced Cory Schneider in the second period of Tuesday's 7-3 loss in Ottawa, had a busy night in the Devils' goal.
Toronto started in high gear, testing Kinkaid several times before the Devils managed their first shot 6 1/2 minutes into the game — after seven straight Leaf shots.
Fans held their breath when Tavares went down on a knee-to-knee hit that earned Sami Vatanen a kneeing minor. But the Leafs US$77-million man got up and almost set up Marleau on the power play.
Outshot 15-7, New Jersey was likely fortunate to escape the period down by just one goal.
Kinkaid was called on again early in the second period, stopping Johnsson on a breakaway. But Kadri beat him at 1:52 of the period, roofing the puck from the faceoff circle after controlling it mid-air from Marleau's milestone feed.
Rielly's goal was one of those seeing-eye shots, wending its way through traffic and past a befuddled Kinkaid. It was his seventh of the season, tops among defencemen.
Ennis' goal was more memorable, top shelf after a nifty move coming out of the corner.
___
Follow @NeilMDavidson on Twitter