Leafs wary of emptying Andersen's tank with playoffs looming
Toronto Maple Leafs No. 1 goalie Frederik Andersen has already started 50 games, third most in the NHL behind only Montreal's Carey Price and Winnipeg's Connor Hellebuyck, so managing his workload is a priority for coach Sheldon Keefe with just 16 games left in the regular season, Mark Masters writes.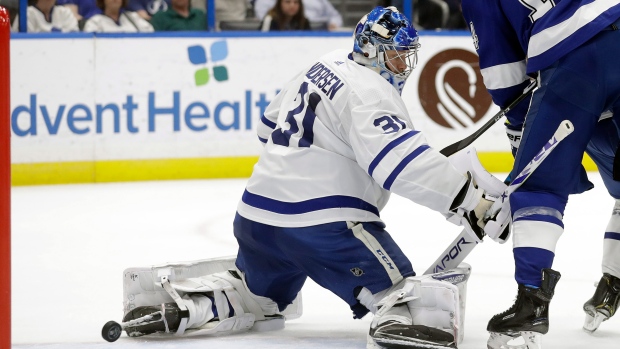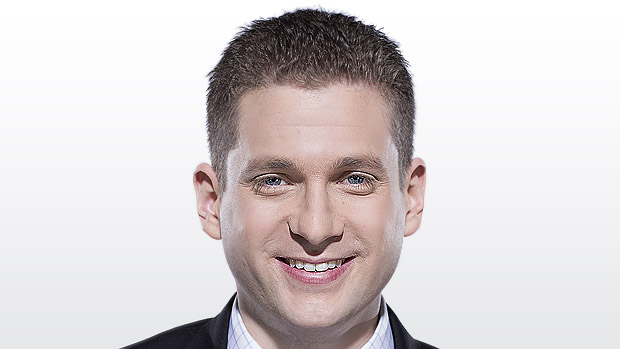 TSN Toronto reporter Mark Masters checks in daily with news and notes on the Maple Leafs. The Leafs (optional) skated at SAP Center in San Jose on Tuesday.
Frederik Andersen has won three straight games for the first time since December and is finally starting to get back in a groove after a rough stretch. Toronto's position in the standings remains precarious with 16 games left. And, Toronto is currently playing without three key defencemen.
So, why is now the right time to go back to Jack Campbell?
"All season there's been a focus for us in terms of our need to manage Fred's workload," explained coach Sheldon Keefe. "We want to not just make the playoffs, but want to be in a position that we can thrive in the playoffs as well so we've got to manage both of those things and making sure we're able to continue to press on here and not completely empty the tank."
Andersen has already started 50 games, third most in the NHL behind only Montreal's Carey Price and Winnipeg's Connor Hellebuyck.​
"It was nice to play some good hockey again," Andersen said, "and string some good wins together as a group and we look to keep that going no matter who's in net. It gives me some more time with (goalie coach) Stevie (Briere) to work on some things."
With a .906 save percentage, Andersen is having the worst statistical season of his Leafs career and recently admitted it was a struggle to find the proper level of focus.
"It's been good lately," he said. "Some of the games have been some tough starts, but it's been focusing on what's really important and that's the next thing and working today."
Campbell, meanwhile, hasn't played since posting a win in Ottawa on Feb. 15. He is 3-0-1 with a .919 save percentage since being traded from the Los Angeles Kings. He doesn't expect any rust tonight.
"I feel really good," the 28-year-old said. "I feel sharp. I know the boys are playing really well so just trying to go in there and give them a chance to win. Just got to practice hard every day and make sure you're sharp and that's what prepares you for these moments."
Campbell stopped 22 of 24 shots in an overtime win in San Jose on Dec. 27, which factored into the decision to send him back into the Shark Tank.
"We just thought, especially being here in California, a place that he's comfortable in and he's already played in this building this season, that the time was right," said Keefe. "And we would have, in a perfect world, perhaps, got him out a little bit earlier, but we also felt it was important, of course, to get Fred back rolling."
Andersen has started the last seven games, but assuming the goalies split starts on Thursday and Friday in Los Angeles and Anaheim, the Dane will only play once in a nine-day stretch.
"We've been very fortunate that we've acquired Jack Campbell and we've got trust and belief in him," said Keefe, "and he's earned that in the time that he's played with us and we got to be able to get some good starts from him."
---
Campbell has quickly emerged as a popular figure in the dressing room.
​"What stands out the most is how nice he is," said defenceman Tyson Barrie. "He's probably one the most positive people I've ever been around."
"Probably the nicest guy you'll ever meet," said winger Zach Hyman.
Campbell has formed a fast friendship with Auston Matthews, a fellow product of the U.S. National Development Program. In fact, Campbell has decided to grow some facial hair in support of the moustachioed Matthews, who picked up goal No. 45 on the season on Saturday night.
"Just thought I'd jump on the Matty bandwagon and hopefully help him get to 50 with the muzzy so we'll see what happens," Campbell said with a smile. "We're just trying to have some fun with it around the room and a couple guys (including Kasperi Kapanen) are jumping on so it's good."
Campbell and Andersen have also spent a lot of time together, which has helped the Toronto starter maintain perspective during a rough season.
"He's always really happy," noted Andersen, "he's always really positive, super polite guy, it's something you like to be more like."
"With Freddie, he's just such a composed, elite guy, everything he does," Campbell gushed, "it's pretty incredible and his skill-set is awesome and I'm just having fun learning from him. But, also, we hang out almost every day too so it's been a real treat to be with him."
---
Despite missing the first 19 games of the season after undergoing summer knee surgery, Hyman has already matched a career high with 21 goals. The gritty forward has been incredibly efficient scoring on 21.2 per cent of his shots, which is well above his career average shooting percentage of 12.2.
"I don't tend to shoot the puck further than my radius, I guess," Hyman explained. "I'm in front of the net the majority of the time so the shots that I do get, more of them are high danger than your average player."
Hyman credits old teammate James van Riemsdyk for showing him the way.
"I remember my first couple years I watched JvR in front of the net and I'd be like, 'How is this guy doing it?' You know, he makes it seem like he's got so much time when you don't really have that much time. Just tried to watch him a ton. And I think as you play more in the league you recognize spots where you maybe do have a little more time than you think and just recognize when to take that time."
While Keefe notes that luck has played a role in Hyman's amazing run, the coach also credits the 27-year-old for evolving while playing alongside Matthews and Mitch Marner.
"We've seen an increased level of his poise and patience with the puck to make plays on the entry and do different things to get the puck into those guys' hands in good spots and that's also part of it," Keefe said. "If his linemates are getting pucks in better spots and not always having to retrieve it from below the goal line, then ultimately the puck arrives at the net with a little more frequency."
And, of course, Hyman benefits from playing with elite players like Matthews and Marner.
"Those guys draw a lot of coverage and they bring a lot of people away from the net to be able to chase them around and he's left, a lot of times, either alone or in a one-on-one situation where he's very competitive, strong at the net and able to get to those pucks," Keefe said.
Making his success all the more impressive, Hyman's still not fully recovered from the injury sustained during last year's playoffs.
"Still in the process of making my knee get back to where it was, because the ACL surgery is longer than a six-month recovery," Hyman pointed out. "So, it's not something that just goes away."
---
In a recent poll of Leafs players conducted by The Athletic, Barrie came in first (38 per cent) when it comes to the teammate who most often puts money on the board.
Why does he do it so much?
"There's lots of connections to places," the defenceman explained. "My dad (Len Barrie) played in a couple different spots. It's different things and it's always fun trying to get the boys going a little bit."
Before the game on Tuesday night, Barrie will again write a dollar amount on a board in the dressing room and if the team wins that sum will be earmarked for an event fund if not directed to an individual, who directly contributed to the win.
This one is personal for Barrie as his season ended in San Jose last year with the Avalanche falling in Game 7 of the Western Conference semifinals.
"That was frustrating for sure," Barrie said. "It was a great experience to beat Calgary in the first round and then to be so close to going to the conference final. It was a cool experience, but the closer you get to the Stanley Cup the more devastating the losses are so that was a tough one, for sure."
Barrie will start the game paired with Martin Marincin, who surprisingly scored the game winner on Saturday against the Canucks.
"I'm just trying to find Marv and let him do his thing," Barrie said with a smile. "Marv's played a lot of NHL games and he's a good, solid player. I played against him in junior and he was always super offensive and always at the top of the league for defence in points so I probably wasn't as surprised as some people when he scored that goal."
---
Barrie started Saturday's game with rookie Rasmus Sandin, but Keefe demoted the 19-year-old Swede after the duo got off to a shaky start. Sandin will be a healthy scratch tonight for the first time in his NHL career as Timothy Liljegren draws back in.
"Just try to rest and go through my last couple games and see if I can improve," Sandin said. "I'm not the biggest guy so that's one of the things: try to get stronger and build some muscle."
Keefe is wary of overtaxing the teenager, who stands five-foot-11, 183 pounds, and the coach went out of his way to let Sandin know why he'd be sitting in San Jose.
"You want to play every game, but I understand​," Sandin said. "At the same time, the last couple games I've been on for a couple goals against and that's an area I have to clean up so I understand for sure."
Sandin, who has been on the ice for 11 of Toronto's last 14 goals against, is used to playing two or three games every weekend in the AHL whereas the NHL is more of an every-other-day-routine.
"It's a little different," he said. "You get a little tired."
Sandin's time in the press box will be short-lived.
"He'll get back in here soon," Keefe promised.
---
Projected Leafs lineup for Tuesday's game in San Jose:
Hyman - Matthews - Marner
Nylander - Tavares - Kerfoot
Clifford - Spezza - Kapanen
Engvall - Gauthier - Malgin
Dermott - Holl
Marincin - Barrie
Rosen - Liljegren
Campbell starts
Andersen