Marchand to have hearing for spear
TSN.ca with files from the Canadian Press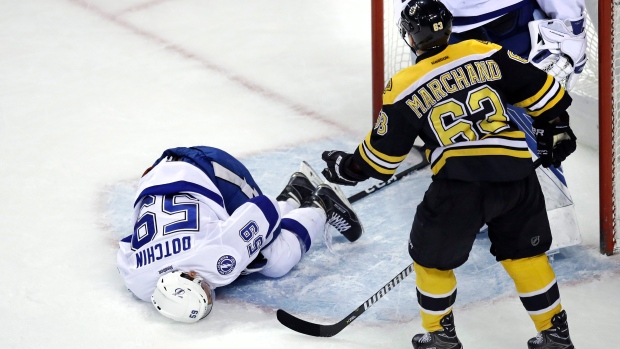 Boston Bruins forward Brad Marchand will have a hearing with the NHL's Department of Player Safety Thursday for spearing Tampa Bay Lightning defenceman Jake Dotchin on Tuesday.
Marchand was given a five minute major penalty and game misconduct for the spear which caught Dotchin in the groin.
The incident happened late in the first period in front of Tampa Bay's net. After Dotchin pushed Marchand out of Lightning goalie Andrei Vasilevskiy'ss crease, Marchand turned and speared Dotchin in the groin. Dotchin fell to the ice in pain, but returned to the game.
The Bruins won Tuesday's game 4-0 and clinched a playoff berth in the process.
Marchand was fined the maximum $10,000 by the league earlier this season for a dangerous trip.
"It was an undisciplined penalty. There's no question about that," Marchand said after the game. "It could have cost the team a very important game, but the guys did a great job of rallying and having a huge game."
Marchand has been suspended four times - twice in the past three seasons - and fined four times in his eight-year career.
"We want all our players on the ice from start to finish, and it's that simple. It was undisciplined, and there was not much else I can do about it but coach the game," Bruins coach Bruce Cassidy said after the game, per CSN New England. "We'll have a talk with Brad. He's got to be more responsible, but at the end of the day, it happened. There's really nothing any of us can do out on the ice other than play and get the job done. That's what we did."
Marchand owns 39 goals this season and needs one more to become the first Bruins since the 2002-03 season to record 40.
The Bruins have two games remaining in their regular season and host the Ottawa Senators on Thursday in a key game for playoff seeding.