Giordano's hot start continues in Flames' rout of Red Wings
Mark Giordano had a goal and an assist to lead the Calgary Flames to a 5-1 victory over the Detroit Red Wings on Thursday.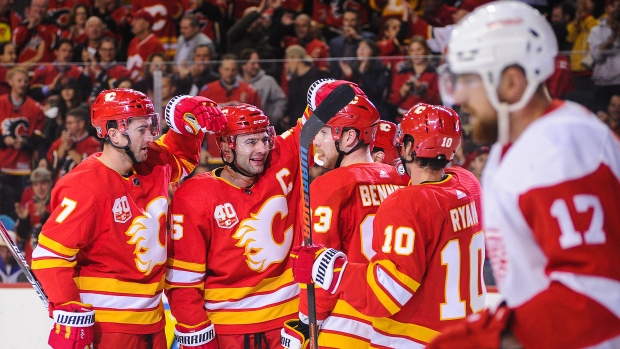 CALGARY — Derek Ryan's first goal of the season was an "ugly" one in his own words, but the end result was not.
Leading the way with a goal and an assist, Ryan's line produced three goals — all at even strength — in the Calgary Flames' 5-1 victory over the Detroit Red Wings on Thursday.
"My son Zane, he's almost six, and he never asks how, he only asks how many, so that's all that matters," Ryan said with a laugh.
His goal went off the stick of Wings defenceman Filip Hronek, who in a rough sequence twice had the puck go off him and towards his own net. Goaltender Jimmy Howard stopped the first one, but the second slipped past him to make it 4-1 in the third.
The goal came less than two minutes after Ryan's line made it 3-1.
Milan Lucic laid a heavy hit on Alex Biega along the end boards, stole the loose puck, and promptly centered it to Sam Bennett, who buried his first of the season.
"Just getting in on the forecheck and winning the battle and another thing, too, (Bennett) getting up there and being in the right spot and making it a bang-bang play," said Lucic, who picked up his first point as a Flame.
The night began with Andrew Mangiapane on the wing with Ryan and Bennett and it was that configuration that opened the scoring, Mangiapane deflecting in a point shot from Mark Giordano for the only goal of the first period.
"We were really good," Ryan said. "We created chances early with (Mangiapane). Once he was out, me, (Bennett) and (Lucic), I thought we were really good as well. We created chances, got in on the forecheck, got pucks back and I think that's going to be our MO moving forward."
Mangiapane left the game late in the second after being shaken up along the side boards. Also exiting the game and not returning was right-winger Elias Lindholm.
After scoring his team-leading fifth goal in the second period, Lindholm was the victim of a vicious retaliatory slash to the back of the leg by Darren Helm, which crumpled the Flames forward. The early third period incident earned Helm a five-minute major and a game misconduct.
"Their guy comes with an elbow that should've probably been called right away, and Darren reacts to it as most guys would," said Detroit coach Jeff Blashill. "We've got to be more disciplined in those situations, but he slashed him. I didn't think the slash was that super hard but it sure looked hard the way he went down."
No information was available on either players' condition after the game. The Flames, who only have one extra forward on the roster at the moment, fly to Los Angeles on Friday for back-to-back games Saturday and Sunday against the Kings and Anaheim Ducks.
"A good stern test on the road," said Flames coach Bill Peters. "Hopefully all hands on deck, but I have not heard an update."
Mark Giordano also scored for Calgary (4-3-1), while Sean Monahan chipped in a pair of assists. The Flames improve to 3-0-1 at the Scotiabank Saddledome.
Helm had the only goal for Detroit (3-4-0), which has lost three straight. The Red Wings wrap up their three-game Western Canada road trip on Friday night in Edmonton.
"When they scored the third goal we didn't react very well to that," said Blashill. "Obviously that goal is a bit of a kick. It's a nothing play that ends up in our net. We've got to dig in better than that. We've got to have more guys going than we have right now."
Making his seventh start, David Rittich (4-2-1) made 27 saves for the win.
The only goal against Rittich barely got past him. After he appeared to stop Anthony Mantha on a breakaway, the puck squirted under him and came to a stop on the goal line where Helm poked it in.
Jimmy Howard (1-3-0) had 31 stops for Detroit.
"We turned the puck over and against them, they're an opportunistic team and it wound up in the back of the net," Howard said.
Notes: Calgary's scratches were forward Tobias Rieder and defenceman Michael Stone... Detroit defenceman Danny Dekeyser (upper body) returned after a one-game absence... Flames improve to 9-0-1 all-time when Mangiapane scores.
This report by The Canadian Press was first published Oct. 17, 2019.