Marleau scores twice in Toronto debut as Leafs rout Jets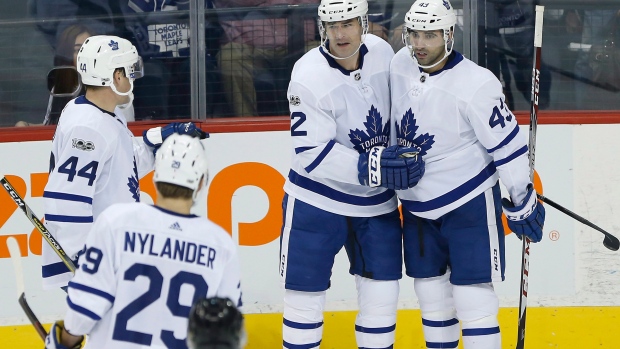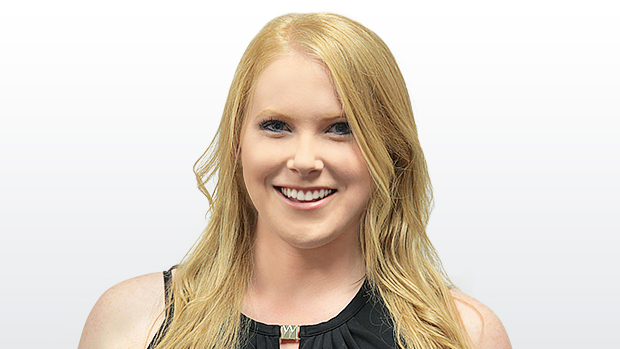 WINNIPEG – In Patrick Marleau's first game as a Toronto Maple Leaf, the very first goal he scored was assisted by two players (Auston Matthews and Mitch Marner) who were born the same year (1997) he made his league debut.
Prior to Wednesday night, Marleau's name had appeared on the scoresheet for just one NHL team – the San Jose Sharks – over nearly two decades in the league.
It may not have been as empathic an entrance as Matthews' four-goal NHL debut a year ago, but at age 38, Marleau's two-goal night was as near to a fairytale beginning as he could have hoped.
"Pretty darn close [to perfect]," Marleau said following the Leafs' 7-2 win over the Winnipeg Jets. "That's the way you want to see it go."
The Leafs had already overcome a rocky opening 15 minutes, in which they took three penalties and established no rhythm or flow, by the time Marleau lit the lamp for the first time. Toronto was ahead 3-0 in the second period when the stars aligned on a post-penalty kill shift to bring the best of the Leafs' relentless youth and veteran guard together.
Marner was headed to the bench for a change when he saw an opening to catch the Jets in a change of their own. He put on the brakes on and got the puck to Matthews who was driving into a 2-on-1 with Marleau to his left. Matthews flipped the disc to Marleau and let him do the rest.
"That was awesome," Matthews said of watching Marleau in action. "An unbelievable pick up by him [with the puck in his skates] and the move [on the goalie] was even better, a pretty special play by him. I'm sure it feels good for him to get the ball rolling and we're all happy for him."
With Toronto up 4-0, Marleau needed just 36 seconds in the third period to score again, this time with his regular linemates Nazem Kadri and Leo Komarov. It was just one week ago that Leafs head coach Mike Babcock was calling out that line for not gelling as quickly as he'd expected, telling reporters, "that group has got to better…way better, way quicker, a lot more diligent. They've got to upgrade. That group has to find some chemistry and get going."
With a little more time, that trio is showing signs of finding their way.
"I think instead of talking about it for three weeks…suddenly your linemates aren't good, and this isn't good," Babcock said after Wednesday's win. "Let's just play hockey now. So I thought it was a positive night that way."
It was Babcock who mentioned the Leafs' "fountain of youth" that Marleau could use to his advantage when he signed as a free agent in July. So far, channeling the kids' seemingly boundless energy and enthusiasm is exactly what Marleau's tried to do. And he wasn't alone in racking up the points Wednesday, either. Matthews finished with one goal (off an incredible deflection out of the air and between Connor Hellebuyck's legs) and two assists, while Marner tallied a goal and an assist.
"You can see how hungry they are out there, not just in games but in practice," Marleau said. "They're striving to get better each and every day and you want to be part of that and you can feed off that for sure."
There's a mutual admiration from the youngsters as well, who haven't shied away from picking Marleau's brain and using his experience to their advantage. Marner's been trying to shake his pass-first tendencies and work more on his shot to "keep defences honest." Marleau has been offering his services to help the 20-year-old grow in that area.
"He's been great with me here, really good guy to talk to," Marner said. "He's been a great leader for me and all the young guys, been a big role model to me. On the ice I've been talking to him about where I want to shoot the puck from more often and as soon as I told him that, the last couple practices we've been on together working on that. That's a thing I'm going to learn off of and hopefully something I'll do [for someone else] when I'm that age."
TAKEAWAYS
Great Dane
As good as Wednesday's win looked for the Leafs on paper, the game could have rapidly devolved against them in the first 15 minutes. Toronto took three penalties in 11:21, two for high-sticking and one because of Leo Komarov's "illegal equipment," keeping their best players on the bench instead of the ice. Enter Frederik Andersen, who put the ghosts of his own bad start to the season a year ago to rest for good with a stellar 35-save performance.
The Jets had outshot the Leafs 15-5 by midway through the first period, and if even one shot had gone in, Toronto's confidence could have been lost along with the game. Andersen held the Jets at bay until midway through the third frame when his teammates got sloppy in the defensive zone and Mark Scheifele finally found a way through. But letting in two goals with the win essentially secured was hardly enough to diminish Andersen's night, even if it did rob him of being the first Leafs goalie to open the season with a road shutout since Ed Belfour in 2002.
Special teams siege
If there's one thing Wednesday's game lacked it was any extended flow for either team. There were 12 penalties called between the sides before the halfway point of the third period, eight against the Leafs and four against the Jets. In the end, Toronto capitalized on two of their four opportunities, while Winnipeg went 0-for-8, which was one of the primary differences in how the game unfolded. The Jets fired 18 shots at Andersen with the extra man and none found the back of the net, compared to two of Toronto's 11 shots getting past Steve Mason. Even though they ultimately won the special teams battle, the early test of their penalty kill wasn't ideal for the Leafs.
"It was pretty slow [to start]," said Matthews. "You have a shift, get out there again, get things going, control the puck and then you're sitting on the bench again for two minutes. We can take care of that as a team, just being more disciplined."
In his first game with the Leafs, Ron Hainsey played in excess of 12 minutes on the penalty kill.
Goals on goals
Wednesday's game was just the seventh time in the Leafs' 101-year history they've scored seven goals in their season opener, and the first time since 1987-88. The Leafs responded to the early penalty adversity by scoring three goals in just 2:22, starting with Kadri on the power play and followed up by James van Riemsdyk and William Nylander in rapid succession. Asked whether Toronto can maintain that output every game, Andersen could only smile and say, "we hope to. You can only dream, right?"​