Marner putting two-way game on full display
Flashy Maple Leafs winger is known for his offence, but his defensive play has been a major factor in the first three games against the Bruins, Kristen Shilton writes.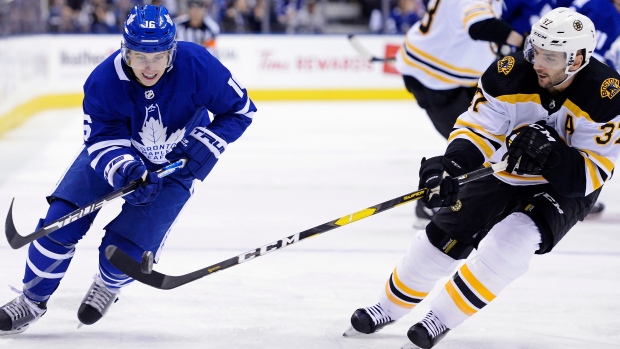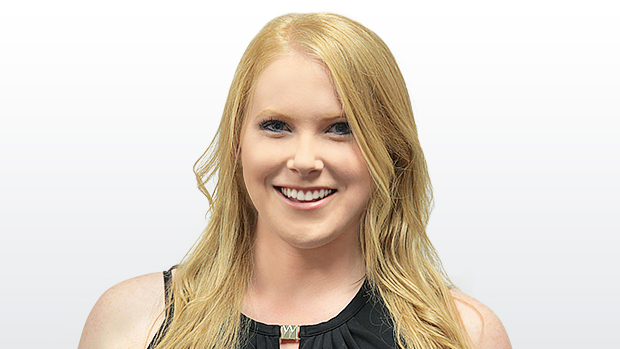 TORONTO – Mitch Marner has built his reputation on the kind of elite-level offence that populates highlight reels and brings Maple Leafs fans out of their seats.
But it was his willingness to take on the blue-collar role of shot blocker late in Game 3 of the Leafs' first-round series with the Boston Bruins that was still a major talking point the day after Toronto's 3-2 win.
Marner took centre stage in the final 10 seconds as the Bruins pressed for the tying goal with an extra attacker. As David Pastrnak wound up for a slap shot, Marner hurled his body in front of the puck, falling face-first to the ice.
Pastrnak corralled the puck on his stick again with Marner lying mere feet away, staring directly at a shot that ricocheted off his body right before the final buzzer sounded to give the Leafs a 2-1 lead in the best-of-seven series.
"There are dentists for a reason, so whatever," said Marner after Toronto's practice on Tuesday. "Lucky enough it didn't hit me in the face; it could have been a tough result if it did. I knew if [the shot] got in there, it was going to be a tough shot for Freddie [Andersen] to save. It was going to be low and hard and I didn't know what could happen, so I just tried to sprawl my arms out as much as possible."
Marner's commitment in the dying moments impressed his teammates so much that they bucked tradition and swarmed him, instead of Andersen, immediately following the win.
"I think we were just screaming at each other," said John Tavares. "I don't remember saying a whole lot. But a hell of a job stepping right into a pretty good one-timer and blocking another one on the ice. Big play for us."
While a few Leafs were surprised Marner escaped the play without any lasting damage, Pastrnak's initial windup did leave a mark.
"The first shot was just a quick sting, but those shots always kind of do that for a brief little second and then it's fine," Marner said of being temporarily hobbled. "[After that I] just tried to starfish on him and take up as much space as I can on the ice. I was so close I didn't think [the puck] was going to be able to get up too much. I don't really know where it hit me. I didn't really feel it anywhere."
After the game, Leafs' coach Mike Babcock called Marner's sacrifice the epitome of "team building" and something his teammates could emulate.
"I think anyone on this team would have done it," Marner said on Tuesday. "We're determined in this locker room, we want to win games. If it didn't hit me, [Zach] Hyman or [Jake Muzzin] would have gotten in the way of that. Everyone wants to win in this locker room and do whatever it takes."
"We need everyone to have that mindset and that mentality," Muzzin said. "That's just a guy doing whatever it takes to keep the puck out of the net."
A willingness to contribute at both ends of the ice was a hallmark of Marner's career-best (and team-leading) 94-point regular season. Marner proved he could produce offensively in his first two NHL seasons, leading the Leafs in points last year as well with 69.
But it wasn't until this third campaign that the 21-year-old unleashed a strong defensive game to match.
His play in his own zone is rooted in lessons learned during his days with the Ontario Hockey League's London Knights. Under the tutelage of Mark and Dale Hunter, the team's general manager and head coach respectively, Marner first learned how critical a sound 200-foot game would be to success at every level.
"The reason why [the Knights won a Memorial Cup in 2016] was because the [Hunters] made everyone buy into the defensive side of the puck and make sure you're in lanes," Marner explained.
"They really emphasized that. The first two years [in Toronto], I think I was cheating a little bit more for offence, trying to get more odd-man rushes and things like that. I think I'm realizing that, defensively speaking, you have to stop people in your own zone and get your chances offensively from that."
Marner is averaging a point-per-game pace (two goals, one assist) through the first three games of these playoffs, but it's the way he's helped slow down the Bruins' top scorers that's becoming the larger story.
Along with linemates Tavares and Zach Hyman, plus the efforts of defencemen Jake Muzzin and Nikita Zaitsev, Marner has held Boston's big line of Pastrnak, Patrice Bergeron and Brad Marchand to a combined two points at even strength.
Marner's ferocious backchecking was on full display in Game 3, frustrating the Bruins' stars through the neutral zone and robbing them of momentum.
"For our line, it's just making sure we're being smart with the puck, when we get our chances, try to put it in as much as possible," Marner said. "And when there's not a play to make, try to put it behind them and get on their D and get on the cycle quickly. I think we've done a good job of that, but going forward it's going to get harder."
That may be the case, but Tavares has no doubt Marner is up to any challenge. The opportunity to play with the right winger was a major draw for Tavares in deciding to join the Leafs as a free agent last summer and Marner has more than delivered.
"I knew he was an extremely talented player and had a great hockey sense," Tavares said. "But once you're around him every day and playing with him game in, game out, there are always times that he wows you and [does] things that you're very impressed by. He plays a big role for our team, and does it throughout every game."