Marner stirs the ice cream and the offence
Mitch Marner plays with a bo​undless energy and is so elusive he even earned a comparison to Wayne Gretzky from Bruins coach Bruce Cassidy after Game 1.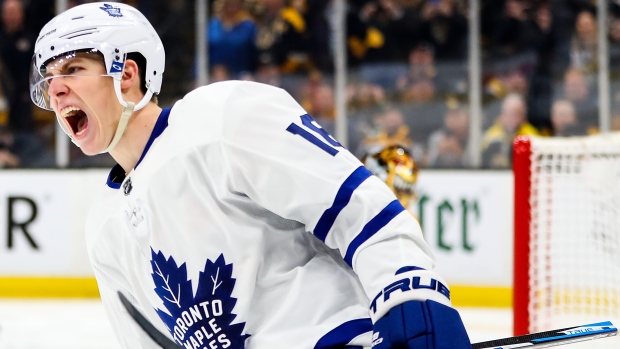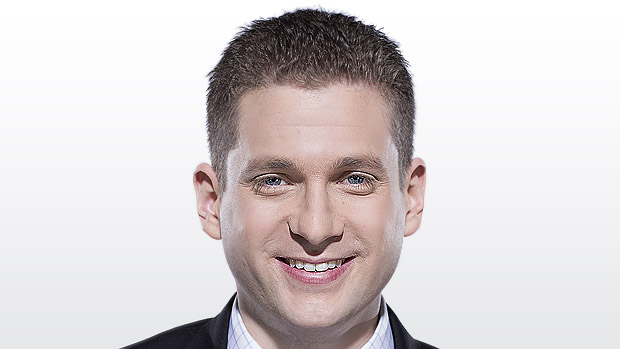 TSN Toronto reporter Mark Masters checks in daily with news and notes on the Maple Leafs, who skated at TD Garden on Saturday morning.
---
Mitch Marner plays with a bo​undless energy and is so elusive he even earned a comparison to Wayne Gretzky from Bruins coach Bruce Cassidy after Game 1.
Perhaps he's on a sugar high during games. After all, the dynamic Leafs winger will always consume a bowl of vanilla ice cream with chocolate sauce as part of his pre-game meal. But it's the way he eats it that amuses teammates. Marner stirs the dessert until it's all melted down and looks more like soup. The ritual created a buzz on social media yesterday when the NHL posted a video of it on Twitter and Instagram.
"I think it's funny," said teammate Tyler Ennis, who shot the video as part of the league's "Cup Confidential" series. "I used to do that when I was about four-years-old and he's still doing it at whatever he is, 21, so kind of his little ritual and seems to be working ... I thought it was a joke, but it's not a joke, that's how he likes his ice cream."
"As a kid I just always stirred it up like that," Marner explained, "and always thought it tasted better so it's just something I continued to do my whole life and people think it's crazy, but it's pretty fun."
Whatever Marner's doing these days he probably shouldn't change a thing. He led the Leafs in scoring with 94 points in the regular season and then potted two goals in Game 1 against the Bruins while helping to shut down the fearsome top line of Brad Marchand, Patrice Bergeron and David Pastrnak.
"He's always played well against us, always played hard against us," Cassidy said in his post game news conference. "Listen, years ago I remember Gretzky, 'Why doesn't anybody hit that guy?' Well, it's not that easy, right? So, I think it becomes containment issues, play him hard, play him honest one-on-one, put him where you want him to go ... He's played well against us, and obviously we need to find an answer to him."
"I'm not sure there is an answer," said Leafs centre Nazem Kadri. "Mitchy's Mitchy and he's going to do his thing. He's just so elusive with the puck. Even when you try and hit him it seems like he can slide checks and create plays so he's a great one-on-one player."
Marner, for his part, downplayed the Gretzky comparison and seemed laser focused on the task at hand.
"It's cool," he said. "I mean, I don't think so, but it's a cool thing. I'm not trying to think about it too much ... Every game's a fresh start. We know they're going to come with a hard push, they don't want to lose two in their building so we got to make sure we're even better tonight than the last game. So, we want to play a fast-paced game, make sure we're trying to put it behind them all night, work'em as hard as we can the first couple minutes of the game and go from there."
---
The Leafs actually outhit the Bruins 33-31 in Game 1 with left wingers Zach Hyman, Andreas Johnsson and Trevor Moore leading the way with four each. Toronto averaged 17 hits per game in the regular season to finish 29th overall, while the Bruins averaged 23, which was 15th in the league.
"They're a pretty big, physical team so we wanted to set the tone," Kadri said. "We made that an emphasis ... we're not going to accept being pushed around and I think we made that very clear so we're going to continue doing that. I think that's an important aspect to bringing success."
"We weren't scared to forecheck," observed Marner, "and keep the pressure on them and that's something we have to continue all game."
Kadri supplied three hits including a takedown of winger Jake DeBrusk that led to the pair jawing at the benches afterwards. DeBrusk was a break-out star in last year's playoff series against Toronto scoring five goals, including the series clincher in Game 7.
"He's pretty capable with his feet and he's got good skill so with guys like that it's important to be hard on (them), and any time they touch the puck you want to be kind of in their face and let them know that it's going to be a long night for them," Kadri said. "He's a good player, he's quick so you got to find ways to stop him."
DeBrusk missed yesterday's practice for what the team called "maintenance," but skated this morning and declared himself ready for Game 2. What did he think of Kadri's hit?
"It's playoff hockey and that's first in my thoughts when I look at the hit," the 22-year-old told reporters at Boston's practice facility. "I understand that there's times where you get hit. I mean, I thought it was personally, possibly a slew foot, but I think I looked at it and I mean it's just playoff hockey and that's just how it goes sometimes."
Boston's line-up will have a more physical edge in Game 2 as David Backes draws in after sitting as a healthy scratch Thursday. The 34-year-old winger has fought Kadri a couple times over the years. "He's probably going to bring some energy," Kadri noted. "It's his first game of the series, so I think he's going to be prepared and eager and anxious so just got to be aware of what he does. He's a big body, likes to play physical so we got to use our speed ... They're going to be pretty desperate tonight and we have to match that intensity and there will be a big difference from Game 1 to Game 2 in terms of that desperate aspect so we have to be ready."
Cassidy didn't reveal which forward will come out of the lineup tonight to make room for Backes.
"We needed maybe a little more leadership," Cassidy told reporters, "a little more intensity in our line-up. So, obviously he brings that, we'll see where it goes."
---
The Leafs appeared to play a complete game in Thursday's 4-1 win, but Mike Babcock sees plenty of room for improvement.
"There's lots of things in the last game that, obviously, we need to upgrade on," the coach said.
Shift lengths would appear to be an area of emphasis.
​"You've got to eliminate your glide phase at this time of year," Babcock said when asked a general question on puck management. "There can't be anybody out there gliding, you're supposed to be out there for 42 seconds at a time or 43 and going as hard as you can. Obviously, if you want to be on the right side of the puck you've got to work."
Auston Matthews (54 seconds per shift on Thursday) and linemates Kasperi Kapanen (48 seconds) and Johnsson (47 seconds) were the only players above Babcock's requested limit in Game 1.
---
The Tampa Bay Lightning, who posted a record tying 62 wins in the regular season, trail the Columbus Blue Jackets two games to none in the other series in the Atlantic Division bracket. It's a surprising development for many, but not Babcock.
"I don't get that surprised at playoff time," he said. "As the league has got tighter and tighter, the separation between top and bottom is almost nothing. So, we know every series is going to be ultra-competitive. Now, maybe in the end, when you look at it and it says 4-0 or 4-1, you didn't think it was competitive, but usually every game is ultra-competitive. Columbus has got a good hockey club, they acquired a lot at the deadline and they had a good hockey club before. Obviously, it looks like it's shaping up to be a good series."
---
Lines at Leafs morning skate:
Hyman-Tavares-Marner
Johnsson-Matthews-Kapanen
Marleau-Kadri-Nylander
Moore- Gauthier-Brown
Petan, Ennis
Rielly-Hainsey
Muzzin-Zaitsev
Gardiner-Dermott
Rosen-Marincin
Holl-Ozhiganov
Andersen
Sparks