Flames' Tkachuk suspended one game for spear on Martin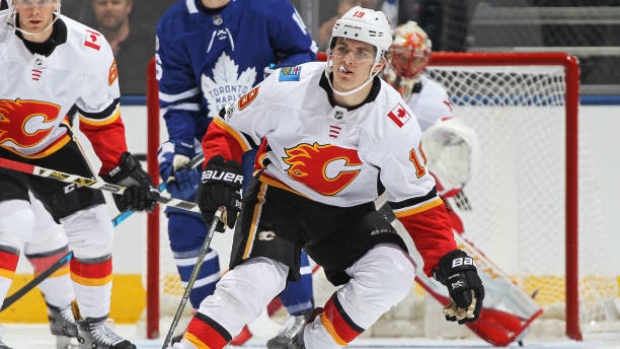 Matthew Tkachuk has been suspended one game by the NHL's Department of Player Safety for unsportsmanlike conduct during Wednesday's game against the Toronto Maple Leafs.
The Calgary Flames forward appeared to spear Maple Leafs forward Matt Martin from the bench in the first period of Wednesday's night game.
Tkachuk took the jab at Martin after the Leafs forward hit Troy Brouwer in front of the Flames bench.
Tkachuk was not assesed a penalty on the play, but could now face a suspension for the act. Martin, who was uninjured on the play, passed on some advice to the 19-year-old forward after the game.
"I didn't feel it at the time," Martin said. "I guess if he's going to do stuff like that he should probably make it count. It's whatever, that's child's play. I don't really get involved with that kind of stuff.
"Second time over the last little while I've seen him do something like that... Like I said, if you're going to do it, you might as well make it count and try to hurt somebody if you're gonna do something stupid. Whether the league looks at that, that's up to them. Not something I really care to get involved in."
Tkachuk was suspended one game last month for tapping the leg of Detroit Red Wings defenceman Luke Witkowski as he headed to the locker room after a fight, sparking a brawl between the two teams.
Leafs head coach Mike Babcock took exception to the spear, but also praised Tkachuk's on-ice play during his post-game news conference.
"That's junior hockey stuff," Babcock said. "He'll learn over time but you gotta give Tkachuk credit. He played a good game, he played hard. No reason for that stuff."
TSN Director of Scouting Craig Button said he believes Tkachuk's spear on Wednesday night is worthy of another one-game suspension.
Tkachuk was also suspended for two games in March of 2016 for an elbow to the face of Los Angeles Kings defenceman Drew Doughty.