Matthews admits goal drought is frustrating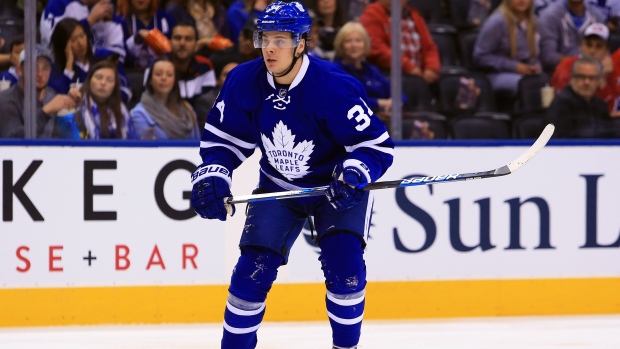 TSN Toronto reporter Mark Masters checks in with news and notes from Maple Leafs practices and game-day skates. The Maple Leafs skated in Toronto on Monday ahead of a game Tuesday against the Nashville Predators.
- Despite generating plenty of chances, Auston Matthews has now gone nine straight games without a goal, picking up just a pair of assists in that stretch. "It's very frustrating," the 19-year-old centre admitted after Monday's workout. "I'm a player who wants to score, obviously, so when that stuff's not happening you definitely get a little frustrated, but you just got to stick with. I've been getting a lot of chances. Just want to stay positive and keep having fun out here."
- Head coach Mike Babcock was happy with how Matthews and linemates Zach Hyman and Connor Brown held their own against the Evgeni Malkin line during Saturday's trip to Pittsburgh. "I thought last game was one of his best games, to tell you the truth. I thought him, Hyman and Brown were good," the coach said. "Played most of the night against Malkin and Malkin wasn't in on any of the chances. That line had a lot of heavy shifts and good opportunities, so I thought he did a real good job there." Matthews is feeling a lot more comfortable when it comes to playing without the puck. "I feel good on the ice. I feel much better playing without the puck, defensively, everything," he said. "It's definitely been getting better for me and definitely a big part of what the coaching staff has been focusing on with me." Where specifically has he improved? "Kind of away from the puck, making sure you're not getting puck watching in the D zone and losing your guy," Matthews explained.
- Babcock has instructed all his players to find an escape this season, something away from hockey that can help them tune out the white noise and cope with the intense pressure in this market. For the snakebitten Matthews, his guilty pleasure right now is the Call of Duty video game. "I play a pretty good amount of Xbox with some of the guys on the team and some of my buddies from home," he said. Who's the worst Call of Duty player on the team? "Well, 100 per cent Tyler Bozak is the worst player, for sure, absolutely. And Morgan Rielly is terrible." Matthews seemed genuinely relaxed after Monday's practice. His teammates don't sense any trouble despite the lack of scoring. "He's been fine," said James van Riemsdyk, who sits beside Matthews in the Air Canada Centre dressing room. "His play has been great out there. He's getting a ton of chances and those will eventually go in for him." Nazem Kadri may be the best person to offer advice to Matthews right now. Last season, he suffered through a couple lengthy droughts as his shooting percentage cratered to a career-worst 6.5 per cent. "The older you get the more patient you get. I mean, that's what my old man tells me, anyways," Kadri said with a chuckle. "When you start to play a few more games you start to understand that you're not going to score every game and sometimes you go in a bit of a drought. Sometimes the net looks small, but that can't discourage you."
- The net certainly doesn't look small to Kadri these days. He's already scored seven goals this season. Last year, he didn't reach the seven-goal mark until the 37th game of the season (Jan. 2). "The shutdown role is something I definitely didn't see myself doing when I first got drafted, but I don't think the offensive mindset changes either," Kadri said. "I still enjoy scoring goals." Kadri's shooting percentage so far this season (20.6 per cent) is well above his career average (10.9 per cent), but Babcock sees no reason why he can't produce consistently despite facing the other team's top forwards every night. "You end up getting chances, because they take chances," the coach noted. "Guys who want to score, they tend to, once in a while, cheat for offence and you get your opportunities." Babcock pointed out that Kadri's line spent way too much time in its own end against the Penguins on Saturday and will be looking for a bounce-back effort against Nashville.
- Babcock's goal at the start of the season was to have the Leafs gain six points in every five-game stretch. The team got five in the first five games, four in the next five and six in the most recent five games. How does the coach assess where his team's at right now? "What do I say publicly here so it sounds right?" Babcock said before pausing momentarily. "We think we're in a real good spot. It's important to be in a real good spot after 20 games just because it's hard to catch up. We'd like to have a few more points than we do, but in saying that, we're right there." Entering play on Monday, the Leafs are two points out of a wild-card spot. "It's going to be a battle," Babcock said. "We understand that, but we also think our team's going to get better just with our youth."
- A new digital clock has appeared at Leafs practice the last few days. It has been placed just above the dasher at the red line. Considering there are two digital clocks on the wall at the ice pad where the Leafs practice, why was another one necessary? "Just because I can never seem to find the other ones," Babcock said with a smile. "When I went to Chicago I saw [Blackhawks coach Joel Quenneville] had one like that and I saw it in the morning skate and I said, 'We should be able to afford clocks like that,' so we got them. I came off and I said to [assistant coach Andrew Brewer], I said, 'Brew, I like Q's clock, get me some,' so next thing I know I got three of them." The players aren't sure what to make of the addition. "I couldn't even tell you," Kadri said with a puzzled look. "You'll have to ask Babs about that one. I think there's 30 clocks in the building, so I don't think one more's going to do any harm. It might be because some of the clocks are different, a minute or two off so I think it's just another option." Here's some video of the clock.
- Hyman missed practice, but Babcock said he "should be good" to play Tuesday night.
- Lines at practice:
Holland-Matthews-Nylander
van Riemsdyk-Bozak-Marner
Komarov-Kadri-Brown
Martin-Smith-Soshnikov
Prust
Rielly-Zaitsev
Gardiner-Polak
Hunwick-Marincin
Corrado-Carrick
Andersen
Enroth