Matthews faces biggest challenge of young career
When Leafs star Auston Matthews and his linemates work their way past Patrice Bergeron's top line and into the Bruins zone, they'll likely have to deal with Zdeno Chara. At 41, Boston's six-foot-nine captain is still highly effective with an incredible reach so Matthews and Co. aim to counter that by moving the puck quickly, Mark Masters writes.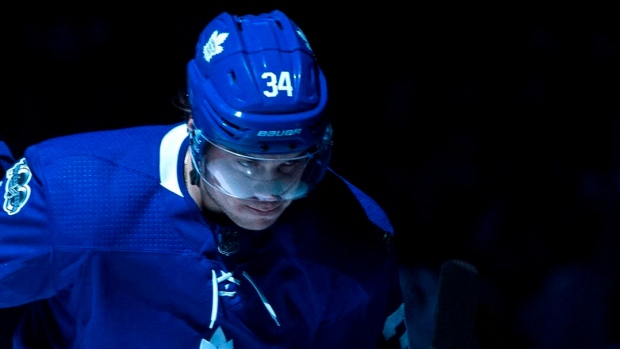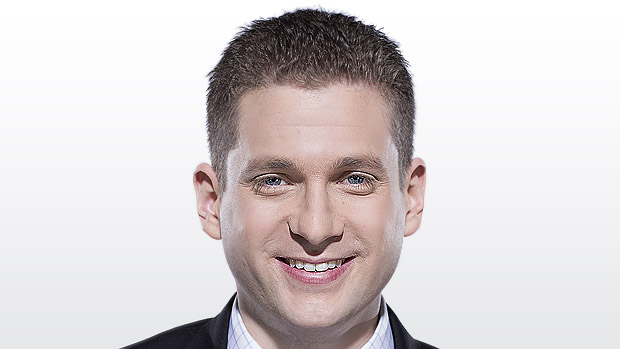 TSN Toronto reporter Mark Masters checks in daily with news and notes from Maple Leafs practices and game-day skates. The Leafs practised at the MasterCard Centre on Wednesday before departing for Boston.
Due to injuries, Toronto Maple Leafs centre Auston Matthews played just once against the Boston Bruins during the regular season. It did not go well. The Matthews line was suffocated by Patrice Bergeron and Boston's top line – minus the suspended Brad Marchand – on Feb. 3. Matthews had just one shot and was minus-2.
"Yeah, that was a tough game for myself, definitely," Matthews said. "They were flying that night and we didn't bring it. We looked at that game after and you kind of move on and move forward. It's a different ballgame now."
Bergeron has won the Selke Trophy as the NHL's top defensive forward four times in the last six years and Matthews says it's easy to see why.
"He's always in the right spot. He doesn't get caught on the wrong side of the puck much. He's extremely skilled offensively, he's always up there, a point a game, and he complements that line well. A good shooter, sees the ice well and makes the guys around him better."
So, how do you compete with someone who's always in the right spot? The answer, Matthews said, is speed.
"We want to play fast," Matthews stress​ed. "We feel like that's a key to our game and we definitely want to use it. So, we got a lot of speed and skill and when it comes to playoff hockey that's what it's all about. It's about getting into the other team and grinding them in their own zone because there's not too much space in the neutral zone."
If Matthews is able to get past Bergeron and into the Bruins zone, he'll likely have to deal with Zdeno Chara. At 41, Boston's captain is still effective and still six-foot-nine with an incredible reach.
"He's a big guy and tough to compete against and tough to win battles against because he's so big and strong, but that's just when you got to bear down," Matthews said. "You got guys getting open and you move the puck quick. The puck moves faster than skates or sticks do, so I think that's the key."
There seems to be incredible pressure on the 20-year-old to deliver in just his second playoffs, but Matthews was quite Zen when questioned about his stress level.
"I don't think you really think about that too much," he said. "We feel like we're a good team. In years past, I don't think they've lived up to the Maple Leaf name and now we've made it to the playoffs two years straight and obviously we're heading in the right direction. We want to give the city and the fans something to be proud of."
And while the challenge is a big one, the Leafs may be catching Boston at the right time. Toronto is healthy and rested, having taken four full days off in the final eight days of the regular season. The Bruins, meanwhile, played 32 games in the final 61 days of the schedule.
"For the longest part of the year they hardly got scored on," head coach Mike Babcock observed when asked about Boston's No. 1 line. "They got scored on five-on-five a little bit here at the end, but they're just a good line."
Bergeron was an eyebrow-raising minus-7 in the last six games. He had just two assists in the last four games. Marchand had just one assist in the last six games. David Pastrnak had two goals in the last four games.
Meanwhile, Matthews enters the playoffs riding a nine-game point streak, matching the longest surge in his NHL career. The shoulder injury, which forced him to miss 10 games, hasn't seemed to impact him since he returned.
"I felt good coming back," he confirmed. "I thought our line clicked pretty well and got back into good momentum and a good rhythm together. Obviously, you want to continue that into playoffs."
"It looks like he's back," Babcock said. "He's skating like he's back, he's competing like he's back … he's set up good to take off."
---
Matthews is very familiar with Charlie MacAvoy, Chara's defence partner.
"He's stepped in right away," Matthews said. "He's a special player. He's one of my good friends from that U.S. National Development Program. We still keep in touch and talk all the time. He's a guy that I'm sure surprised a lot of people, but everyone around him knew that he'd step in and play a pretty vital role for that team."
There hasn't been too much chatter between the buddies in the lead-up to their first playoff showdown.
"No, not much," Matthews said. "Usually, we will catch up in the regular season, but it's a little different this time of year. It doesn't matter if he's your friend or whatever, if you have to hit him, you have to hit him and that's just the way it goes."
---
Asked what it was like to play for Babcock at the 2016 World Cup, Marchand heaped praise on his Team Canada coach and the style of play he champions.
"It's a very interesting system that they play," Marchand told reporters in Boston. "You can see why he's been successful everywhere he's been. It's a very hard system to play against ... it's always been hard to play against, it always will be."
---
Babcock, who grew up in Saskatoon, wore a Humboldt Broncos hat during today's media session. He hopes the start of the NHL playoffs will aid in the healing process.
"I'm excited that the games are going to get going," Babcock said. "I think normalcy in Humboldt (is) going to be different for all these families for the rest of their lives, but getting games going, that's what these kids were all about. They were about the game and playing the game and about their families and they love the game. They'd be playing if they could. I think it's important we get started."
---
Lines at Wednesday's practice:
Forwards
Hyman-Matthews-Nylander
Marleau-Kadri-Marner
van Riemsdyk-Bozak-Brown
Komarov-Plekanec-Kapanen
Johnsson, Moore
Defencemen
Rielly-Hainsey
Gardiner-Zaitsev
Dermott-Polak
Martin/Leivo-Carrick
Goaltenders
Andersen
McElhinney