Matthews, Kapanen show instant chemistry in wild win
In a game that totaled six different lead changes and 13 goals, it was only fitting the Toronto Maple Leafs and Chicago Blackhawks needed extra time to determine a winner on Sunday night. Kristen Shilton has her takeaways on John Tavares, Auston Matthews, Garret Sparks and more.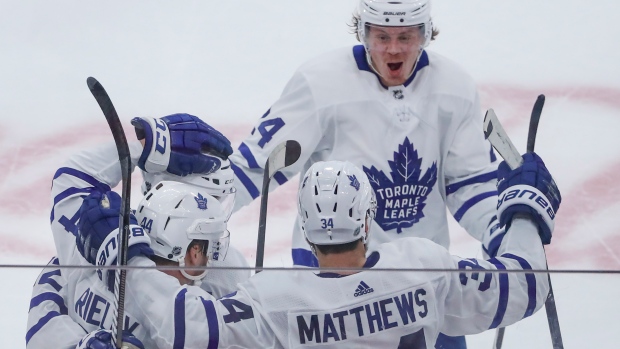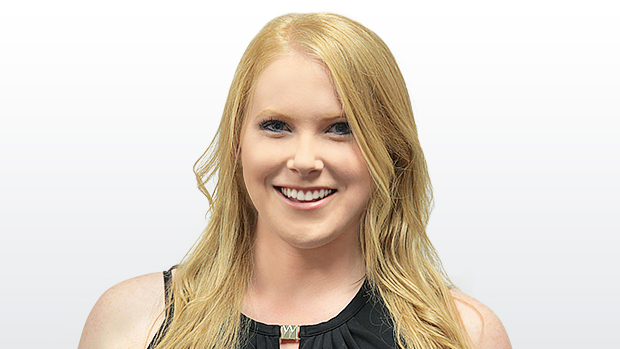 In a game that totaled six different lead changes and 13 goals, it was only fitting the Toronto Maple Leafs and Chicago Blackhawks needed extra time to determine a winner on Sunday night.
Chicago had Toronto on its heels with an early 2-0 lead in the first period, but the visitors recovered quickly in what became an entertaining back-and-forth battle. With Toronto leading 5-4 late in the third period, relaxed defences at both ends allowed Patrick Kane and Auston Matthews to exchange three goals in 55 seconds to end regulation in a tie and force overtime. There, Morgan Rielly needed only 19 seconds to pocket the game-winner in a 7-6 victory for Toronto. The Leafs move to 2-1-0 on the season.
Takeaways
Hats off, Tavares
Through the early ups and downs of Toronto's short season, John Tavares has been a beacon of consistency. On Sunday, he was unleashed. Skating in his third game as a Maple Leaf, Tavares tallied the ninth hat trick of his career in a game-changing performance against the Blackhawks, complete with seven shots on goal while pacing all forwards in 21:12 time on ice. In doing so, Tavares became the fourth Leafs' player since 1943-44 to tally a hat trick within the first three games of his tenure with the team. Tavares' line with Mitch Marner and Zach Hyman had been simmering throughout the week while learning each other's tendencies, and the work paid dividends with good pressure and a landslide of chances in Chicago for Tavares to capitalize on. Each of Tavares' scores displayed a grittiness the Leafs needed on a night where they fell behind early and required their stars to be stars. Tavares tallied his first two goals in front of the Blackhawks net, one at even strength and one on the power play, by battling defenders and tracking loose pucks through bodies. On his third goal, Tavares got knocked down along the boards, stood up in time to smack a puck out of the air, carried it into Chicago's end and went shortside on Ward. His poor 37 per cent showing in the face-off dot aside, Tavares was able to dominate the Blackhawks when it mattered most, recording 55 per cent possession and 12 scoring chances (compared to six chances against).
Change would do you good
Toronto's first ten minutes against Chicago couldn't have been worse, and yet the scenario was all-too familiar. Just as they've been in the opening period of every game this season, the Leafs were hemmed in their zone by good pressure from the opposition, repeatedly forced into costly mistakes and turnovers. Jonathan Toews and Alex DeBrincat scored 3:02 apart to give Chicago a 2-0 lead in the first, while marking the third consecutive contest in which Toronto has ceded the first goal of the game. Searching for a spark, Mike Babcock replaced Tyler Ennis next to Matthews with fourth-line winger Kasperi Kapanen, and uncovered instant chemistry between the two. On Kapanen's first shift there after DeBrincat's goal, Matthews flipped a sensational pass to Kapanen for a breakaway, and his new linemate beat Cam Ward cleanly to cut into the Blackhawks lead. A quick 34 seconds later, Matthews was burying his fourth goal of the season, courtesy of a Kapanen pass to the right circle (and some seamless footwork by Matthews to settle the puck in his skates and got a shot off).
That was just the beginning of Kapanen's and Matthews' contributions. Kapanen was integral to Toronto killing off a four-minute penalty to Andreas Johnsson (high-sticking) in the second period, maintaining control of the puck and putting the only shot on net during Chicago's entire man advantage. Later in the third period, Kapanen generated superb breakaway chance, but Ward was ready with the stop. Further on in that frame, Matthews likely thought he had the game-winner when he was alone between the hashmarks in front of Ward and buried a go-ahead goal with 1:02 to play. But Kane responded in rapid succession, even mimicking Matthews' celebration, to put the teams in extra time. Regardless of the end result, what Matthews and Kapanen added for the Leafs was undeniable, and they could be a duo that do damage for Toronto from here. Kapanen posted the third-best possession total (58 per cent) of all Leafs on Sunday and tied Tavares for the team-lead in shots on goal (7), while Matthews finished with four points (four goals, two assists).
Highs and lows in homecoming
Garret Sparks had Sunday's game circled on his calendar for months. The Elmhurst, Illinois native grew up cheering for the Blackhawks, and knew the second night of Toronto's first back-to-back in Chicago would be his start. Despite the personal magnitude of the moment, Sparks was solid early making a series of saves off first period turnovers by the Leafs to help settle him into the crease. Sparks had recounted training with players like Kane during the summer, and made a couple sharp saves on Chicago's top winger from the slot and below the circle. With the Leafs being badly outshot in the opening 10 minutes, the Blackhawks eventually breaking through with a pair of goals wasn't unexpected, and the deficit didn't shake the goaltender's confidence either. Sparks made key stops as Toronto scored three unanswered goals to go ahead 3-2 in the second period, but committed a blatant misplay on John Hayden's shot that let Chicago tie the game. Toronto was up again when Brandon Manning's hard shot from the point flew right past a screened Sparks to knot the score again in the third period. After making his best save of the night on Dominik Kahun with minutes left in the third to preserve Toronto's then-lead, Sparks unraveled under the pressure in giving up two fast scores to Kane. The positive outcome for Toronto on Sunday may absolve Sparks of his crucial mistakes on those plays, for now. But it's a reminder of the veteran presence Toronto's lacks in the back-up spot with Curtis McElhinney gone, and how quickly that could have cost the Leafs.
Secondary scoring struggles?
The Leafs have scored 13 goals in their first three games of the season, from a shallow depth of contributors. Auston Matthews has registered five, Tavares has four, Morgan Rielly has two, while Mitch Marner and Kapanen each have one. It's a small sample size, but Toronto's offense is looking dangerously one dimensional with such a large portion of their goal scoring coming from so few contributors.
Match Game
How lines matched in Leafs vs. Blackhawks
DeBrincat-Toews-Kahun vs. Marleau-Matthews-Kapanen
Saad- Schmaltz-Kane vs. Hyman-Tavares-Marner
Kunitz-Anisimov-Kampf vs. Leivo-Kadri-Brown
Johnson-Kruger-Hayden vs. Johnsson-Lindholm-Ennis
Blue and White Trending
Tracking Leafs' trends all season long
The Leafs have registered one power play goal in each of their first three games, all from players on the top unit (Matthews, Marner, Tavares)
Next up
Toronto continues its four-game road trip against the Dallas Stars on Tuesday.