Matthews, Laine, Werenski nominated for Calder
Toronto Maple Leafs forward Auston Matthews, Winnipeg Jets forward Patrik Laine and Columbus Blue Jackets defenceman Zach Werenski are this season's nominees for the Calder Trophy.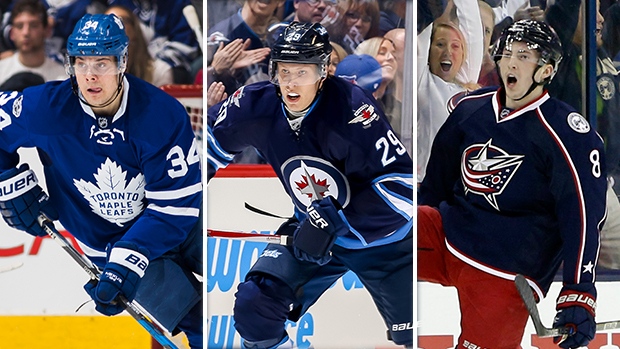 Toronto Maple Leafs forward Auston Matthews, Columbus Blue Jackets defenceman Zach Werenski and Winnipeg Jets winger Patrik Laine are the finalists for the Calder Trophy for NHL rookie of the year.
The league announced the top three in voting Thursday night.
Matthews is the front-runner after scoring 40 goals and leading all rookies with 69 points. He was the best rookie on a young Maple Leafs team that also had Calder contenders William Nylander and Mitch Marner.
Laine missed nine games with a concussion but still finished with 36 goals and 28 assists.
Werenski led all rookie defencemen with 47 points on 11 goals and 36 assists.
The winner will be announced at the NHL awards show June 21 in Las Vegas.
Matthews said he was honoured to be a finalist.
"There are so many great rookies in this year's class," Matthews said. "I've been fortunate to play with a lot of great teammates this season and have had a blast playing in Toronto."
Washington Capitals coach Barry Trotz has had a blast watching Matthews and the rest of the rookie class this year. He said the 23-and-under Team North America at the World Cup was a taste of what was to come this season, and that panned out.
"We're in a window where the next generation of players are exceptionally talented, their skillset and their ability to do things at a high rate of speed, their skillsets are off the charts," Trotz said Thursday. "The skill of these young players is off the charts and as a hockey fan, even as a coach you see some of these young players come in and I had that whole sort of thought process at the World Cup watching the young team is that, 'Oh my lord, this is scary good, the young players.'"