Leafs beat Bruins in 'statement game'
Fueled by long-awaited star performances from their star players, the Maple Leafs are plenty alive and more than well in this postseason. Auston Matthews' game-winner, Patrick Marleau's multi-goal night and Frederik Andersen's 40-save performance combined to give Toronto a rollicking 4-2 victory over Boston in Game 3. The Bruins still lead the series 2-1.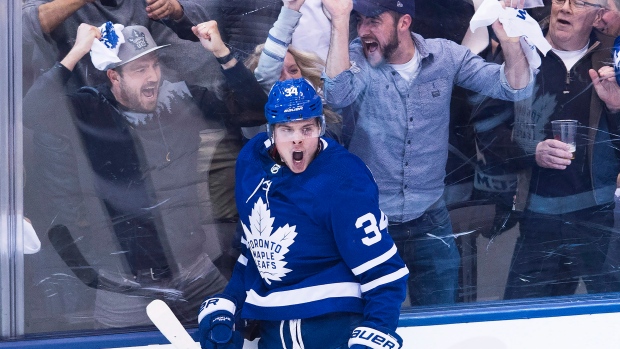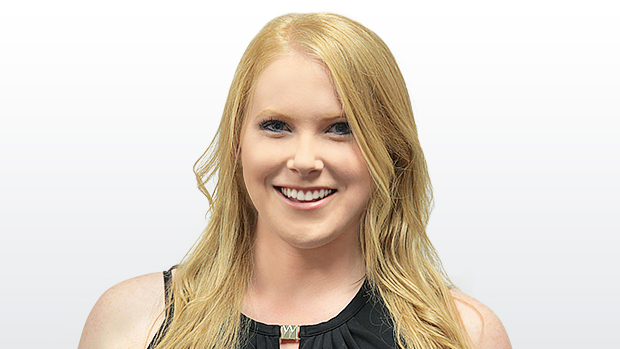 TORONTO – Fueled by long-awaited star performances from their star players, the Maple Leafs are plenty alive and more than well in this postseason.
Auston Matthews' game-winner, Patrick Marleau's multi-goal night and Frederik Andersen's 40-save performance combined to give Toronto a rollicking 4-2 victory over the Boston Bruins in Game 3 of their first-round Stanley Cup playoff series on Monday. The Leafs scored as many goals in their first win of the playoffs as they had over those first two road contests, cutting their deficit to 2-1 in the best-of-seven series.
"I think everyone [had something to prove]," said Matthews. "We didn't feel like we played to the capability we have, so tonight was definitely a statement game for us. I think we just had better details, we knew this was kind of a do-or-die game for us. It was a fun game, a good win for us."
For Matthews, the game was more than just a good time; it was his postseason coming out party. Before Monday, the 20-year-old centre had been held off the scoresheet against Boston, with the Bruins' top line of Patrice Bergeron, Brad Marchand and David Pastrnak (and their 20 combined points over the series' first two games) earning most of the glory. But Mike Babcock raised a few eyebrows by sliding Tomas Plekanec up to centre the Leafs' checking line between Patrick Marleau and Mitch Marner and go toe-to-toe with Bergeron and company.
The move worked perfectly, with Plekanec's line holding Bergeron and company at bay (with a minus-two rating to boot). And after over 154 minutes of being stymied in these playoffs, Matthews was left free to use his speed and skill to generate some of the offence Toronto had been lacking with a vintage scoring play teed up between him and linemate William Nylander.
"I think it's important," said Mike Babcock of Matthews' goal. "It's not just what people are saying – you want to be the best player in the world, and it's not going the way you want, that probably jams you up. Tonight gets a huge weight off his shoulders and instead of thinking about stuff, he'll get playing again. They're playing against real players and they're young guys, so you have to go through some of these slappings in your life to learn how to play and do things right."
Complementing the renewed scoring prowess of Matthews was something of a vintage performance from Marleau. Monday was the 180th postseason contest of Marleau's illustrious 20-season NHL career, and his pairs of goals were the 69th and 70th he's scored in the playoffs. He's the oldest player in Leafs' history ever to score in the postseason, and sits 17th on the NHL's all-time list in playoff goals.
Coming off a lackluster performance in Game 2 where he made an ill-advised, ineffectual move to centre, Marleau was looking for his own bounce-back performance, this time against the same Bergeron line that killed the Leafs with 14 points just two nights before.
"We were on it all game, we had our legs, we were playing the right way, and if there was a breakdown we were there to bail out," said Marleau, who finished with two shots on goal and was plus-two. "I think everyone knows at playoff time how we have to play to be successful. We know we didn't have our best in Boston and had to change tonight. Got the win, now we have to look for it the next game."
A key component of Toronto going into Game 4 with a chance to even the series up came in the final minutes of the third period on Monday, when Andersen made arguably his most impressive save of the season. Under duress with traffic in front of his net, Andersen reached back and got the paddle of his stick on a Pastrnak shot that would have made it 4-3 Boston with more than two minutes remaining – a veritable eternity in postseason hockey.
"They had a lot of bodies in front of the net and I picked up the pass a little late so I just tried to get something on it. It was a good feeling obviously," Andersen said. "We got away with the win and that's huge. [Good] stats are one thing, but the winning and making sure we pull together as a team is huge."
"That was one of the best saves I think I've ever seen, that was unbelievable," added Matthews of Andersen's stop. "That's a game-changer for sure."
Now the Leafs have to re-create the result again before the series shifts back to Boston, ideally with the same players having a prominent role in the outcome. When Matthews potted his game-winning strike, teammates spoke of the change in energy on the bench, the way it ignited their confidence in a back-and-forth affair. It's a feeling the Leafs are eager to hold onto.
"I don't know how many other guys can shoot a puck like that," said Mitch Marner, who had two assists in Game 3. "It was great to see, a great play by William as well, but it was a big goal for our team. We just have to keep this going into Game 4."
Takeaways
Andersen all over the place
To say this has been a challenging series for Andersen so far would be an understatement. He was mediocre in Game 1, and worse in Game 2 where he was pulled after allowing three goals on five shots. Monday was his moment to prove the stellar stretch he put together from November to March in the regular season was no fluke, and he could make the big saves when Toronto needed them. Initially that was the case in Game 3, where Andersen turned aside eight first period shots to hold the Leafs' 1-0 lead. The second period is where things began going awry. While the Leafs controlled possession over the first 20 minutes, the Bruins came with an impressive pushback that threw Andersen off his game in the oddest way, where the seemingly easy saves looked painfully hard.
Adam McQuaid put a point shot on Andersen that the goalie got a piece of, but then lost track of as it trickled slowly through the crease behind him to even the score at 1-1. Andersen was fighting the puck after that point, even when the Leafs restored their lead. Zdeno Chara re-tied the game with an innocuous looking play from the short side where he shot a puck off the back of Andersen's helmet and into the net. Andersen said he expected Chara to go for a rebound out front, not expecting that he had so much room behind him to shoot on. Both of Boston's first goals came from defencemen, playing with their fourth line.
From that point, Andersen collected his composure to shut the door the rest of the way. On the penalty kill early in the third, Andersen made an incredible sliding play to halt a two-on-one attempt, and followed it up with another terrific glove save on Pastrnak. The final period is where the Leafs needed Andersen most and he delivered repeatedly – at least two of his saves in the final 10 minutes were from a sprawled out position where he could only strive to get his body somewhere in front of the puck. It wasn't necessarily pretty, but it was everything the Leafs needed from their MVP.

Plus-night for Plekanec
Of all the issues plaguing the Leafs in Boston, the Bergeron line's dominance was the one most in need of extracting. With Nazem Kadri suspended for Game 2, 3 and 4 and Marleau failing to be especially effective at centre in Game 2, Babcock shifted Plekanec up and gave his line a single task – neutralize the Bergeron crew. It was the opportunity Plekanec had been waiting for since he arrived in Toronto via trade in late February – he was counted upon to be important, and that's exactly what he was. In the first period, Plekanec's line was able to keep the Bruins' top line from generating momentum, with Bergeron was the only forward of the three who registered a shot on goal, and Plekanec held the edge in possession time at 57 per cent. Plekanec was also getting some superb scoring chances himself, including one from the right circle off a great pass from Nylander that Tuukka Rask was in position to make the stop short side. As the game wore on, Plekanec looked like a man possessed in what was far and away his best game as a Leaf. The icing on his proverbial cake was an absolutely terrific pass to Marleau on his insurance marker late in the third, a helper sent with all the swagger Plekanec had yet to show in blue and white. His tenacity with and without the puck were impossible to ignore all night, and even while posting a below-average 45 per cent in the faceoff circle and 39 per cent possession, Plekanec was, in Babcock's words, "outstanding."
Next game
The Leafs host the Bruins in Game 4 on Thursday.