Matthews may not play tonight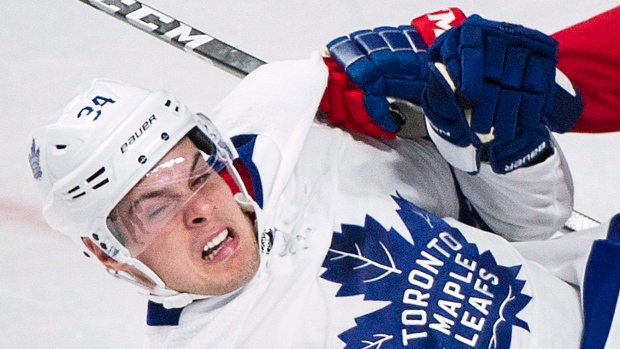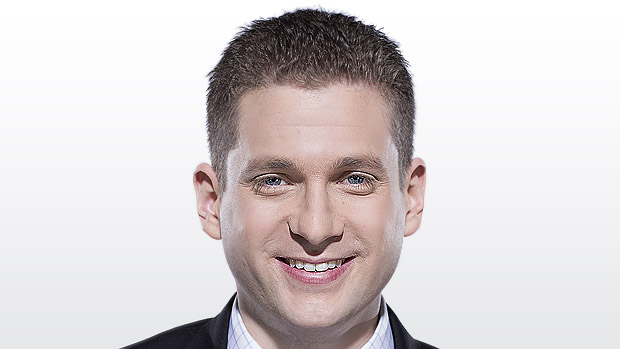 TSN Toronto reporter Mark Masters checks in daily with news and notes from Maple Leafs practices and game-day skates. The Maple Leafs and Golden Knights skated at the Air Canada Centre on Monday.
Auston Matthews took part in the initial line rushes before departing Toronto's morning skate on Monday after only a few minutes.
"Matthews will be a game-time decision," Mike Babcock announced before a question could be asked at his news conference. "A little soreness, we'll see."
Asked when the injury was picked up, the Leafs head coach indicated it had been an ongoing issue.
"I don't think anything happened in St. Louis," Babcock said. "How's that?"
The absence of the team's leading scorer for much of the workout raised eyebrows, but didn't shock his teammates.
"I think it was more of a maintenance thing," said Nazem Kadri. "He wanted to go out and test a few things out … I don't know what his status is. I can't imagine it being too bad. He's an important piece of our team and if he's not going then we're going to have some other guys step up."
Nylander aims to ramp up compete level
Among the players the Leafs hope will step up tonight regardless of whether Matthews plays is William Nylander. The Swede has just two assists in the last seven games and on Saturday night was demoted from the top line during the 6-4 loss in St. Louis.
"Yeah, I want to play better," Nylander said when asked to assess his play. "I haven't been to the level where I want to be at so I want to pick it up here tonight."
What part of his game can he improve?
"I think every part," the 21-year-old said. "Maybe part of the competing and stuff hasn't been the way it was from the beginning of the year so I have to pick it up there."
Babcock has identified "compete" as an area where Nylander slips at times.
"If there's one thing about Willie, if he competes he's going to have the puck a lot and be dangerous," Babcock said. "He got off to a good start. This last segment, just like our team, he fit in good and wasn't as competitive as he needs to be."
During the initial line rushes on Monday, Nylander was back on right wing with Matthews. But after Matthews left the morning skate, Nylander centred his own line between Zach Hyman and Connor Brown.
"I'll be ready to play centre if I need to, but I don't think I'll need to," Nylander noted.
Like many Leafs, Nylander struggled in his own end against the Blues. On the second St. Louis goal, Morgan Rielly appeared to be gesturing at Nylander to get into position.
"It's hard when you go to (the) West Coast (Sharks, Kings, Ducks games prior to playing St. Louis)," Nylander admitted. "You're playing against good teams and, I mean, it's hard, but you're trying to do your best out there to pick up your guy."
Nylander played just 16:10 in St. Louis, his lowest ice-time total since the opening-night blowout in Winnipeg. After the game, Babcock seemed to take a jab at Nylander when asked who stood out positively.
"The Matthews' group is always good," Babcock said before pausing and adding, "Matty and Hyman were real good, I should say."
Was Nylander disappointed to be singled out?
"I mean, I knew I hadn't been playing well as of late so I got to pick it up," he said.
"He's a good kid," Babcock said on Monday. "He has a good ability to evaluate himself and his play, but we need him to be better (shrugs), so it's time to dig in."
Leafs not panicking; ready for hard-working Knights
The injury issue with Matthews comes at a tough time for the Leafs, who have dropped six of eight with each loss in regulation. Is there a sense of urgency to get back on track tonight against the Golden Knights?
"A sense of urgency? Absolutely," said Kadri. "A sense of panic? Not so much. We understand we're a good hockey team and we know we're going to get back on track."
After committing a couple of costly turnovers in the last two games, Kadri was asked what he'll be looking for from himself tonight.
"Just keep the legs moving, keep the hands moving," he said. "When you're slipping as a team a little bit you have to get back to the basics and start to do some things you were doing early on in the season so, for all of us, we have to simplify."
Is this the first real crisis point in Babcock's Toronto tenure?
"Well, I don't know. I don't know if you remember, my first year we never won, I'd say that was a crisis," Babcock quipped. "We've been in our own way, I really believe, for the last five or six games, not playing without the puck right, turning over the puck so we took a run at that, I think we proved to ourselves we can't win like that so let's fix it."
While the Leafs have lamented a lack of compete and discipline of late, Vegas is earning a reputation as a hard-working, determined unit that sticks to its structure.
"We understand their game plan and how they like to play," Kadri said. "They're a team that works. You got to give them that. They have work ethic and have been relying on that to win hockey games so we have to match or better that tonight."
The Knights are 9-4-0 despite being down to their fourth-string goaltender. Maxime Lagacé picked up his first career NHL win on Saturday afternoon in Ottawa and will start once again in Toronto. It will be the 24-year-old's fifth NHL game.
"I thought they did a real nice job," Babcock said of the Knights. "I know a lot of their people, management people, they did a real nice job of cornering the market on the league, shutting the league down, while they got what they wanted. They're set up to be better in the future, obviously, but they've got good depth in their roster. There doesn't seem to be a whole lot of fall off and I think they've played well.
"They've been good without the puck, their power play is real dangerous – they got three last game and could have had four, I think the guy (just) stepped out of the box – so that's been part of it, too. They've got a feel-good thing going on and they're playing well."
Brendan Leipsic, a healthy scratch in five straight games, will return to the Knights lineup tonight getting a chance to face his old team for the first time.
Babcock admits mistake in not challenging goal
Babcock admitted the Leafs should've challenged the sixth St. Louis goal on Saturday night. Brayden Schenn high-sticked Frederik Andersen in the mask right before Alex Pietrangelo scored.
"We couldn't see because the monitor on the bench is behind you," Babcock explained. "We couldn't see that good. In our room, our coaching staff was telling us to challenge it. We didn't hear it on the bench. Since that time now, not only are we hooked up to the assistant coach, we're hooked up to the medical trainer, too. If one doesn't work, the second one is going to work so it'll never going to happen again."
Leafs lines at Monday morning skate after Matthews left the ice
Forwards
Hyman-Nylander-Brown
Marleau-Kadri-Komarov
Martin-Bozak-Marner
van Riemsdyk-Moore-Leivo
Kapanen
Defencemen
Rielly-Hainsey
Gardiner-Zaitsev
Borgman-Carrick
Polak
Goaltenders
Andersen starts
McElhinney