Matthews, McDavid ready for third career showdown
The former 2016 World Cup of Hockey teammates gave the tournament in Toronto a crowd-pleasing jolt and 'their competitive spirit and their fire to be elite' remains exceptional to this day, says Edmonton Oilers bench boss Todd McLellan, who coached Auston Matthews and Connor McDavid on Team North America, TSN's Mark Masters reports.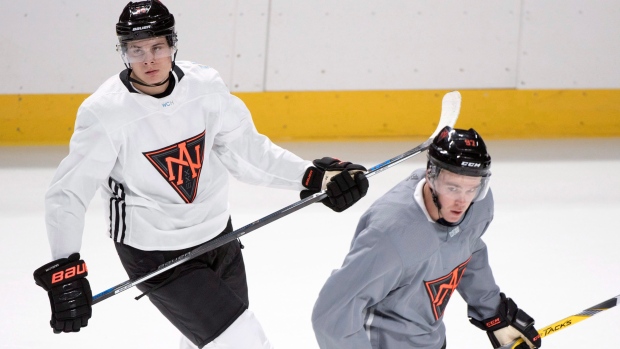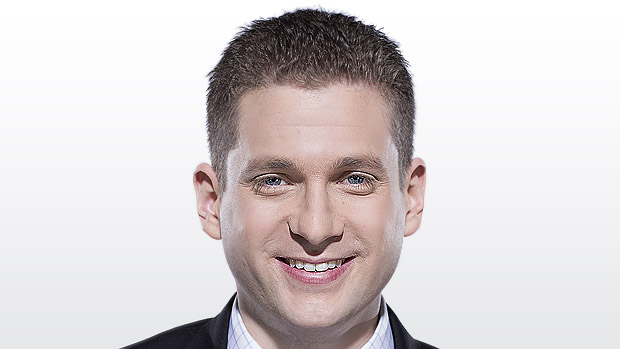 TSN Toronto reporter Mark Masters checks in daily with news and notes from Maple Leafs practices and game-day skates. The Maple Leafs and the Oilers practised in Edmonton on Wednesday.
Connor McDavid and Auston Matthews were teammates and linemates at the 2016 World Cup of Hockey, helping Team North America give the tournament a crowd-pleasing jolt.
"Just an unbelievable experience," Matthews recalled of the tournament held at the Air Canada Centre. "You go to your own respective teams and kind of always bring it up once in a while. That World Cup team was exciting. It seems like the game is heading in that direction and it was pretty special to be part of that team."
Oilers head coach Todd McLellan was at the helm of the speedy 23-and-under outfit and initially had Matthews pencilled in as the 13th forward. Eventually, Matthews was promoted to the top line alongside McDavid.
"It was an honour to coach both of them at the same time," McLellan said. "Remarkable athletes. What I would say about both of them is their competitive spirit and their fire to be elite is exceptional. We knew Connor had that in him and Auston, in that short month, you could see it just oozing out of him and he wanted to play as one of the top guys."
The mutual admiration between McDavid and Matthews has only grown since their brief time together sharing a dressing room.
"He's got a great shot," McDavid said. "I think one of the best in the league in terms of how fast he can get it off and (his) accuracy. Obviously, a real special player."
"I think he changes speeds better than anybody in the game," Matthews said of McDavid. "Just his hockey IQ and the mix of everything he can do at a high pace is what sets him apart from everybody else."
On Thursday, McDavid and Matthews meet for the third time in their NHL careers. Last season, the Leafs won both games against the Oilers. Matthews and McDavid were held off the scoresheet in Toronto as Nazem Kadri stole the show on Nov. 1, 2016. Matthews picked up a goal during the win in Edmonton while McDavid had a goal and an assist on Nov. 29, 2016.
Asked about facing elite players like Matthews and Sidney Crosby, McDavid admits it does create a different feeling.
"Whenever you go up against the game's best you want to bring your best," he said. "I mean, you have to when you're going up against guys like Matthews and Crosby."
And the opportunity to face his hometown team still matters to McDavid. The energy in the building is always something different.
"Honestly, whenever the Leafs go on the road it's almost like a road game for the home team," McDavid said. "They travel with a lot of fans and I'm sure you'll see a lot of blue and white in our building tomorrow."
Intense media pressure part of the job for superstars
Both McDavid and Matthews deal with a huge amount of media requests each and every day.
"You get used to it, I guess," Matthews said. "When you go into a market like this you never really know what to expect. But it's pretty special to play for a team like the Maple Leafs and to have such a passionate fan base and, myself, I don't take it for granted. But, you know, you definitely handle that stuff and be cautious because you are playing in a market like that."
"Honestly, I try not to pay attention to the media stuff and all that," McDavid noted, "but he seems to be handling it well. I don't watch interviews or anything like that, but you never really hear anything bad about him or him saying anything wrong."
Matthews rose to prominence through an unusual route growing up in Arizona and playing in Switzerland in his draft year. So, what's the weirdest part of life in the centre of the hockey universe?
"Probably doing this every day," he told reporters with a smile. "You just get recognized a lot going around town. It's a lot different atmosphere than from somewhere like Arizona where I'm from. Nobody really knows me there. I can kind of walk around and do my thing and as soon as I walk into a hockey rink in Toronto it's a little bit different. But it's just something you get used to, something you kind of embrace and have fun."
"He's done a great job," said Kadri, who's seen his fair share of ups and downs in Toronto. "Playing in this type of market, it forces you to grow up a little faster than you want to. Whether that's a good thing or a bad thing, I'm not quite sure, but I think he's handled it extremely well."
Kadri has survived in Toronto in large part, because of his self-confidence and swagger.
"Especially in a market like Toronto, a big-market team, you got to be mentally strong and mentally tough and I think he has that," Kadri said. "And most importantly he has that belief in himself. You got to believe in yourself before anyone else does. You have to have the confidence to want to be a dominant player and know you can be a dominant player. He has all that and I think that really helps with playing the game."
'Snake-bit' Marner stays late to work on his shot
Matthews and McDavid have each gone five games without a goal and both had a new right winger on their line at practice.
Matthews was reunited with Mitch Marner, who played with him last week in a pair of road games. Marner fired five shots on net and was robbed by Flames goalie Mike Smith on one spectacular chance in Tuesday's win against Calgary.
"He was flying," Matthews observed. "He had a lot of opportunities. I know he feels like he's a little snake-bit right now just because he's been getting all these real good looks and they just haven't been going in. You watch him at practice and at the end of practice he's been working on his shot, so those shots are going to start going in soon and it's going to be really scary, because right now he's playing really well."
Marner has just one goal in the last 25 games. Has Matthews given his good friend any encouraging words during this run of bad luck?
"No, I just leave him alone. He gets sensitive sometimes," Matthews said to laughs. "No, he's fine. He's a mentally tough guy so I'm not really worried about him."
As for McDavid, he lined up with Jesse Puljujärvi after finishing Tuesday's 3-2 overtime win against the Arizona Coyotes with Leon Draisaitl.
"I've definitely played with lots of different players and I think it doesn't really matter," McDavid said. "You'd obviously like to find chemistry with someone, but it's kind of how it's been, everyone's been playing with everyone and just seeing how it goes. Obviously, you'd like to stick with a line for games in a row, but it hasn't worked out that way."
Babcock's blender 'kind of like playing roulette'
While you expect a struggling team to be juggling lines, it was a bit eyebrow-raising that Leafs head coach Mike Babcock would tinker with a lineup, which won in convincing fashion against the Flames (4-1). Toronto's top three lines all had a new look on Wednesday.
"It's kind of like playing roulette a little bit," said Kadri, who had James van Riemsdyk on his left wing alongside usual linemate Leo Komarov. "On the road it's a little tougher with matchups and things of that nature. Everybody can play with everybody so that's a nice attribute to have with this team. You can shuffle the lines and know they'll contribute in some form or the other. We don't read too much into it."
Last season, Babcock seemed to go out of his way to keep lines together. So, what's with all the changes this season?
"Last year, everyone got to play 16 minutes whether you played good or not," Babcock explained. "They were kids. They were trying to get involved in the league and that's what we did. But, on all the good teams you coach you have players all over and you do what you have to do to win that night. So, whoever's playing good gets to play … It's not like you're playing with bad players. You're playing with good players whoever you play with and some nights you need a little different thing to win the game and you got to be ready to adjust."
Most of the shuffling has come on the road when the Leafs don't have last change. Is Babcock going to try and get Kadri, who agitated McDavid to great effect last season, out against Edmonton's top line? Or perhaps he'd prefer power-on-power with Matthews?
"Either or, it doesn't much matter," Babcock said. "They're both going to get on the ice. We'll see how the game goes tomorrow. The score determines so much of what happens anyway as far as matchups go."
Ready to start new streak
On Tuesday, Matthews was held without a shot for the first time in his career, snapping a streak that spanned 103 games – 109 if you include the playoffs. The previous record to start a career was set by Teemu Selanne, who went 87 games before finally registered a goose egg on the shot clock.
"I'm a shoot-first guy," Matthews said. "I passed up on a couple last night. It was bound to happen. I didn't lose any sleep over it. You move on from it and I'll be shooting tomorrow (Thursday) night."
Lines at Wednesday's practice
Forwards
Hyman-Matthews-Marner
van Riemsdyk-Kadri-Komarov
Marleau-Bozak-Brown
Martin-Moore-Nylander
Soshnikov, Leivo
Defencemen
Rielly-Hainsey
Gardiner-Zaitsev
Borgman-Polak
Carrick
Goalies
Andersen (8-0-1 in his career against the Oilers with a .927 save percentage)
McElhinney