Matthews misses practice, status in doubt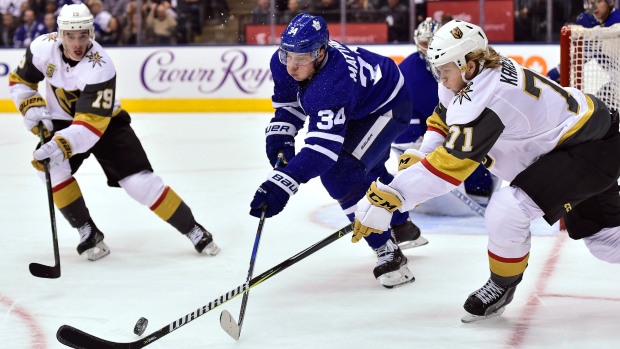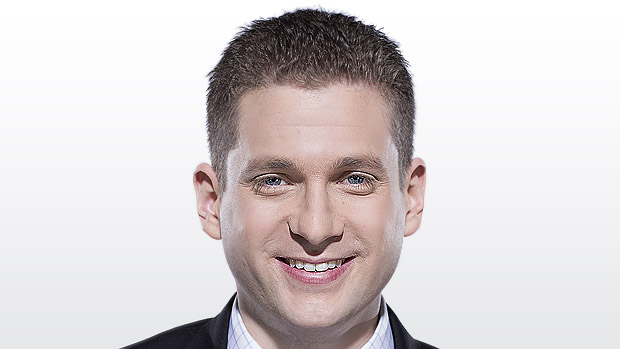 TSN Toronto reporter Mark Masters checks in daily with news and notes from Maple Leafs practices and game-day skates. The Maple Leafs practised at the MasterCard Centre on Tuesday.
Auston Matthews missed Tuesday's practice and his status for Wednesday's game against Minnesota is in doubt. The 20-year-old was effective against the Vegas Golden Knights, but it's clear the undisclosed issue, described only as "soreness", is taking its toll on the star centre.
"He was fine," said Maple Leafs head coach Mike Babcock in assessing Matthews' play on Monday. "He wasn't as dominant as he normally is. He didn't have the same kind of, I don't know, power or whatever you want to call it."
It took a while for Matthews to emerge to talk to reporters after the game, which is usually a sign that he was getting treatment. In his media session, Matthews admitted the injury did limit him, but also said he still felt like he could contribute. Matthews referred to the injury as a "lingering" issue, which had been aggravated on Saturday in St. Louis.
"When you first have something wrong with you, you want to know what it is and a big part of that is the mental side," Babcock said, "and then, once you know what it is, you can get either playing through it, because it's no big deal or you can get it fixed and then get feeling better so we're in a holding pattern right now. We'll know more this afternoon."
Despite not being 100 per cent, Matthews was still able to influence the game in a positive way.
"He draws a lot of attention," said Patrick Marleau. "He creates a lot of space for whoever else is out there with him and even making the play he did last night on JvR's goal was huge."
Matthews had a highlight-reel assist on the James van Riemsdyk first-period marker wheeling around Luca Sbisa and driving the net.
"He's got that ability where you kind of want to almost play far away from him at times," van Riemsdyk said, "and then find good times to go and support him. He's so good one-on-one and so dynamic that you almost want to get like isolation in basketball, get as many guys away from him on the rink so only one guy on their team can check him and usually he does a good job of making smart plays and obviously he made a really special play there."
Babcock struggles to find right mix
If Matthews misses the first game of his NHL career, Babcock isn't quite sure how he'll fill the void. At practice on Wednesday, William Nylander joined the Nazem Kadri line with Leo Komarov. Meanwhile, Marleau shifted back to centre on a line with van Riemsdyk and Zach Hyman. Connor Brown joined Tyler Bozak and Mitch Marner.
"We changed our mind six times and then we even got them posted and changed them again and will probably change them again before tomorrow," Babcock said. "We'll see what happens."
Did he consider moving Nylander to centre?
"Yeah, we did," Babcock said with a shrug. "I don't know what we're doing tomorrow so we practised like this today. I wasn't in love with it by any means after watching it so we'll figure it out by tomorrow."
Marleau played centre for three games during the recent road trip. It went well in Anaheim, but after that the results were mixed.
"I started out my career as a centre so it was (fine) to go back and forth, but there's still some things I can do a lot better out there," Marleau said. "If I play centre again I look forward to (making adjustments) ... you have to be a little more conscious after faceoffs, you pick up different guys so you have to be ready for all different situations."
The new formation also meant wingers Hyman and Brown had to flip sides. ​
"I've played both," said Hyman, who's usually on the left wing. "In the American league I played on the right, so either way it doesn't make a difference to me."
Gauthier called up to provide centre depth
Kasperi Kapanen was sent down to the Marlies on Tuesday so that Frederik Gauthier could be called up. That gives the Leafs more depth down the middle as Matthews battles this injury issue. Gauthier didn't take many reps during practice on Wednesday serving as the extra forward.
Hyman admits err​or on goalie interference penalty
Hyman could've easily been the goat on Monday when he crashed into Knights goalie Maxime Lagace, giving Vegas a two-man advantage for 1:12 in the second period.
"It's tough," Hyman said. "I probably should've let up at the hashmarks once I realized I wasn't going to score there, but it's a tough play because I'm going so fast. I tried stopping, but I got pushed in a little bit and I told the ref that, but it's a tough call and his hands were tied, I think, because I ran into him pretty hard. I play hard. I wasn't thinking about it. I wasn't trying to hit the goalie or anything."
What was it liked watching from the box during the next two minutes?
"Oh, it sucks," Hyman said with a grimace. "It was a good five-on-three kill, though. We didn't have too much time in our zone so I wasn't sitting on the edge of my seat too much."
Step in the right direction, puck management issues remain
Monday's win was important, but some of the issues that plagued the team during a brutal West Coast trip remained.
"It wasn't exactly a perfect picture by any means," Babcock admitted. "We have lots of work to do. We understand that, but adversity never killed anybody. Understanding how hard it is to win every day and how right you have to play to win every day is an important thing. I don't think we got it yet by any means, but I think it takes kids longer to learn than you'd like ... but they'll get it."
Vegas outshot Toronto 28-25 and seemed to control possession in the later stages of the game, but the Leafs feel progress was made.
"It was better," said Brown. "We were on the D side of pucks more, taking care of pucks through the neutral zone. We can still improve, but this was a step in the right direction."
Lines at Tuesday's practice
Forwards
Komarov-Kadri-Nylander
Brown-Bozak-Marner
van Riemsdyk-Marleau-Hyman
Martin-Moore-Leivo
Gauthier
Defencemen
Rielly-Hainsey
Gardiner-Zaitsev
Borgman-Carrick
Polak
Goalies
Andersen starts
McElhinney