Matthews more comfortable showing his personality
TSN Toronto reporter Mark Masters provides news and notes on the Maple Leafs ahead of their game against the Stars in Dallas.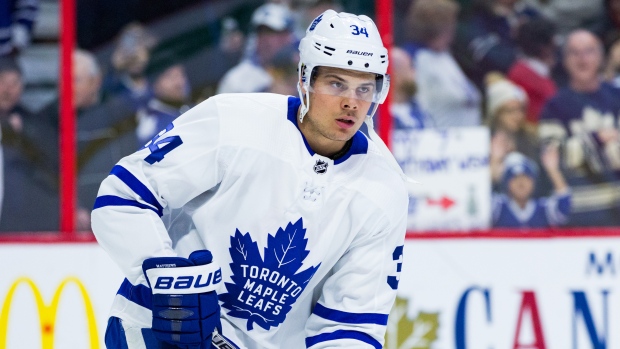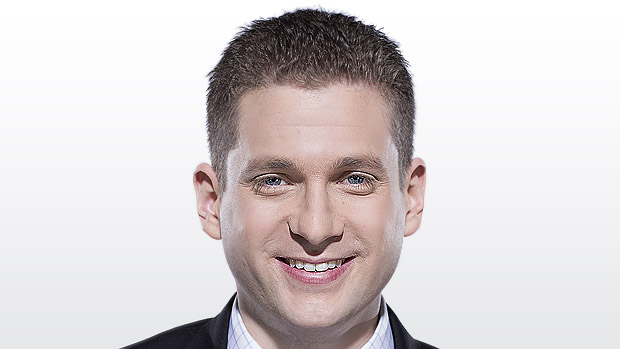 TSN Toronto reporter Mark Masters checks in daily with news and notes on the Maple Leafs. The Leafs and Stars skated on Tuesday morning at American Airlines Center in Dallas.
It feels like more and more we're getting to see the real Auston Matthews. There was the GQ spread in the preseason and this week a similar photoshoot and article was published in Sharp, a Canadian men's lifestyle magazine.
The 21-year-old from Arizona now seems more willing to show off his personality.
"You just grow more comfortable with yourself and with your teammates and everything as the years go by," Matthews acknowledged. "Obviously, we're still kids so we want to have fun out there and I think that's really important."
Matthews is also showing more emotion on the ice with his goal celebrations, including a Hulk Hogan-esque ear cup on Sunday in Chicago. Patrick Kane wasn't a huge fan of the move, but Tyler Seguin enjoyed it.
"I think it's great," the Stars centre said. "Anything that's going to bring that kind of buzz to the sport is great. I also don't even mind Matthews' photoshoots. I think they're alright too. A couple of the pictures, I don't know about the outfits, but good for him just getting outside the comfort zone and doing things that a lot of hockey players don't."
Asked if he's received any negative feedback from the photoshoots, Matthews said he didn't really focus on the reaction to the pieces.
"Everybody's into different things and if you're not, I mean, there's nothing against you, right. Everybody can be their own person. Traditionally, it's more of a conservative sport, but I think you see more and more younger guys kind of come into the game and they got that flash and I think it can only help the game."
Does Matthews want to push the boundaries even more as time goes by?
"I don't know," he said. "We'll see. I'm not thinking about that too much right now."
----
It's a lot easier to show off your personality when you're playing well and right now Mathews is leading the league in scoring with eight points in three games. He's doing it despite the absence of his usual running mate William Nylander, who remains without a contract.
The Leafs are still looking for a reliable right winger to skate with Matthews and Patrick Marleau. Kasperi Kapanen got a chance on Sunday taking over from Tyler Ennis and produced a goal and an assist. Kapanen will be back in that spot tonight.
"Kappy was great," said head coach Mike Babcock. "He was physical, he was fast, and he played heavy. Those are the things you need to play with good players because they want the puck back. You've got to be able to play without it and get to the net. I thought he did all that. Now the challenge for him, and he knows that, is he's got to do it again and then you've got to do it again the next day and then I said we're in game four so that's about 80 more of them and then the playoffs."
Matthews made a nice lob/stretch pass to spring Kapanen on a breakaway against the Blackhawks. That sort of play could become a big weapon for this line considering Kapanen's blazing speed.
"I knew he got it before the goal line," Kapanen recalled, "and I thought if I started skating I might have a chance on the breakaway and he made a great pass. That was a great pass by Auston."
"He opens up a lot of space with his speed," noted Matthews, "so not a lot of guys can fly like him. If you put the puck out there for him then nine times out of 10 he'll probably be the first guy on it. I just saw him going and tried to lay it out for him."
Kapanen, who has been a fourth liner for most of his early NHL career, realizes how big a chance this is.
"Auston has taken himself to the next level and it's scary to see," said Kapanen. "Obviously, he's 21 years old and still developing. He makes all the plays and makes guys around him look good."
----
New Stars head coach Jim Montgomery is well aware of what that line can do. He was actually teammates with Marleau in San Jose in 2000-01.
"It doesn't look like he's lost a step yet," Montgomery said.
Montgomery also studied Matthews quite a bit and attempted to recruit him to the University of Denver where he was coaching the Pioneers. Matthews ultimately decided to play in Switzerland.
"I had never seen someone have that dynamic to him at that size and then also have the power game," Montgomery gushed. "I mean, he's a rare player. And you knew it. You could see it coming. I remember when we were recruiting him we were like, 'Please let him fall into our lap somehow for one year.' But I think he made the right choice.
"I don't know if it's true or not, but he did say that if he didn't get the opportunity to go play pro in Switzerland he was going to come to Denver. Maybe he said that to 10 schools, I don't know."
Montgomery has, like much of the hockey world, kept tabs on Matthews and been impressed with his development.
"He's an incredible talent and what I've really noticed about his game is how good he's become defensively," the Stars bench boss said. "In his first year in the league he got exposed with that, but you don't see him getting exposed now. I watched the game against [Jonathan] Toews and that was a great battle between two great centres."
With Matthews raising his level, matching up against the Leafs will be even more of a headache for opposing teams this season.
"Up front at the centre position they're very deep," said Seguin before cracking a smile. "Everyone knows that. You guys make sure everyone knows that."
Matthews managed to produce two goals despite facing Toews and Duncan Keith on Sunday. Meanwhile, John Tavares, Mitch Marner and Zach Hyman got an easier matchup, leading to Tavares' first hat trick with his hometown team.
So, what message will Montgomery send his defence?
"Hope and pray," he said with a chuckle. "Their transition to offence is incredible. We got to catch them going east/west before they get a head of steam."
What's the biggest thing Montgomery has brought to the Stars so far?
"Our speed, our tempo has gone up higher than it was last year," said Seguin. "We focused so much on defending that we kind of lost our speed, which had been a big strength of our team the last few years and he's brought that back."
The Stars have allowed just one goal in two wins over Arizona and Winnipeg.
----
How do you slow down Matthews?
"It's a tough question," said ex-Leaf Roman Polak. "Everybody's trying to figure that out. It looks like he's unstoppable so far … We need to be all over him."
Polak is one of two former Toronto blueliners now taking up residence in Dallas. The other is Connor Carrick, who was traded on the eve of the season. Both seem pretty fired up to face their old friends.
"It's going to be lots of fun," Polak said. "It's going to be an exciting time. I can't wait to be out there today against them. I think there'll be lots of chirping out there too."
Anyone he's looking forward to chirping in particular?
"Probably just everybody."
Anyone he wants to hit?
"I'm going to try everyone, but they're tough to hit. They're so fast. So, it'll be interesting."
"Not a guy you want to run into, for sure," said Matthews, who sat beside Polak for two years in Toronto's practice facility dressing room. "He's a competitor out there. He's built like a mountain."
Polak met up with some Leafs yesterday, but refused to say who.
"It's a secret," he said with a laugh.
Carrick met up with Connor Brown and Marner last night. One of his favourite memories from his time in Toronto was helping run a weekly Catan board game.
"I had very close friends in Toronto – guys that were at my wedding and all that," he said. "Super grateful for my time there. The whole organization always treated me really well. Had some goals there that had to die with the trade and that's just the matter of the fact. [I'm] really looking forward to playing a good hockey team tonight."
---
Babcock is shuffling his bottom-six forwards. Par Lindholm, the fourth-line centre so far, will shift to left wing alongside Nazem Kadri and Brown. The third line has played inconsistently so far this season. Kadri and Brown (-5) have the worst plus-minus ratings on the team.
"Obviously, I'm still searching," Babcock said. "I've got the one line that kind of looks like it's going and Tavares' group. The other one is still a work in progress. But it's game four, right? Same questions every year."
Frederik Gauthier will make his regular-season debut as the fourth-line centre skating between Josh Leivo and Ennis.
Andreas Johnsson, the MVP of the AHL playoffs last spring, will be a healthy scratch.
"The biggest thing for him is: How do you respond from it?" said Babcock. "It hasn't gone as good as you'd like so there's no sense worrying about that now. You can't fix that. What you can fix is what you do tomorrow and your next opportunity. Get to work and get it going. He's an important part for us. We think he's a big piece, we think he's an important player, but you've got to do it at the NHL level."
After sitting out Sunday's game, Russian rookie Igor Ozhiganov is back in on defence paired with Travis Dermott. Martin Marincin will be the odd man out.
----
Sidelined by a lower-body injury in the pre-season, Valeri Nichushkin will be in the Stars lineup tonight.
"He had a real good preseason," Montgomery said. "He was really dominant in the exhibition games that he played. Unfortunately, he tweaked a muscle, so now we need to get him going."
Nichushkin will start on the fourth line alongside Roope Hintz and Brett Ritchie, but the coach won't hesitate to bump him up.
"If he's on he's getting moved up, because he's a heavy horse and I think he's a good matchup against their defencemen."
----
Lines at Leafs morning skate:
Hyman-Tavares-Marner
Marleau-Matthews-Kapanen
Lindholm-Kadri-Brown
Leivo-Gauthier-Ennis
Johnsson
Rielly-Hainsey
Gardiner-Zaitsev
Dermott-Ozhiganov
Marincin-Holl
Andersen starts
Sparks
* Power play units at Leafs morning skate:
Rielly
Matthews-Kadri-Marner
Tavares
Gardiner
Ennis-Brown-Leivo
Marleau
* Lines at Stars morning skate:
Benn-Seguin-Radulov
Janmark-Spezza-Comeau
Shore-Faksa-Pitlick
Nichushkin-Hintz-Ritchie
Lindell-Klingberg
Methot-Heiskanen
Carrick-Polak
Bishop starts
Khudobin