Matthews studies Kucherov, Benn to improve shot
Maple Leafs star centre Auston Matthews studied film of other top NHL scorers during the off-season and tinkered with "little details, movements with the puck and footwork" and the early returns have been positive – three goals in three pre-season games, TSN Toronto Reporter Mark Masters writes.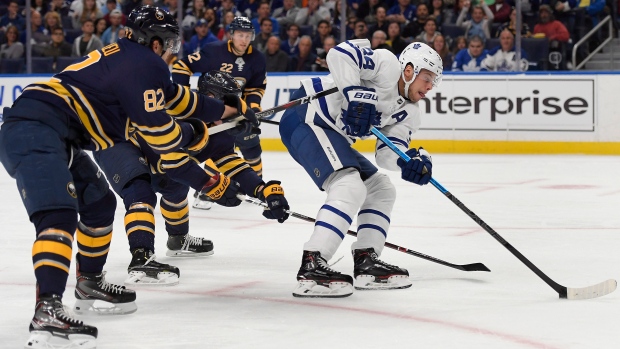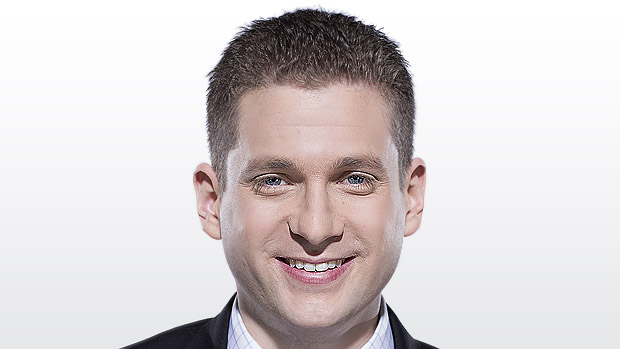 TSN Toronto reporter Mark Masters checks in daily with news and notes on the Maple Leafs, who practised in two groups at the MasterCard Centre on Thursday.
Auston Matthews decided to make changes to his shot during the off-season despite scoring 74 goals in his first 144 NHL games.
"He drops 40 his first year, he's on pace for 45 last year without the injuries and he wants to revamp it again," Darryl Belfry, a player development consultant with the Leafs, revealed during an interview with The Athletic's Craig Custance on his The Full 60 podcast. "This summer we retooled it again. What you have to understand is, even though he was doing so well with great results, he hadn't maximized his ability. He hadn't leveraged all his assets."
"Everyone's watching video," the Maple Leafs centre said after Thursday's practice. "If you do the same thing over and over again people are going to catch on."
As part of his self-improvement process, Matthews studied film of other top scorers in the league.
"I like watching (Nikita) Kucherov a lot," Matthews said of the Tampa Bay Lightning forward. "I think he's deceptive. His release – you don't really know when he's going to release it."
He also listed Dallas Stars captain Jamie Benn as someone he likes to watch.
Matthews described the changes he made as "just tinkering, just little details, movements with the puck and footwork stuff." The early returns are positive as he's notched three goals in three pre-season games. He blasted one past Carey Price on Wednesday night in Montreal.
"I think it's pretty crazy how quick he gets it off," marvelled 39-year-old Patrick Marleau. "Last night, it was on his stick a second and off his stick and in the right spot. I don't know if that's something he was working on this summer, but he's definitely shooting the puck really well."
Mitch Marner set up that goal on the power play and was similarly impressed.
"After he scored, I was talking to him on the bench about how he shoots like that," Marner said. "It's scary for other teams and goaltenders who have to face that. It's getting better every year. Every time I see him his shot's better."
Matthews scored just five times on the man advantage last season and, having been promoted to the top unit, appears poised to do some serious damage on the power play this season.
"He's tricking goalies all the time," Marner said. "Half the time we always think he's shooting high and he'll go five-hole, so he can change it up quick. He's very good at curling it in close to him and still getting a really hard shot off."
Added Marleau, "When you're that quick your shot doesn't have to be hard, but his is hard."
Now, not everyone is as eager to embrace change as Matthews is. After all, if it ain't broke, don't fix it, right?
"I'm always trying different things, but I usually go back to what I've been used to," said Marleau, who's scored 535 goals in his illustrious career while always sticking with his 110 flex, which is higher than most players.
And there are some things Matthews admits he won't touch. The curve on his stick, for example, has been the same his entire life.
The Arizona native explains that his off-season adjustments are about diversifying his game. It's an evolution more than a reconstruction.
"Kind of being more deceptive, having different shots, more options for yourself," he said of his plan in the summer, "get the defence thinking more. I feel like I made some pretty big strides."
And here's the worrying part for opposing teams: the real payoff, Matthews says, is still coming.
"As the regular season gets going and you get more and more comfortable out there with your body and the puck and just timing and everything, all that stuff you work on in the summer comes back into play a little bit more."
GQ photo shoot creates buzz among teammates
Matthews is also turning heads off the ice. As an American rising star playing for a flagship franchise, the 21-year-old is being asked to take on a big role in growing the game. That can mean reaching out to people outside the hockey world through different publications.
During the NHL media tour the week before training camps opened, Matthews did a photo-shoot and interview with GQ magazine.
"It was different," Matthews said with a chuckle. "It was something I haven't really experienced before, but it was a lot of fun. Definitely something that got you out of your comfort zone."
It appears Matthews didn't tip off any teammates about the piece so when the interview and, more notably, the pictures were published on Thursday it created a buzz in the dressing room.
Marner had heard about the pictures, but had not seen them before his media session. He was handed a cellphone with the candid shots.
"Oh no," he said breaking into a big smile while scrolling through the pictures posted by GQ on Twitter. "Oh no. I mean, hey good for …"
At this point Marner saw a picture that made him laugh. He quickly composed himself.
"Hey, good for him. I respect it. He's a big style guy so I respect it. But, obviously, it will be different when I see him face-to-face in the room."
Matthews knew he'd probably take some flak from teammates, but was quick to point out some feedback has been positive.
"Patty already complimented me on it," he said. "I guess he's a big GQ fan so, I don't know, I don't really care. It's fine."
"I was upset he didn't tell me himself that he was in it," said Marleau. "I think it's a big deal. It's really cool that he was able to do it."
In the GQ interview, Matthews lists NBA star Russell Westbrook and Leonardo DiCaprio as some of his style influences. He likes the newsboy hats the actor wears and may incorporate that into his game-day wardrobe this season.
Who would Matthews consider to be some of the fashion-forward Leafs players?
"I thought Matt Martin had a really good sense of fashion," he said, referring to the forward who was traded to the New York Islanders in the summer. "Willie (Nylander), a lot of the Euro guys. Mitch just copies everything I do (smile). No, I'm just kidding. Mitch has a good sense of fashion, even (Morgan Rielly), some of the older guys, too."
What about the oldest player?
"I leave my fashion to my wife," said Marleau. "When she does it, it's really good. But when it's up to me and I go in the closet, it's like I got dressed in the dark."
Hyman practises in usual spot with no-contact sweater
For the first time since sustaining a hip pointer in Friday's pre-season game against the Sabres, Zach Hyman practised in his usual spot on a line with John Tavares and Marner.
"Just an awkward play," Hyman explained in his first media session since sustaining the injury. "I was helping Johnny on the draw and over-extended and I guess there's an open area (with no padding) and I got a cross-check. I don't think you can't see anything on the tape or anything."
Hyman's injury was initially announced as a "bone bruise." He had blocked a shot off his foot on the same shift, which led to some confusion.
"I got asked a million times about my foot," Hyman said with a laugh. "But, it wasn't my foot. My foot's good."
Hyman makes his living by winning battles and playing a hard-nosed game along the boards and yet he's never really experienced an injury like this one.
"I've definitely had bumps and bruises throughout my career, but this one stung a little bit more than the rest," the 26-year-old said.
Despite participating in all the drills, Hyman was still wearing a red no-contact sweater. It seems unlikely he'll play in either of the two remaining pre-season games on Friday and Saturday against the Detroit Red Wings.
"I'm confident that I'm in shape enough that if I don't play these next couple games I'll be ready to go," he said.
Head coach Mike Babcock said Hyman's absence was noticeable in Wednesday's lacklustre performance against the Canadiens.
"We're not a big, physical team, he's the forechecker," Babcock noted when asked about the Tavares line. "We lost Leo (Komarov, who signed with the Islanders) in that regard. Last night we didn't forecheck at all or play in the O-zone for that matter so those are things we're missing."
Lines at Thursday's practice:
Second group
(Expected to play Friday)
Marleau-Matthews-Ennis
Hyman-Tavares-Marner
Leivo-Kadri-Brown
Johnsson-Lindholm-Kapanen
Gauthier
Rielly-Hainsey
Gardiner-Zaitsev
Dermott-Ozhiganov
Rosen-Holl
Andersen
McElhinney
First group
(Expected to play Saturday)
Moore-Brooks-Timashov
Grundstrom-Cracknell-Bracco
Engvall-Greening-Jooris
Clark-Mueller-Clune
Marincin-Carrick
Borgman-LoVerde
Liljegren-Subban
Sparks
Pickard