Matthews' three assists outdo Laine's two goals in Leafs' OT win
Jake Gardiner scored in overtime Tuesday night as Auston Matthews' Toronto Maple Leafs prevailed 5-4 over Patrik Laine's Winnipeg Jets. Matthews had three assists in the win and Leo Komarov scored twice for Toronto while Laine scored twice for Winnipeg, becoming the first rookie in franchise history to record 30 goals in a season.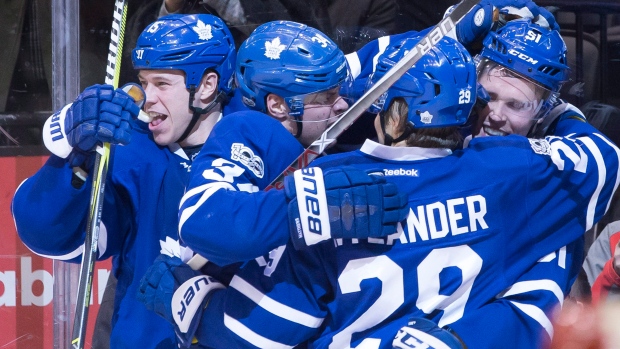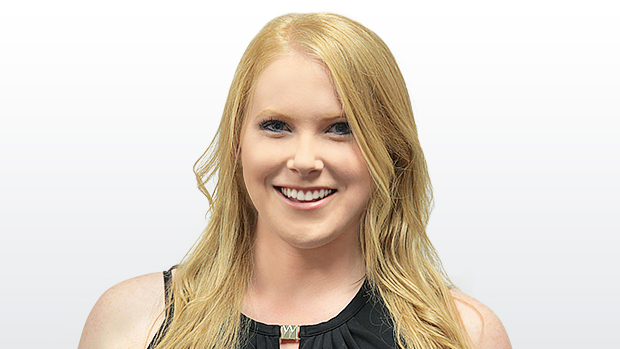 TORONTO – When the Maple Leafs needed a tying goal in the third period Tuesday night, Auston Matthews had to get creative.
Set up on the power play in the Winnipeg Jets' zone, Matthews fired a hard shot off the end boards that rocketed straight at a waiting William Nylander to put in the net and knot the game 4-4.
As he has shown throughout the season, Matthews' bag of tricks is pretty full.
"We did [that play] once in practice, maybe three months ago," he said after the 5-4 overtime win. "I didn't really have a lane so it was 50 per cent trying to score, 50 per cent trying to make whatever happen. It was a pretty fortunate bounce, pretty lucky play."
Nylander confirmed the story, recalling the day they worked on the play "for fun" without a goalie in net. And it couldn't have come at a better time - Toronto needed the boost that goal gave them with how Tuesday night unfolded early. Trailing 2-1 after the first period, the Maple Leafs had also lost defenceman Connor Carrick less than halfway through the frame, leaving them with five defenders and a goalie in Frederik Andersen who wasn't on his game. It's the type of scenario that has spelt loss after loss for the Maple Leafs this season – they were 1-14-3 when down after 20 minutes going into the game – but on this night, they persevered.
"Early we were good, Freddie wasn't, and then he made some good saves down the stretch and we end up winning the game," head coach Mike Babcock surmised. "Some nights Freddie picks us up, tonight we picked him up. I thought that was positive. It was one of those games where we were on top a lot so we knew we were going to get our chances and stayed with it."
With four lead changes over 62:31 of playing time, Toronto never had a chance to feel comfortable despite putting 37 shots on Connor Hellebuyck compared to the 20 on Andersen. It was just the third win for Andersen in his nine starts since the all-star break; he gave up four goals on 15 shots to the Jets. He was beaten twice by Patrik Laine, who fired only two shots on goal the entire game. That put Laine's goal total at five in two games versus Toronto, second-most against a team in his young career.
With the match-up billed as Laine vs. Matthews from the very start, the two teenagers delivered in spades right to the end. Matthews finished with three assists, and created some heavy drama when he took a hooking penalty with 25 seconds left in regulation. As Toronto killed off the infraction in overtime, Matthews was anxiously standing in the box for the final 15 seconds of his penalty before being released to set up Jake Gardiner's game-winner.
"That [penalty] was my fault obviously. It was a huge penalty kill for us," Matthews said. "You try to just stay level-headed, not get too high or low, and keep plugging away and we were able to do that. We showed a lot of resiliency tonight."
The win puts Toronto back in the playoffs in third place in the Atlantic Division, but in a tight Eastern Conference race, how long they're there is anyone's guess.
"We knew it was going to be a playoff-type atmosphere and they came out flying," Matthews said. "They played a really solid game. It was back and forth and it's definitely good momentum for us to win in overtime."

Takeaways
Next man up: Toronto's defence has been its weak point all season, and the pairing of Gardiner and Carrick has endured its up and downs. But Gardiner is in the midst of a career year, leading blue liners with 31 points, and he undeniably plays best when he's with the second-year player. Now, he may not have the chance for at least a few games. Carrick missed the final 11 minutes of the first period after taking a hit to the right shoulder, and upon being looked over by the trainer on the bench he retired to the room. Carrick did not return to the game with an upper body injury, clocking just 3:38. Babcock said when a player leaves the game he's obviously not getting back in for a while. That will give the team a chance to watch Alexey Marchenko, who has yet to slot into the lineup since being claimed off waivers on Feb. 4. Gardiner carried the load Tuesday in his partner's absence, hitting 24:48 TOI. Carrick has seven points (two goals, five assists) on the season while playing an average of 16:45 per game.
Oh so close, Leo: Without a hat trick so far in his fourth NHL season, Leo Komarov came within a whisper of the benchmark on Tuesday, scoring twice and then putting a pair of pucks off the post and crossbar behind Hellebuyck without either falling into the mesh. Although he scored a career-high 19 goals a season ago, Komarov hasn't had as much success in that area during this campaign, but he's now riding a five-game point streak (two goals, four assists), his longest of the season. Asked if he thought he had netted the hat trick goal on either attempt, Komarov humbly joked he did not – "I'm saving it. Maybe one day [I will], you never know."
Stick with what works? In the three games since Mitch Marner has been out with an injury, Josh Leivo has emerged as one of Toronto's best forwards, and he's been lifting Nazem Kadri along with him. Playing on a line with Kadri and Komarov, Leivo looks in his element, and Babcock praised him as the Maple Leafs' best player in the first half against the Jets. Leivo and Kadri have shown off excellent chemistry, with Leivo setting up Kadri's game-tying goal in the second period off a dish from the halfboards that Kadri shot from his backhand over Hellebuyck. Kadri has 26 points in his last 23 games, with Leivo assisting on four of his goals in the last four outings. Leivo had been playing on the fourth line before Marner went down, but he is producing well enough with Kadri to give Babcock major pause about bumping him out of a top-nine position.
Return of the Goat: Recalled from the Toronto Marlies early Tuesday morning, Frederik Gauthier looked right at home back with the big club. Replacing healthy scratch Ben Smith in the lineup, Gauthier did exactly what was asked of him, winning the majority of his faceoffs (56 per cent) and playing 1:17 shorthanded with no goals against. The rookie's faceoff win percentage was better than Smith's in his last three games, and Gauthier's forechecking created scoring chances in tight down low that Smith isn't as adept at making. Babcock said before the game Smith was getting a "re-set" before going back in, but Gauthier is making the most of his opportunity, for however long he has it.
Next game: Toronto's homestand continues on Thursday with a visit from the New York Rangers.